Meet Timmy Johnson: With a passion for cold weather and cross-country travels, the ability to get out there and stay out there is crucial to what he does.
All About Truck House Life:
Tim grew up in the Great Smoky Mountains area and then moved to Alaska at 20. He loved it so much, he's stayed there since! Tim created the log cabin camper on the back of his truck, a 1996 Ford F350 pickup. He built the cabin by hand, as he learned to build cabins from his carpenter father.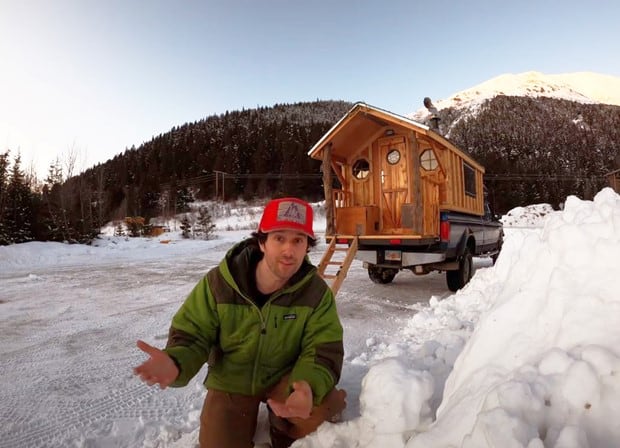 "I planned the cabin on the back of the truck because I couldn't find a manufactured camper for extremely cold Alaskan weather that's strong enough to handle off-roading and overlanding," he said.
The top power draw in Tim's system is his Dometic brand CC40 fridge and freezer. However, Tim notes that it runs infinitely on his Battle Born system.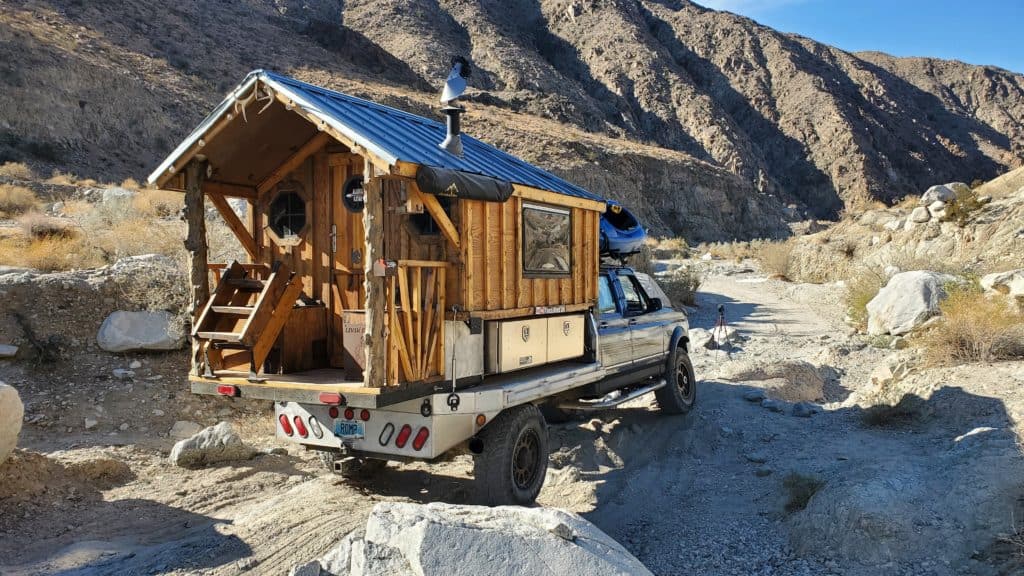 "It's been running five months straight off of 100 watts of solar and driving around using the engine to charge my batteries when charging," Tim said. "I've been so stoked on having Battle Born Batteries in my system!"
Tim's system has been so reliable in the cold weather, his 1996 Ford F350 pickup truck is still running flawlessly too.
Tim has the following components in his system:
For a system like Tim's, check out our Battle Born Energy Truck Camper 300Ah Kit here for everything you'd need for weekend excursions.
Tim also can power his diesel heater, lights, television, all while charging his laptop, phone, drone camera equipment, and Onewheel. Check out his walkthrough video where he highlights his setup and adventures.
"The batteries go back up to 100 percent every day and I never have to plugin, so it's an absolute game-changer compared to the 45-amp hour lead acid house battery I had before!" Tim said. He also said that if he ran into any questions about what to do next in the install process, he'd call our reliable and USA-based Battle Born technical sales team.
"The install wasn't too bad since I was doing just a 12-volt system," said Tim. "The original battery I had was a 40-amp hour deep-cycle car battery that didn't last long at all. This is literally four to five times as much battery capacity as I had, so it's a massive game changer!"
Truck House Life Is On The Go!
When it comes to advice, Tim wants people to know that the nomadic lifestyle has plenty of opportunities and adventures to take advantage of. Doing things out of your comfort zone, saying yes more often to spontaneous experiences, the chance to get out and meet new friends, and going to places you've always wanted to see is important.
Tim is still on his five-month road trip across the Western United States, Canada, and Alaska. He describes it as an awesome experience and has been documenting it all on his YouTube.
You can learn more about Truck House Life by following Tim on Instagram and YouTube.