After falling in love with travel and developing a passion for nature at a young age, Julia Thompson sold everything she owned to travel the world with her partner Chris Locke. The following years were spent driving a camper van through New Zealand, exploring Asia, and backpacking through Europe. Along the way, they both developed an affinity for photography and began capturing their experiences to share with friends at home. Slowly their following grew, and upon returning home to North America, Julia and Chris created a business as full-time travel photographers. With a newly self-converted camper van, the duo is currently exploring the US and Canada in their home on wheels as they capture each moment to inspire others to take the leap and follow their dreams.
Meet TikTok Star, Julia Thompson, and Chris Locke
Growing up in a place overflowing with stunning outdoor spaces fueled a passion for the outdoors in Julia Thompson. During her childhood in Vancouver, British Columbia, she recalls her family prioritizing time together, traveling, and exploring the vast mountain landscape surrounding them. Early on, Julia developed a love for nature that only deepened as she got older.
Following some struggles during her teenage years, Julia was entering adulthood and decided it was time for new horizons. "In 2015, I sold all my belongings and bought a one-way ticket to New Zealand to embark on an adventure that would take me on a lap around the world and ultimately change my life." With her partner Chris Locke along for the ride, Julia took a huge leap and began her life abroad.
The next two years were spent jumping headfirst into the unknown as Chris and Julia ventured into countless countries. As they explored each new part of the world, they began taking photos and videos of their experiences simply as a means of personal documentation. What began as capturing memories to look back on down the road quickly grew into something much bigger.
Chris and Julia's passion for nature and exploration was showcased in their photography, and their followings on social media seemingly grew overnight. As people from all over the world began following along on their travels, Chris and Julia decided to use their platform to encourage others to live their dreams. Now, with a combined community of over 4.6 million, Chris and Julia continue to search for new ways to get out and explore and bring their followers along on each epic adventure.
Life Abroad as a Full Time Travel Photographer
During their time abroad, Julia and Chris' desires to capture "fleeting and awe-inspiring moments" drew them to photography. You know, the moments that make your jaw drop, stop you in your tracks, and potentially change your life? Those are the moments that Julia was intent on sharing as she was hoping they would inspire others.  "At the time, it was hard for me to put thoughts into words as I was on a journey of self-discovery, and to me, a picture spoke louder than words."
For Julia, nothing could compare to experiencing the world firsthand. "It's an indescribable feeling that I think everyone needs to know in their lifetime." It allowed her to slow down and really think about pausing to enjoy the journey. What truly makes the destination so rewarding is the journey that was taken to get there.
When Julia finally returned home to North America after years spent traveling around the world, she couldn't help but feel stuck. "I had all this new knowledge and experience that I wanted to share and use but didn't know how. I knew that a "regular" job wasn't in the books for me and that I would need to find a way to create something for myself." So, she began focusing on photography, taking time to learn both technical and artistic aspects of it through a variety of online resources and observing other photographers. As her following grew, she was able to turn her hobby into a business, earning a living as "a full-time freelancer who creates content while exploring our natural world."
Julia Thompson Creates the Perfect Home on Wheels
While Julia and Chris were in New Zealand, they primarily traveled in a converted camper van they had purchased. They quickly fell in love with life on the road and knew it was something they wanted to do again. Even after leaving New Zealand, Julia and Chris held onto their dream of one day having another home on wheels. Upon returning to North America, their dream was finally able to come true.
After purchasing a 2022 Ford Transit, which they named Fernweh, Julia and Chris set out to tackle their next challenge. With no prior experience, they were determined to build the van 100% on their own. They took the shell of a van, designed the space to turn it into a functional home, and got to work. After months of installing plumbing, an electrical system, a roof rack, cabinets, new windows, and more, their home on wheels was finished.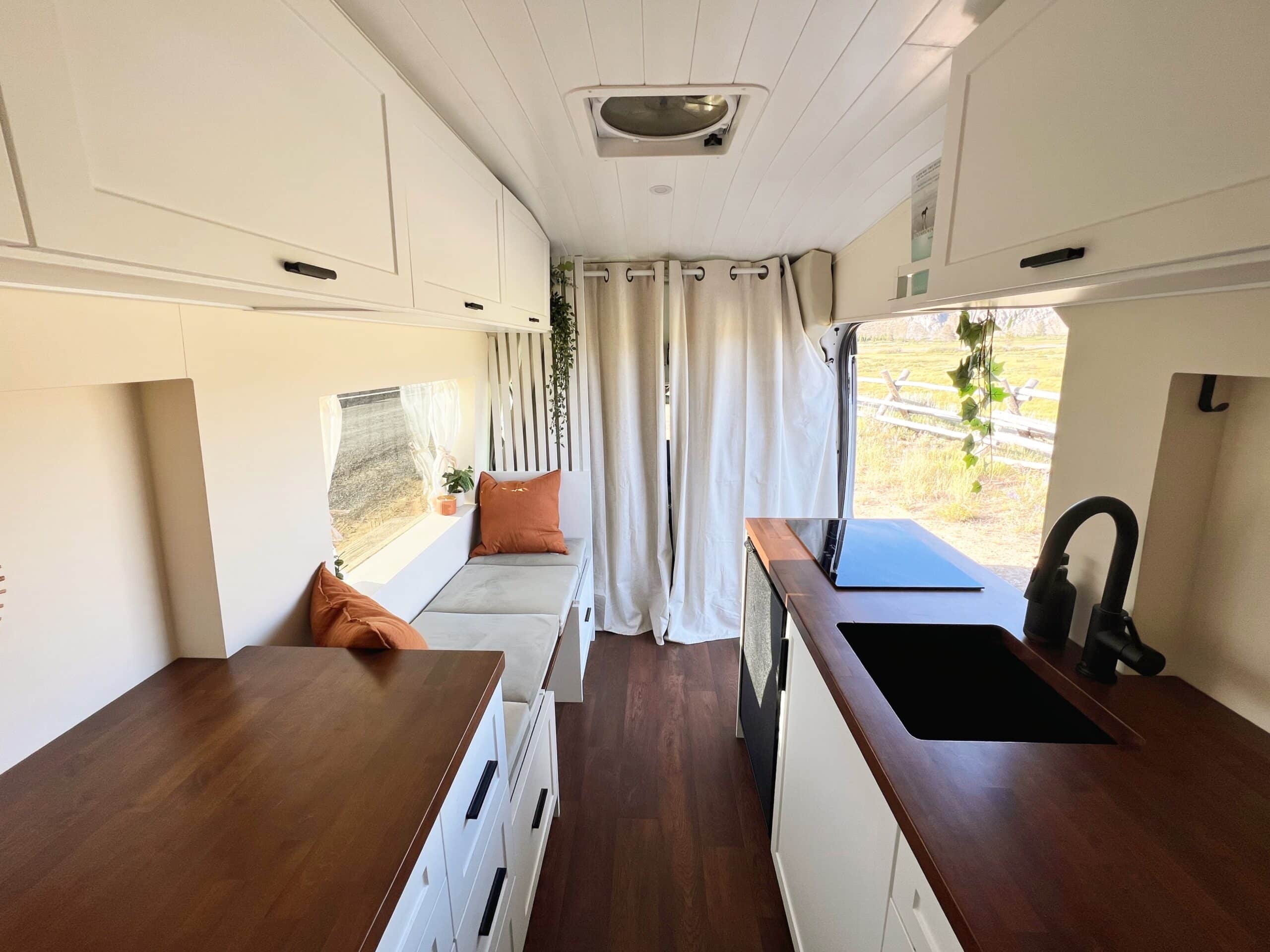 Despite it being the most difficult project they had ever undertaken, they also learned they were capable of doing anything they set their minds to. In addition to having a gorgeous, converted camper van, Julia and Chris are also walking away with a newfound determination not to let anything stop them from chasing their dreams.
Looking back at the home on wheels they created, Julia and Chris are still in awe of the design. The minimal and warm look they chose allows it to feel just like a regular home would. They put an immense amount of detail into designing the space to work functionally for their lifestyle. Optimized storage space, bunk windows, and the addition of their composting toilet are essential details that allow Julia and Chris to feel at home while on the road.
Powering Life on the Road with Battle Born Batteries
Another key consideration in Julia and Chris' van was their power system. As full-time photographers and content creators, keeping devices charged and running mobile connectivity is essential. Having a reliable electrical system that would work no matter where they went was non-negotiable. "After countless hours of research about the best direction to go for our power system, going with Battle Born was an obvious choice; with the vast majority of resources sharing, they were the best option."
Upon receiving their batteries, solar panels, and other components, Julia and Chris began installing their electrical system. Despite initial fears of working with electricity without any previous knowledge, their installation went seamlessly. As they continued researching and reached out to our technical specialists for guidance, their confidence grew. Each completed step of the installation felt like a victory, and Julia and Chris were over the moon to have such a powerful electrical system.
Fernweh the Van is powered by:
This robust Battle Born Batteries electrical system has already completely changed Chris and Julia's lives on the road. "We came from sleeping out of our car and pulling out a little battery bank and small propane stove to now having seemingly unlimited power and the ability to use our coffee machine, air fryer, and induction stove to make anything we like. It really feels like luxury!"
Julia Thompson Chases New Horizons in a Home on Wheels
The culmination of completing their home on wheels left Julia and Chris feeling an immense sense of pride for everything that they had accomplished. "Right now, we are just so excited about being in our van and enjoying the fruits of our labor." With a seemingly never-ending list of places that they want to visit in North America over the next couple of years, Julia and Chris are taking things slow for now. "We are just taking it one step at a time and absorbing every moment in the van that we have. It feels like such a special thing to be able to wake up in our van each morning and be proud of what we have created!"
As Julia and Chris prepare to ramp up full-time travel once again, they can't wait to embark on this new journey that will look quite different from their previous years of travel.  "We feel that having the van will allow us to slow down a little bit. Having a home on the road means we can spend more time in each place, rather than just one or two jam-packed days while passing through on a road trip."
Within Fernweh, Julia and Chris have everything they need a more for an extended stay in any location. Whether they're spending time in a new city or heading off the grid, their camper van allows them to work, sleep and live like normal while enjoying amazing outdoor spaces. As avid backpackers who love exploring nature on foot, Julia and Chris are planning to go on as many hikes as possible this summer.  They can't wait to search for stunning places to park the van, find hiking trails, take lots of photos, and document every step of the adventure to share with all of you!
What's Up Next for Julia, Chris, and Fernweh the Van?
Julia and Chris are kicking off their travels in Fernweh the Van with a two-month trip through the western United States. Currently, they're traveling through Arizona, Wyoming, Colorado, and Utah enjoying the vast beauty of the desert, the mountains, and endless hiking trails. While they have many places to check off their list, Julia and Chris are enjoying the freedom and slower pace of adjusting to life in the van.
In the coming year, Julia and Chris' travels will extend further into Canada and more of the western United States. They will spend their summers hiking through Washington, northern California, Montana, and Alaska, enjoying higher elevations and cooler weather. During the Winter, they will head south to Arizona, New Mexico, and southern California to find warmer weather and explore the desert. In between, they'll be adventuring through Canada, searching for hidden gems in the country they grew up in.  Julia and Chris can't wait to get more miles in Fernweh and are looking forward to starting their journey and following wherever the road leads!
Follow along with their travels on Julia's Instagram, Facebook, TikTok, and website, Chris' Instagram, and Fernweh the Van's Instagram for their most recent travel updates!