It's no secret at Battle Born Batteries that helping people get out there and stay out there is our mission. We love it when other entrepreneurs have a similar goal in mind, which is why this week we're highlighting Logan Barbosa and David Snow of This is Wild. Together, the two enjoy content creation and living the nomadic lifestyle.
Meet David and Logan:
David is a designer who focuses on creating enriching experiences through art and loves to spend time outdoors. As an entrepreneur, Logan is focused on building a business that allows her to create the best home and do it in an eco- and budget-friendly way. Together, the two created their van conversion business to help other people live the nomadic lifestyle in a home on wheels.
In addition to This is Wild, Logan is the social media coordinator for the popular Instagram account Van Clans, and David is the videographer and editor. Together, they film tours of the homes on wheels of people across the country.
"We both truly love what we do and being able to meet people on the road has been great," said David. "We've both definitely been in roles where we don't really like the job and were in it for the paycheck, so this has been a nice change of pace."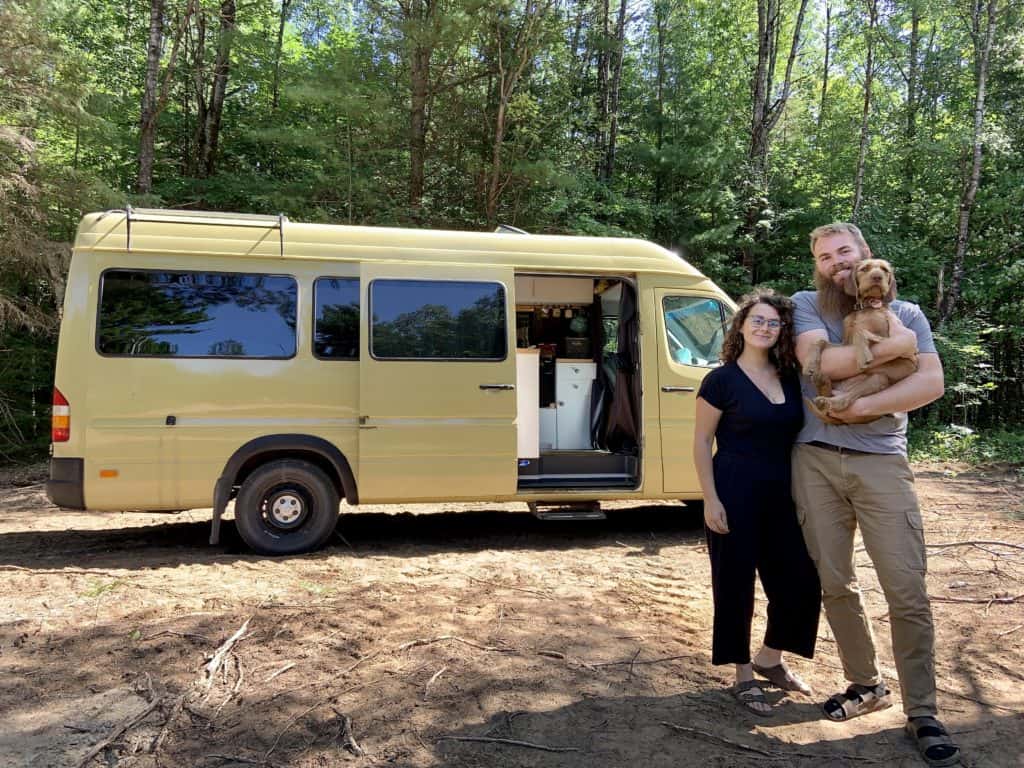 Before upgrading the components, David and Logan were running 100 amp hours of deep-cycle AGM dry cell batteries, 200 watts of solar, an EpEver MPPT 20A solar charge controller, and a Renogy 2000W 12V pure sine wave inverter. Their overall goal was to double the solar for their laptop usage and camera equipment.
Now they're able to comfortably power it all!
"When it was just me in the van, I was draining them up so easily," said Logan. "Having both of us in there has been a game-changer and having batteries to do that without constantly needing to be topped off has been great."
Here's what Logan and David are running in their 2006 Dodge Sprinter Van, nicknamed "Frankie":
5 – BB10012 Battle Born Batteries  
1 – Battery Isolation Manager
1 – BMV 712  
1 – 100/50 SmartSolar Charge Controller MPPT 
1 – Victron Smart Dongle
1 – 3000W Multiplus Inverter/Charger
Their van has a moderately sized garage area to house the batteries in, approximately 2.25 feet by 5 feet. What are the power draws for This is Wild? Let's take a quick look!
Item Make/Model and Quantity
Voltage
Watts/Amps
Daily Usage
12 LED Lights

12V
165mA
5 hours
50L Waeco Coolmatic CF Fridge
12V
7A
24 hours
Espar D2L Diesel Heater
12V
Off: 4W

Minimum draw: 6W

Maximum draw: 31W

24 hours in winter season
Flow Max water pump
12V
9.5A
30 minutes

Fantastic Air Fan
12V
High: 3.3A

Low: 1.5 A

4 hours

SunnyTrip Quick Charge USB Outlet
12 input, 5V output
3A
8 hours

Genuine Marine RV Reading Light with USB Port
12V
Light: 250mAh

USB: 5V/2A

2 hours

2 2013 Macbook Pro laptops
120vAC
85W max
8 hours
2 iPhones
5V each
2.4A and 3.6A
8 hours charging
Vankyo Projector 1080p
120V
50W
2 hours at 4 times a week
DJI Mavic Drone and Batteries
12V
3500mAh capacity
4 hours once a week, and typically  charged through inverter with battery charger
Ninja blender, 1,500 watts
12V
1 Ah Max
Less than 15 mins/ day
Built with long-term adventures and full-time living in mind, David and Logan don't have to wake up in the middle of the night to check the battery voltage anymore, although David jokes that he does it sometimes because he loves all things technical. They don't use more than ten percent of their battery bank's capability a day unless they working on and charging their laptops or camera equipment.
The two tested out their system on a month-long trip to British Columbia earlier this year, networking and filming content for Van Clans. David said that the battery system worked excellently, and they were quickly able to work out any kinks that might have hindered future trips. The van builders they've met were constantly impressed by David and Logan's LiFePO4 battery systems and admit that many hadn't seen anything like it.
"If we would have gone to British Columbia with our previous system we would have ended up in a lot of binds and staying in a lot of hotels," he noted. "It's been perfect, we had two technical issues on our end that we were able to quickly resolve."
Want to incorporate a similar system to David and Logan's in your van? Our Battle Born Energy van 600 amp hour kit is available. It's the perfect power boost for your system and allows you to run everything you need. To sweeten the deal, each of the components come pre-programmed.
What's Next for This is Wild?
Currently, David and Logan are preparing for the snow along with their life on their new 100 acre off-grid property, with amenities like a wash house and mini shop. Also, they love it when their fellow van life friends stop by and record tours to make connections that way. Their goal of building a stationary van conversion shop is on track for early spring.
"I've known I wanted to live in a van since I was sixteen years old and saved up since then to make it happen, and now I'm here doing it! It's a great feeling," Logan said.