At Battle Born Batteries, we pride ourselves on recommending reputable dealers and installers. This week we wanted to highlight one such company responsible for producing one of the sleekest truck campers on the market. Nimbl is for those who love adventure and total independence without compromise. Our team was able to sit down with Judd Newman, President, and Jon Turner, founder and Chief Engineer, to hear their vision.
The Freedom to Roam
Located in nearby Colfax, California, surrounded by evergreens in the foothills of the Sierra Mountains, Nimbl Vehicles offers some of the sleekest truck campers on the market today.
Seeing a growing demand for a new type of luxury truck camper, Judd and Jon envisioned something that allowed adventurers to go to places where they couldn't go before. The goal was simple: give expedition travelers front row seats to any place they wished to go with zero compromise and total access on or off the grid.
To help fill this growing demand they developed the Nimbl Evolution, a vehicle that allows travelers to truly take the road less traveled.
Enter Nimbl Vehicles:
Judd and Jon began this venture after working decades forging careers in corporate America. With Judd's 25 years of traveling the world working with Fortune 500 companies and Jon's degree in electrical engineering along with decades of overland expedition travel, they sought to create a unique expedition truck camper like no other meeting the needs well beyond what the market currently offered.
After purchasing XPCamper in 2019, they chose to set up operations at the existing site in Colfax. It was the perfect backdrop to bring together a team of proven craftsmen who shared their passion for travel, engineering, adventure, and excellence, to build something truly unique.
The Legacy:
Before it was Nimbl Vehicles, it was XPCamper, a company that enjoyed a loyal following of avid fans in the Overlanding community. Under the newly formed Nimbl brand, the Evolution is the first in a series of high-end bespoke expedition vehicles with road-worthy expedition grade systems.
This luxury truck camper is designed to go where no other vehicle in its size or in its class could go.
Built on the flatbed of a Ford F350 Super Duty 4×4, this camper shell is a single fiberglass mold with a monocoque design. This vacuum-formed piece creates the dinette, kitchen, work surface, bed, and bathroom to make a seamless and sleek interior. The top shell is set on a hydraulic system that allows the top of the camper to extend for camping with the ability to collapse for travel.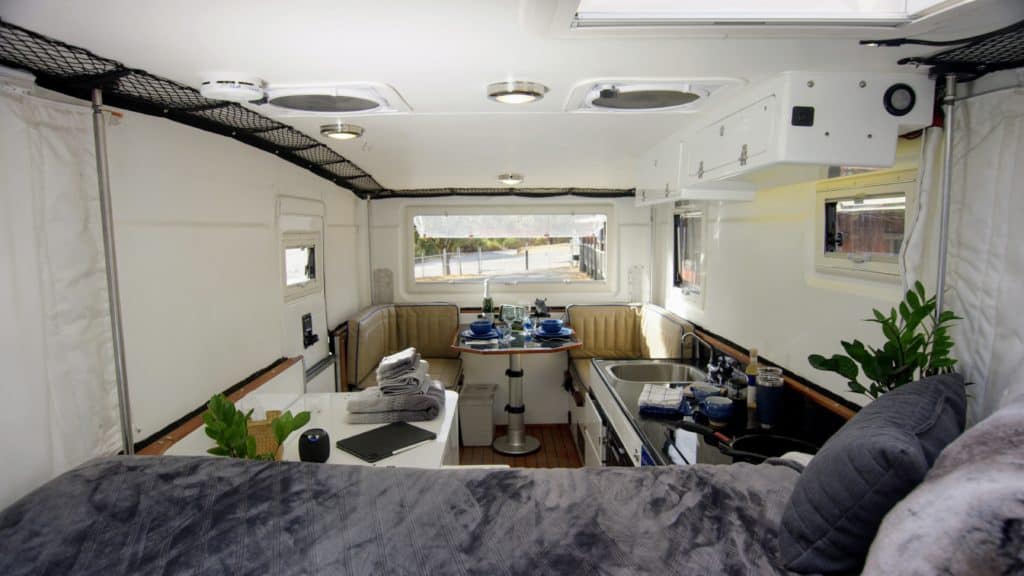 Upon closer inspection, you will see the amazing attention to detail – from the simple Nimbl branding hidden throughout the camper down to the individually labeled wires in their electrical compartment, it becomes easy to see the passion and heart that goes into every build, even to the point of having each craftsman secretly sign the camper in a location known only to them. This way, each team member truly takes ownership and pride in their creation — essentially joining every Nimbl owner wherever their journey takes them.
The System
This system is one of the neatest installs you will come across, and it's easy to see the endless care and attention to detail that goes into each electrical installation and beyond.
The Nimbl Evolution comes equipped with the following:
The Nimbl Evolution is ready to charge from your alternator, from shore power, and it comes with plenty of solar as well to keep your system topped up!
 The Nimbl Evolution:
What makes Nimbl Vehicles stand out beyond their heavy-duty truck and high-end truck camper bundle is the camaraderie and the people who work there who make this place something truly special.
Nimbl welcomes people to come and stay on the property and enjoy the grounds as well as their clubhouse. While the clubhouse is where the main offices are housed, it is far from what one might expect. Guests are welcomed to play a game of billiards, shoot some darts, or enjoy a fresh steaming cup of coffee.
"We want to foster a sense of community. If someone is here getting their vehicle worked on, we want them to be able to hang out and enjoy the property. We want to be able to have conversations with folks, connecting with them, sharing stories, building a bond, and forging a trust well beyond them being a customer," Judd told us.
The Nimbl Evolution gives adventurers the freedom to roam, and paired with Battle Born Batteries, you have the freedom to roam even longer.
Find out more about Nimbl over at their website, or give them a follow on their social media to see where the Nimble Evolution goes next on their Instagram, Facebook, or YouTube channel.