Peri Thitathan and his wife Pang had always dreamt of starting their own food business. After being inspired by the freedom of a food truck and the desire to bring authentic Thai flavors to America, they started Thai Burger Company. With an Americanized twist on Thai classics, Peri and Pang are disrupting the food and technology industries with their innovative Thai burgers and their Battle Born Battery powered food truck.
Meet Peri
After spending his childhood in Thailand, Peri Thitathan moved to the United States, where he, his wife Pang, and their two children still reside. After making a home for himself in San Diego, CA, he began attending a local community college in Oceanside. Pursuing a degree in engineering physics, which is similar to electrical engineering, Peri had hopes to eventually transfer to the University of California, San Diego (UCSD). Despite doing very well in school, Peri ended up dropping out to pursue his passion of starting a business.
The Thitathan family had years of experience in the food industry and were ready to do something more than just helping out in the kitchen of someone else's restaurant. "I remember being in a kitchen and it's like being in prison. It's a ten-by-ten square foot room and you're standing against a wall." So, in 2012 Peri and Pang took a step towards their dreams by starting Thai Burger Company, serving food outside from a canopy. Although it was ironic that they went from a ten-by-ten kitchen to a ten-by-ten tent, they loved getting to be outdoors interacting with people. Eventually, inspired by the freedom a food truck would offer, they transitioned their business and never looked back. "We get to go out and live a semi-nomadic lifestyle. Selling whatever we want, wherever we want, and not being subjected to one spot, but moving to where the people are at."
Back in 2012, the food truck scene in San Diego had already been going on for a while. The initial boom began in 2008 and then died back down for a few years. Then there was another surge of food truck owners after the movie, "Chef" came out, that follows a former restaurant head chef who leaves his job to start his own food truck business. While food trucks continued to become more popular in San Diego, and throughout California, Peri noticed that the food options were lacking creativity. As burger, sushi, barbeque, and Mexican food places continued to pop up, Peri knew he wanted to do something different. "I felt that we were perfect for the scene in San Diego where there's not that much creativity yet and we could add the spice to it. We decided we were going to do something completely different. We were going to tear the script up."
The Invention of Thai Burgers
With the inspiration of his home country, Peri decided to take an American twist on traditional Thai food and created his Thai burger. "A Thai burger is an inspiration from multiple dishes in Thailand that are very, very popular." This idea stemmed from wanting to incorporate the authentic flavors of Thailand, while creating a handheld dish that can be eaten conveniently. Peri took classic Thai dishes such as Thai BBQ Pork, Spicy Kaprao, Chicken Satay, and Panang Curry, deconstructed them and turned them into burgers with sticky rice buns.
Doing something different always comes with risk and Peri was worried that there would be backlash from the Thai community for turning traditional Thai food into an Americanized dish. Peri was surprised when he received a completely different response. It turned out that Thai people who had been in America for a while missed the authentic taste of Thai food that reminded them of home. Peri and Pang's commitment to utilizing authentic Thai flavors and mimicking traditional Thai dishes is what has helped them be so successful. They even make sure to visit Thailand frequently to try different foods and stay true to their roots. "That's what makes us very unique. We dare to be different and we're very bold."
Peri wants to deliver more to his customers than just a delicious meal. When customers have a Thai burger, he hopes to bring a smile to their face and fill their stomachs. When running the food truck gets tough and Peri is tempted to give up, his customers (and his wife) are what keeps him going. "You'll see me at two in the morning shoveling ice, cleaning the grill, throwing cleaning supplies on the griddle, and scrubbing the hot iron that leaves tons of scars on my hands." It's all worth it when Peri gets to see the joy his food creations bring customers. "I love the positivity and happiness that I get from customers. That energy goes right back at me. I feel satisfied and fulfilled, which is great."
The Challenges of Operating a Food Truck
Although Peri loves his role at Thai Burger Company, running a food truck is not as glamorous as it may look in movies or on television shows. Beyond the typical challenges of late nights, staffing issues, and self-sacrifice that come with owning a business, the food truck brings a whole different level of adversity. Being exposed to the elements makes seemingly simple cooking tasks a challenge. When the wind blows hard, the grill cools off and needs to be reheated. If the truck is parked on tilt, the fryer needs to be adjusted before it can be used. And if planes are flying over, it's nearly impossible to hear customers.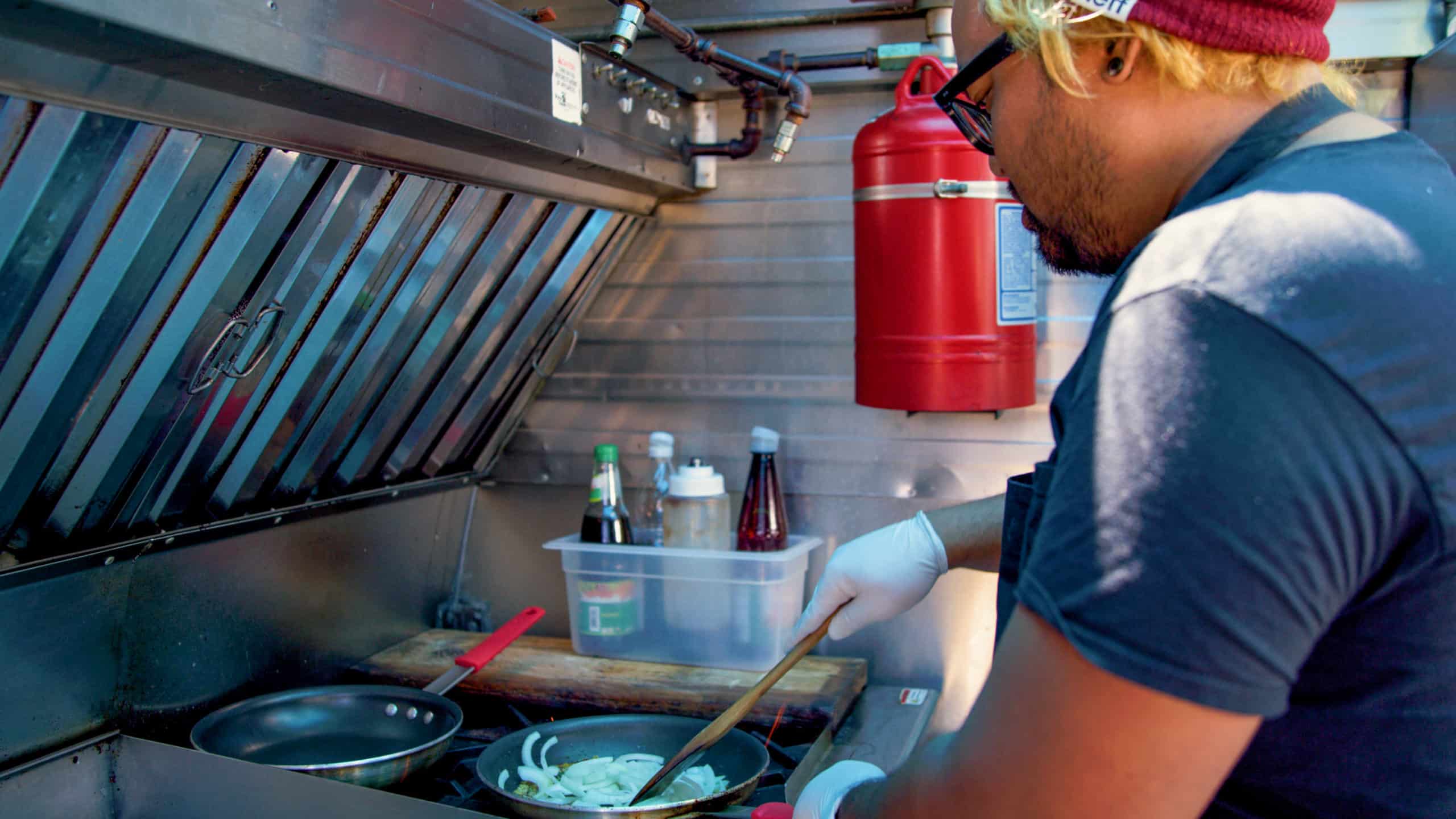 Additionally, food trucks have the challenge of not being connected to the grid but still need to power various kitchen appliances. Peri initially was operating with the gas generator that came from the factory with his truck. He struggled with the high levels of noise the generator produced as well as the maintenance requirements and needing to keep it filled with gas. "We've ran out of gas in the middle of a shift. I had to shut down the truck and go get gas and then come back." The generator brought constant "range anxiety," worrying about running out of gas and not being able to completely halt operations just to refuel. Generators require constant supervision and break down easily. Despite supposedly lasting for 10,000 hours, Peri's generator quit working after 3,000-4,000 hours.
Following the many frustrations of powering his food truck with a generator, Peri decided to go a different route. With his engineering background, Peri was fascinated by electricity and began looking into battery options. He ended up spending $4,000 on lead-acid batteries that he thought would solve his electrical problems, but with all of the maintenance they require and the shallow depth of discharge, the batteries failed. Then he bought AGM batteries so he wouldn't have to deal with the maintenance, and, again, the batteries failed … and more money went down the drain. While searching for a better solution, Peri even ran a 100ft electrical cord to a nearby building just to avoid having to use a generator.
Thai Burger Company Switches to Battle Born Batteries
Looking to optimize operations and make things simpler for himself and his employees, Peri began researching lithium-ion batteries to power his food truck. After already being fascinated with electric vehicles, Peri was familiar with the technology and knew the running lithium-iron phosphate (LiFePO4) batteries would help simplify his electrical system and eliminate the need for noisy generators, high-maintenance batteries, and extra long electrical cords.
Striving to use the best products in his food truck, Peri found Battle Born and saw the high number of positive reviews and decided to go with it. He ended up meeting Denis Phares, the CEO of Dragonfly Energy and Battle Born Batteries, back in the early start up days, when at the time he decided to purchase just one battery to test it out. "I remember taking his battery and thinking, 'I'm not going to tell him anything. I'm just going to use it and beat the hell out of it. And then we'll talk.' I waited four years and I realized these things are bulletproof." Peri loved the strong customer support he received and the knowing he could always call when he had questions. "I've called [Battle Born] multiple times and the customer service has been phenomenal. You guys, definitely know what you're talking about."
Out of all of the lithium battery choices out there, Peri was really happy that he landed on Battle Born. Eventually he purchased more batteries and is now running 8 – 100Ah 12V LiFePO4 Battle Born Batteries and additional components in his food truck. With this system he's able to run his lights, refrigerator, various pieces of cooking equipment, heat lamps, and cash register. Every night he's able to fully charge his batteries and his system will power his food truck the entire next day. "We know that it's reliable and we're not going to have any problems in terms of running our refrigerators, running our equipment and keeping things cold."
A Lithium-Powered Food Truck Revolution
After hooking up his new electrical system, Peri was beyond impressed. "And I remember bragging to everybody about it, "These batteries are going to change the way we operate in the food truck." The more Peri talked about the power in his food truck, the more questions he began to receive from fellow food truck owners. Eventually, they were asking Peri how much it would cost for him to do their install. Since Peri already knew how to do a complete install, he figured he might as well start doing them for other food trucks as a side hustle. "And now we're setting ourselves apart even further in the technology world. We're not only we're innovating with food now, but we're also innovating with technology."
For Peri, becoming a LiFePO4 battery installer is a dream come true. Although he dropped out of college to pursue a different passion, he missed being immersed in sciences and engineering. Working with lithium batteries allows the best of both worlds. "On the weekends, I'm a food truck owner and during the weekdays, I put on my scientific cape, and install batteries." He even gets to do some calculations with Ohm's Law while configuring systems and determining how much power his clients will need. Peri loves helping other food truck owners' transition away from gas power to greener, renewable energy.
The system's that Peri works on can go inside any type of food truck or trailer and are configured to the specific power needs of that application. Currently, the majority of his clients are coffee trucks and trailers due to the high amount of power espresso machines consume. A recent coffee truck client has an espresso machine from Italy that runs on 240V, which created a challenge for Peri. He found a solution with a system that utilizes 18 – 100Ah 12V LiFePO4 Battle Born Batteries. This massive system is able to power the espresso machine, 3 refrigerators, and run AC the entire time. Following this install, Peri is looking forward to doing installs for various different food truck applications.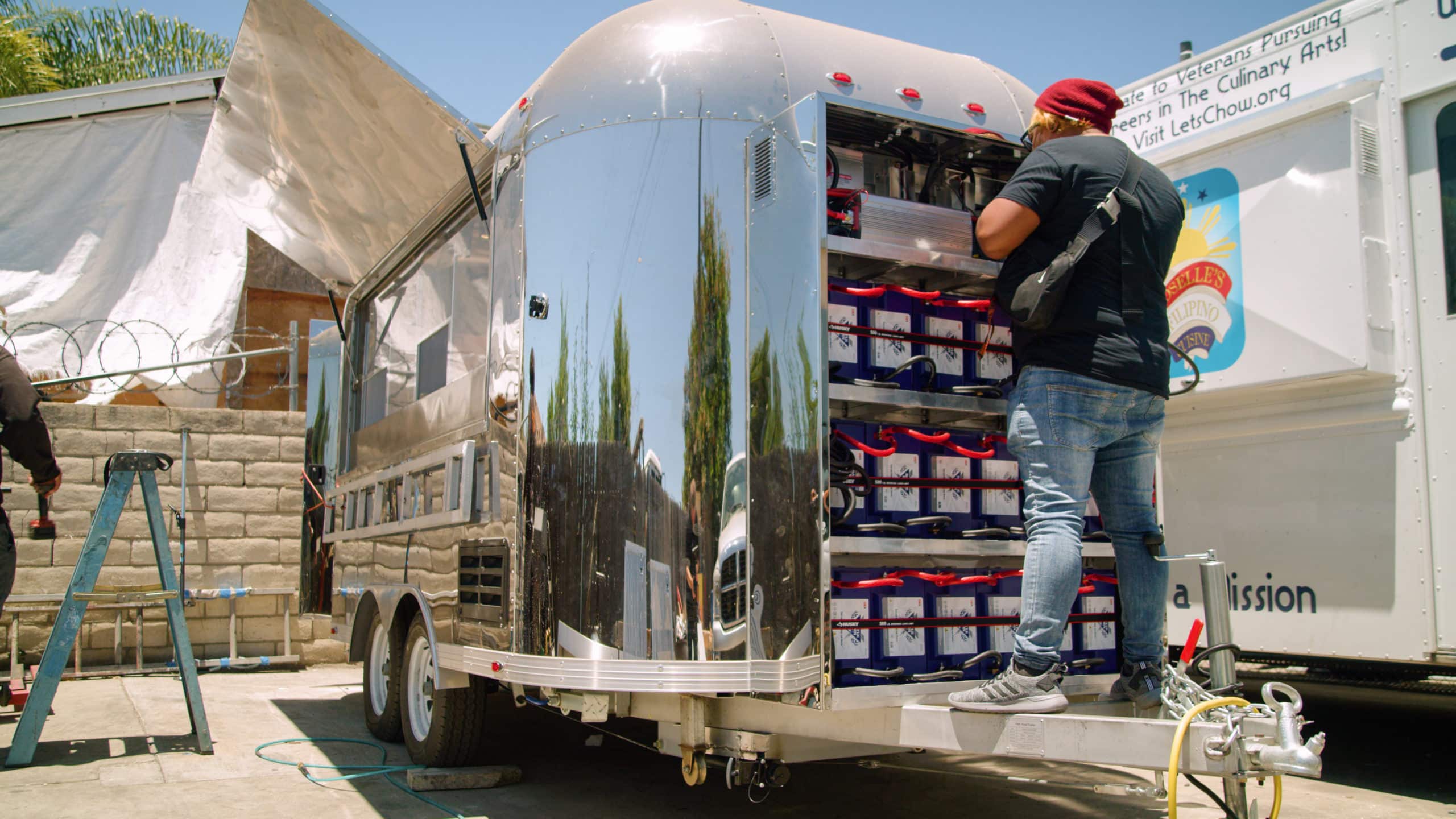 What's Next for Thai Burger Company?
As of July 1st, of this year, Thai Burger Company entered into its 10th year of operations. With ten years of success behind them, Peri and Pang have big plans for their future. Currently, Thai Burger has two trucks in operation and are working on adding a third once they can get more staff. After having to close a brick-and-mortar location in 2020, Peri and Pang hope to eventually have multiple restaurants in addition to their food trucks. After achieving that milestone, they hope to have wholesale options with frozen foods available in places like Costco and Walmart. "A lot of the people we serve are in the military and they move out of state, or they go to Japan. We want to be able to ship nationwide or even worldwide. That's where we want to go."
As for the future of his food trucks, Peri is hoping to one day be completely electric. "We're going to scrap all these and then then go with the electric food truck, electric kitchen, and electric generator." Peri and Pang hope to play an integral role in eliminating gas powered appliances and vehicles. While this may seem like a daunting challenge, Peri has the ambition to take it on, even just one step at a time. "I keep telling myself that quitters can't be winners and winners can't be winners can't be quitters. If I want to be a winner, I can't be a quitter."
To keep up with Thai Burger Company's future additions and current location schedule, check them out on Instagram and Facebook.