Chris Dunphy and Cherie Ve Ard from Technomadia are early adopters of LiFePO4 technology. They have various applications where they have implemented lithium, as it has helped their nomadic lifestyle. One of these applications is a 1999 Bay Liner, where they have added 6 Battle Born batteries onto their system. We strive to provide the reliability and power to meet our customers needs. Our batteries can help you get out there, stay out there! 
Tech-Nomadic Nomads
Chris and Cherie met on an Online Prius forum. Yes, the hybrid car. While searching the Prius group on LiveJournal (a blogging platform they used at the time) after purchasing her second Prius back in 2006, Cherie saw a post from a guy who shared about giving up his Prius to travel full time in a tiny travel trailer. She recognized his name from mutual blogging friends and left a comment.
That initial comment lead to months of casual correspondence, and then eventually meeting in person for a first date later that year. "By the end of that epic 27-hour first date, we knew for sure that our life paths were aligned," Cherie beamed.
Before embarking on this life journey together, they each found their passion in tech. Chris found his passion at a young age and was self-taught. After receiving a double degree in Computer Engineering and Computer Science, he headed off to San Francisco to became one of the founding editors of "Boot Magazine" (now called Maximum PC), which lead Chris to work at a range of interesting Silicon Valley companies. Cherie, on the other hand, was the proud daughter of an entrepreneurial father who was a software engineer pioneer. Her Dad's interest in tech soon became hers as well.
Together, this couple is known online as "Technomadia." A term that was inspired by Steve Roberts whom coined the term "Technomad" and was a great friend of Chris. Chris had registered a website name on the whim, which is where Technomadia came into play. Now, Chris and Cherie have a website with tons of information, as well as a YouTube Channel. Some of the information you can find on their website includes information on solar electrical systems for RVs and mobile internet systems for those traveling constantly. Other than showcasing their learning experiences on the road, their goal is to make friends and share inspiration. "We're both fairly introverted, and by putting ourselves out there online we've met so many like minds and have discovered so many social opportunities in our travels. We've forged many lifelong friendships this way. And we love it when we hear that our sharing has inspired other people to make their own dreams come true" they explained.
Mixing Tech and Travel

During the beginning of their journey together, Cherie still had clients she needed to keep in contact with. Therefore, staying connected to them through technology was critical. So, when this was presented as an issue, Chris already had some ideas since he was dabbling in mobile internet before Wi-Fi was ever an option. From this, Mobile Internet Resource Center was created.
This is a place where people who travel full-time can find mobile internet options within their budgets. Chris and Cherie's goal is for nomads like themselves to save time looking into mobile internet. They want their audience to spend the time finding out what drives them and explore it!
When this mobile internet idea for nomads took off, instead of answering the same questions all the time, they wrote a book. The Mobile Internet Handbook, which includes everything travelers need to know about traveling Wi-Fi. They even have a Facebook group that they use to update their audience with the latest information on the topic, check it out!
Leading the way with Lithium
Around the time when Technomadia started looking in LiFePO4 batteries, they weren't that common in the RV or boat world. "When we bought our vintage bus in 2011 it didn't have a working house battery or inverter – so we revisited that [lithium ion battery] research and discovered that lithium battery packs primarily targeting the homemade EV (electric vehicle) market were available and relatively affordable – and we found a supplier nearby that was willing to let us use a hydraulic press so that we could disassemble down to the raw cells and reassemble the batteries to better fit our high-capacity rather than high-voltage needs" Chris and Cherie explain. There weren't that many resources available in 2011 which turned this process into a learning experience for the couple. So, they rolled up their sleeves and worked day and night to come up with a solution by the time Burning Man rolled around. "We literally pulled all-nighters in parking lots while rewiring the bus for this project!" The couple exclaimed. They had their own system that they built in their bus and they couldn't be happier with it.

At that time, everyone in the RV world knew them because of their lithium system. Their inbox would be full of emails upon emails of questions on how to get a system like theirs and more about lithium systems. They wanted to keep their focus on the Mobile Internet Resource Center, so they are glad that lithium is now more mainstream in the RV world. "And just a few years later, it's a whole new world – it's fantastic now to walk onto an RV lot or attend a RV show and see so many mainstream RV manufacturers offer lithium standard from the factory. And that there are plenty of experienced professional installers willing to help people with their own upgrade after-market projects," Chris and Cherie reveal.
When it comes to Battle Born Batteries, it took a few discussions for Chris and Cherie to learn more about the company and the products. "Battle Born impressed us by being able to geek out and answer the most technical questions we could throw at them – and they have been doing a remarkable job reaching out into the RVing and boating community to help demystify lithium and make an aftermarket installation approachable. And we're really impressed with how the Battle Born team has authentically become part of the very community they are working within." Chris and Cherie have been a big part of the community, so when they saw the ten-year warranty offered, they knew that they could trust Battle Born Batteries to refit their boat.
Technomadia LiFePO4 Set-Up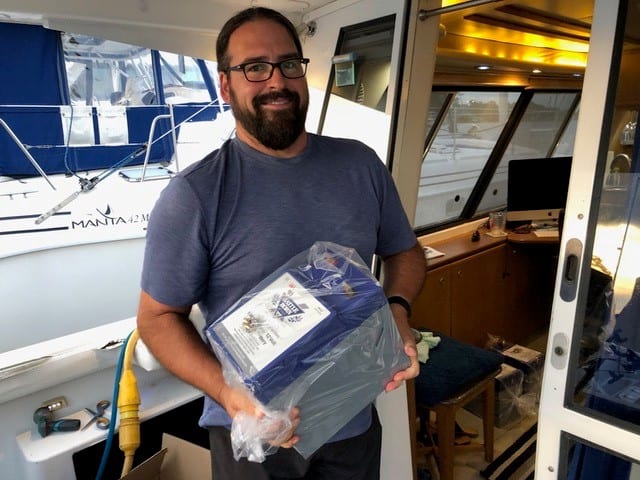 The tech-driven couple partnered up with Battle Born Batteries to create the system that would be the perfect fit for their 1999 Bayliner 4788 motor yacht.
Their set up includes:
Keep up with Technomadia
Since Chris and Cherie are spontaneous in their travels, they don't have a plan for where they are going next! "We're learning to avoid making too many plans that are set in stone. In other words – we are planning on having some exciting unplanned adventures!" The couple notes.
At present time they have just added a Winnebago Travato camper van to their adventures and are already working on the conversion. It'll of course have lithium batteries too.
To keep up with this tech-savvy couple, follow Chris and Cherie's Instagram, Facebook, and Twitter! You can also subscribe to their YouTube Channel!
Along with posting regularly on social media, you can follow Chris and Cherie's adventures along RVers like Mortons on the Move and RV Geeks, on a new show  "The RVers" set to air on PBS and the Discovery Channel coming this Fall!