The International Motor Sports Association (IMSA) is the king of North American sports car racing. And 2023 is their year for going green. 
In January 2023, Daytona hosted the prestigious Rolex 24. This event celebrated the arrival of a new Grand Touring Type (GTP), which will be open to Hybrid Powered Vehicles. The racing world falls in line with all other sectors as industries shift in response to climate change. And the movement to green initiatives resonates well with the racing audience, with IMSA fans being 40% more likely to buy electrified vehicles than the general population.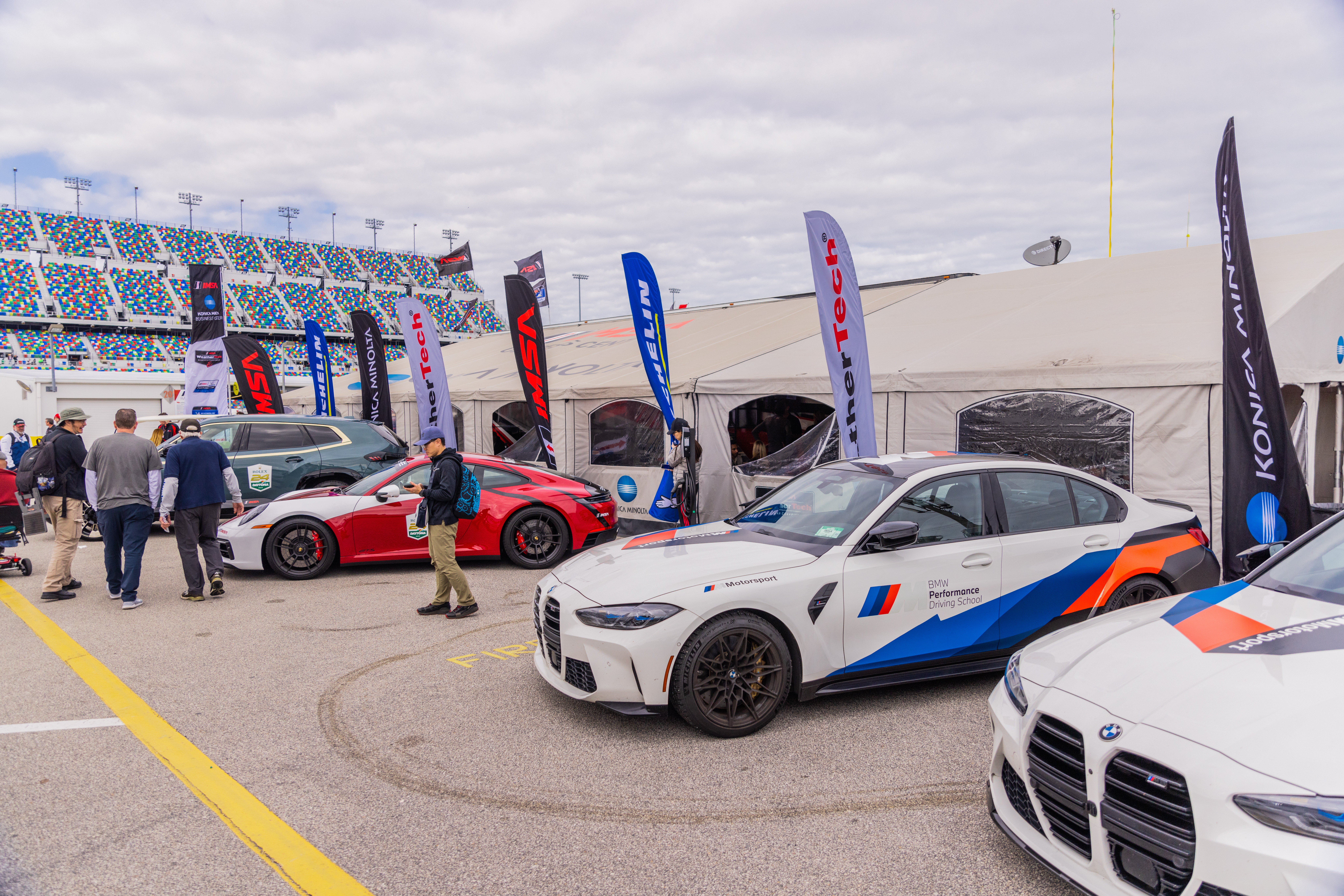 Green Initiatives in the Racing World
As IMSA implements practices that shift the racing world to greener pastures, creating a completely off-grid charging station and a rolling office was part of the mission. And here is how they did it – with impressive success. 
With the new class of racing in place, all LMDh (Le Mans Daytona h) cars will have a single-specification hybrid powertrain system used. Each vehicle in the class will carry specific design cues and styling to align closely with each manufacturer's road product. The cars will carry real-time data and suitable technology relevant to our technological road world. 
Rory Harvey, vice president of Cadillac Global, told USA Today that the IMSA platform allows manufacturers to "showcase what we do from a technology perspective, from a performance perspective, and an aerodynamics perspective. It gives us the ability to transfer technology across to our road cars." 
The Racing Industry and Manufacturers Work Together for Greener Initiatives
Who's participating in green initiatives? Michelin, a leading tire manufacturer, is committed to reducing their carbon footprint. 26% of their race tires are made with renewable materials. IMSA has achieved a 10% reduction in its overall fuel use. In 2023, 80% of the fuel was renewable (54% was 2nd generation biofuel non-food stock; 16% was 1st generation biofuel). By 2024-2025, the organization hopes to use 100% 2nd generation biofuel. 
IMSA has also implemented several other initiatives to reduce its carbon footprint. The organization has outfitted facilities and equipment with LED lighting, creating more energy efficiency. IMSA has also launched recycling initiatives, refillable water stations, and the discontinuation of single-use plastics. 
Furthermore, the organization has made steps to ensure all staff apparel is either carbon-free and/or made from recycled fabric. Digital tickets have replaced wasteful and unnecessary paper tickets. And IMSA's primary objective has been encouraging manufacturers to step away from noisy generators and fossil fuels and put renewable energy sources to use.
The IMSA Konica Minolta Business Center
This past January, IMSA showed the race teams what is possible for off-grid energy storage. With the power of Battle Born Batteries, Victron Energy, and Merlin Solar, IMSA successfully ran a rolling business center solely powered by solar panels and LiFePO4 battery storage. 
During the 2023 Rolex 24, the business center efficiently ran fans, lights, and air conditioning. In addition, the facility could run multiple TVs, provide outlets for attendees to charge devices, and impressively power an off-grid EV charging station. The system ran off battery and solar power for four days straight with no downtime. 
Unbridled Power
The IMSA Konica Minolta Business Center is powered by Battle Born Batteries and Merlin Solar Panels–an impressive system installed by George Agutter of Un Plugged RVS. 
The specs of the system are as follows: 
Merlin Solar 5kW of roof solar panel system 

Charging 77.7kWh of Battle Born lithium-ion batteries 

Providing up to 16kW of power – Victron Energy management systems 

Monitor highlighting charging diagnostics, solar energy production, battery storage, etc. 
Over the weekend, the standout achievement of the off-grid Business Center was successfully charging a BMW prototype vehicle using solely solar and battery power provided by the trailer. The process barely took four hours, resulting in a fully charged electric car. 
IMSA's goal of showing off-grid capabilities shone through with its innovative mobile business center. 
Battle Born Batteries for Off-Grid Power 
Did you know LiFePO4 Battle Born Batteries are one of the best choices for off-grid battery power? Why? 
The 270Ah 12V GC3 Gamechanger model used in the IMSA Business Center is lightweight and compact. This allows for superior power output and a clean fit in any space or compartment. GC3's unique form factor allows the power storage option for installation in any orientation and location, with no ventilation room for off-gassing required.
The GC3 Battery uses the same lithium iron phosphate (LiFePO4) stable chemical composition in cylindrical cells as our full line of Battle Born Battery products. It weighs roughly 80 pounds, making it lightweight and powerful. 
Battle Born Batteries are backed by a 10-year warranty, making Battle Born Batteries an ideal choice for IMSA's long-term green initiatives. With lithium-ion batteries installed, they no longer have to worry about filling a generator up or regularly replacing lead-based batteries.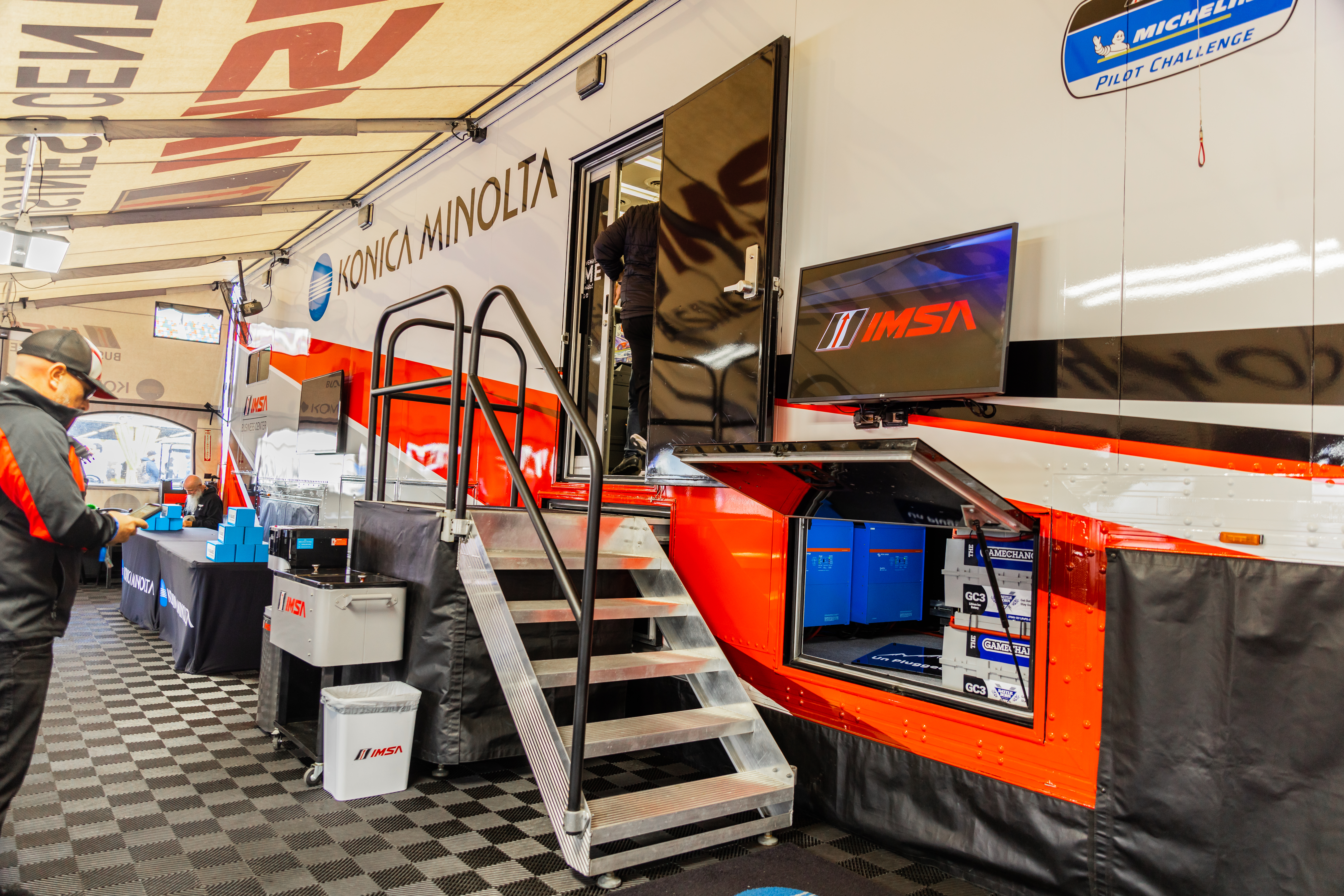 A Powerful Solution for an Industry Going Green
Many guests of the Rolex 24 and other IMSA events are progressive adopters of new technologies and greener solutions. Right now, the hottest topic in the sustainability world is the subject of electrification. With that being said, the business center provided the perfect opportunity to showcase some fantastic off-grid capabilities powered by Battle Born Batteries.
Overall, the mobile IMSA Konica Minolta Business Center trailer provided guests with a convenient and comfortable place to network and cool off. Now, as IMSA shifts to more green initiatives in the future, you can expect to find this impressive trailer at more events, for years to come.