As a southern California native, the recent decade of devastating wildfires in California has hit close to home for Stuart Palley. With a variety of accolades in photojournalism, he began using his skills to document the destruction of wildfires and tell stories through photography. Now, with a fully equipped truck-camper, Stuart is able to get further off-road to capture the forces and beauty of nature.
Meet Stuart Palley
From various mountain ranges to expansive deserts and unbeatable views of the Milky Way, Stuart Palley loves capturing the beauty of nature through his camera lens. Born and raised in southern California, Stuart was captivated by the vast landscapes of the southwestern United States from a young age and it's still one of his favorite regions to explore today.
After studying finance and history with minors in photography and human rights, Stuart received his bachelor's degree from Southern Methodist University and later went on to receive a master's degree in Photojournalism from the University of Missouri. Stuart's passion for photography quickly blossomed into a successful career and he began specializing in environmental, art, editorial, and commercial subjects.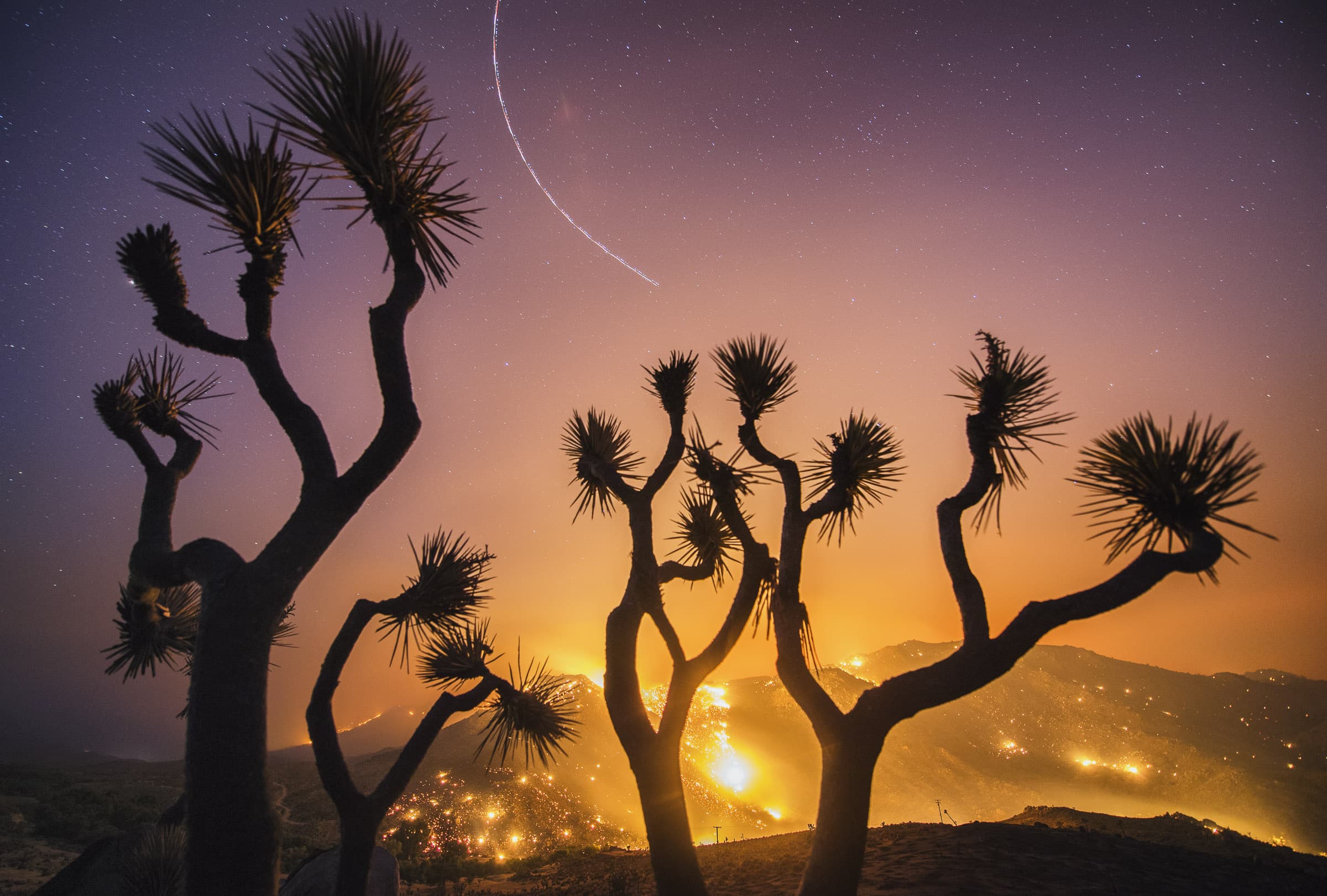 With his work featured in notable publications such as National Geographic, The New York Times, The Wall Street Journal, The Los Angeles Times, The Washington Post, TIME Magazine and more, Stuart's talent hasn't gone unnoticed. In addition to having excellent photography skills, Stuart loves how photos can tell stories and bring issues to light. "Photography gives me a reason to ask questions of the world, to document places, moments, and people."
Capturing the Devastation of Wildfires
One of Stuart's favorite environmental subjects to photograph, aside from the galaxy, are wildfires. They are a breathtaking display of the sheer force and power of natures elements. In 2013 Stuart created an ongoing series to document the effects of drought in California through photographing wildfires from the Sierra Nevada's to the US-Mexico border. Since the creation of the series, Stuart has photographed over 100 wildfires and the series has received multiple rewards.
While photographing wildfires, safety is a primary concern. Stuart has received formal wildland fire training and all the necessary PPE to help keep him safe, and he will only get close to the fire when crews feel that it is safe to do so. "No photo is worth risking my health or that of a first responder." In most situations, Stuart is able to utilize a telephoto lens and long exposure to capture powerful images from a hillside, without having to get up close to the blaze.
In August of this year, Stuart published "Into the Inferno", a book detailing the stories behind his wildfire photography featuring the firefighters, civilians, and places impacted by the fires. Throughout the book Stuart shares the devastating effects of wildfires in California over the last decade from the perspective of someone on the frontlines. For those that read the book, Stuart is hoping they walk away inspired to "do their part to prepare for wildfire, support leaders that will support firefighters, and understand the complex interactions with humanity and fire."
Life on the Road as a Professional Photographer
Spending much of his career chasing wildfires and photographing western landscapes has led to a lot of time spend on the road. Stuart has always loved getting the opportunity to get out and explore wild spaces while capturing their awe-inspiring beauty. "Night skies, fiery sunsets, the quiet of being off-grid and the clarity of mind is a powerful tonic to many of the distractions and complexities of modern life." Getting off grid and off-road has presented Stuart with the perfect opportunity to reset and refresh, away from the chaos of every-day life.
Making the transition to spending more of his time on the road, away from home, Stuart found that the biggest challenge was learning how to make do with less. Living in a smaller space forced him to have less material items, use less water, and find ways to create less waste in order to live more simplistically while off grid. By letting go of stuff, Stuart has been able to be more present in the time he spends outdoors enjoying the various weather patterns and beauty of everyday life. Although the transition wasn't easy, he loves the time he is able to spend on the road.
Currently, Stuart's home on wheels is composed of a 2021 Ford F-250 Super Duty Tremor with a 2022 Four Wheel Camp Hawk mounted on the back. He recently upgraded from his 2018 Ford F-150 to give him more power in hilly terrain and allow him to carry more weight. Stuart loves the flexibility his truck camper has given him and his ability to camp essentially anywhere he can get the truck. With solar power and larger water tank, Stuart is able to stay off grid as long as his supplies will last without worry.
A Robust Overland Rig Powered by Battle Born Batteries
One major factor in Stuart's ability to say off grid longer was upgrading his truck camper's solar electrical system with Battle Born Batteries. Before making the switch, he found himself constantly plagued by battery anxiety and worried his charge indicators on his AGM batteries weren't giving him accurate readings. With his 2 – 100Ah 12V Deep Cycle LiFePO4 Battle Born Batteries and additional components, Stuart can get accurate readings of charge status and power consumption and never have to worry about suddenly running out of power.
Stuart's new electrical system has completely changed the way that he camps. Without worrying about his power consumption, he is able to charge his camera, power his coffee maker, and use his remote server, fully confident he has more than enough power. "It's made camping more spur of the moment, allowing me to focus on the outdoors vs. the technical side and babysitting old style lead acid or AGM batteries"
The lighter weight and increased reliability of his Battle Born Batteries has allowed Stuart to get farther off grid, to more roads less traveled. He no longer has to remove camping chairs or drain some of his water, just to stay under the safe weight load of his camper. This has been especially useful when photographing wildfires as Stuart is able to rest closer to the field, which reduces fatigue and drive time and in turn keeps him safer on the frontlines.
"Don't get me wrong, the stock batteries were "adequate" – and just that. But I don't settle for adequate, when my safety, career, and artistic work rely on the best components out there. That's why I chose the Battle Born batteries, reliable under rugged conditions, lighter weight, and with the detailed data I need to safely charge all my camera and tech devices."
The Highlights of Having a Home on Wheels
Following the installation of his new electrical system, Stuart spent the summer driving from California to Canada and back, racking up nearly 5,000 miles of driving. Throughout the trip, Stuart traversed through many jaw-dropping landscapes of wide-open deserts and jagged mountain ranges. While he enjoyed many parts of that trip, he particularly remembers his first night camping in the rig with his new electrical system.
That night, Stuart was with his adorable pup Kit, camping in the Great Basin of Nevada. They were up in the mountains watching an incredible sunset in the midst of a thunderstorm. "I was parked at 5500 feet on the side of a mountain, with an entire view to infinity as the sky danced with thunderstorms and dramatic color." Stuart fondly remembers the feeling of peace as he enjoyed the beauty and forces of nature from the comfort of his truck camper.
It was on this same trip that Stuart fell in love with summertime in Montana. While there are countless places he loves to camp, watching the mid-summer sunsets in Montana near the top of the list. It's hard to beat the perfect temperatures, low humidity, and late sunsets watching the gorgeous sunset sky slowly fade into the Milky Way.
Although Stuart loves spending time in Montana and the southwest, Stuart is happy to go anywhere he can experience his favorite activities. Whether he's at home woodworking, out exploring and hiking with Kit, or trying out new breweries in each new place he visits, Stuart loves the freedom and flexibility of his life on the road. At a moments notice he is able to pack up and hit the road to retreat to the mountains, find new views of the Milky Way, or photograph a major wildfire.
What's up Next for Stuart Palley?
Next on Stuart's travel agenda is a trip to Saline Valley Hot Springs in Death Valley National Park. After being closed in 2020 and 2021, Stuart is looking forward to finally being able to head down there. With his new truck and camping set up he's ready to trek down miles of rugged two track dirt roads to legendary secluded spots in the area.
To keep up with Stuart's upcoming travels, see his incredible photography, and learn more about his book and other publications, be sure to check out his Instagram, Twitter, and his website.