Sascha Meyers and Raf Echemendia spent much of their early adult years dreaming about one day sailing around the world. After a chance meeting, on an island in the southern Bahamas, they set out to accomplish their goals together. They recently finished refitting their dream sailboat and are looking forward to starting their next sailing adventure, as they head through the Panama Canal and then cross the Pacific Ocean.
Meet Rafael Echemendia
While growing up in a small town in central Florida, Rafael (Raf) Echemendia fell in love with bass fishing. At only 7 years old, Raf would wake up early and ride his bike to go bass fishing by himself, before heading to school for his second-grade class. Although Raf spent years fishing from shore, he often had to trespass through others property to get to the good spots and there were large sections of the lake he missed out on. So, when he was 12 years old, Raf "dug up his father's old, 12ft aluminum Jon Boat and restored it beyond its former glory," fishing from the boat from then on.
Heading into high school, Raf still carried his passion for bass fishing, but also developed a love for football and became quarterback of his high school team. After receiving a football scholarship, he played at Jacksonville University for the first two years of college and then finished out his career playing at the University of Central Florida.
Realizing his love for football had faded, he finished his bachelor's degree and focused on finding work, so he could save enough money to chase his new passion of sailing around the world. Despite having a business degree, Raf went on to learn many trades, eventually getting a contractor's license and remodeling high-end kitchens and bathrooms.
After 10 years of working and saving, Raf convinced his friend Ben, to go 50/50 on a sailboat and they purchased a 39' Leopard Catamaran. "Raf has always been one to jump out of the plane before learning how to use the parachute" so, with minimal sailing experience, he and Ben sailed into the Caribbean, in the midst of hurricane season, and simply learned through trial and error, eventually ending up in the Bahamas.
Meet Sascha Meyers
Similar to Raf, Sascha Meyers grew up near the water, spending most of her time outdoors. Sasha's parents built and owned a marina and campground near her hometown of Dearborn, MI. The forest surrounding the campground turned into a playground for her and her sisters as they spent countless hours making tree houses and catching frogs and snakes.
Naturally drawn to the water, Sascha spent her childhood competitively swimming and sailing with the local team on Lake Erie. In addition to her time spent competitively sailing, Sascha's family had a sailboat they kept in Tampa, Florida. During the winter, her and her family would spend a few weeks sailing down the west coast of Florida, to the Florida Keys, even going as far as Cuba. While she loved competitively sailing up in Lake Erie, it always felt more natural for her to be out on the open ocean.
While Sascha was in college studying Animal Sciences to become a veterinarian, she couldn't stop dreaming of what it would be like to sail around the world. Eventually Sascha decided she wanted to start working towards her sailing goals and during her school breaks, Sascha, her sister Nathalie, and their dad worked to fix up the sailboat and get it ready for longer passages.
After receiving her degree, Sascha and Nathalie set us on their first sailing season in 2020 only to return home, one month in, due to the Covid-19 pandemic. Still determined to keep sailing, they set out for their second season the following year and headed out towards the Caribbean. Two months in, Sascha and Nathalie ended on a small island in the Bahamas.
Sascha and Raf's Chance Meeting in the Bahamas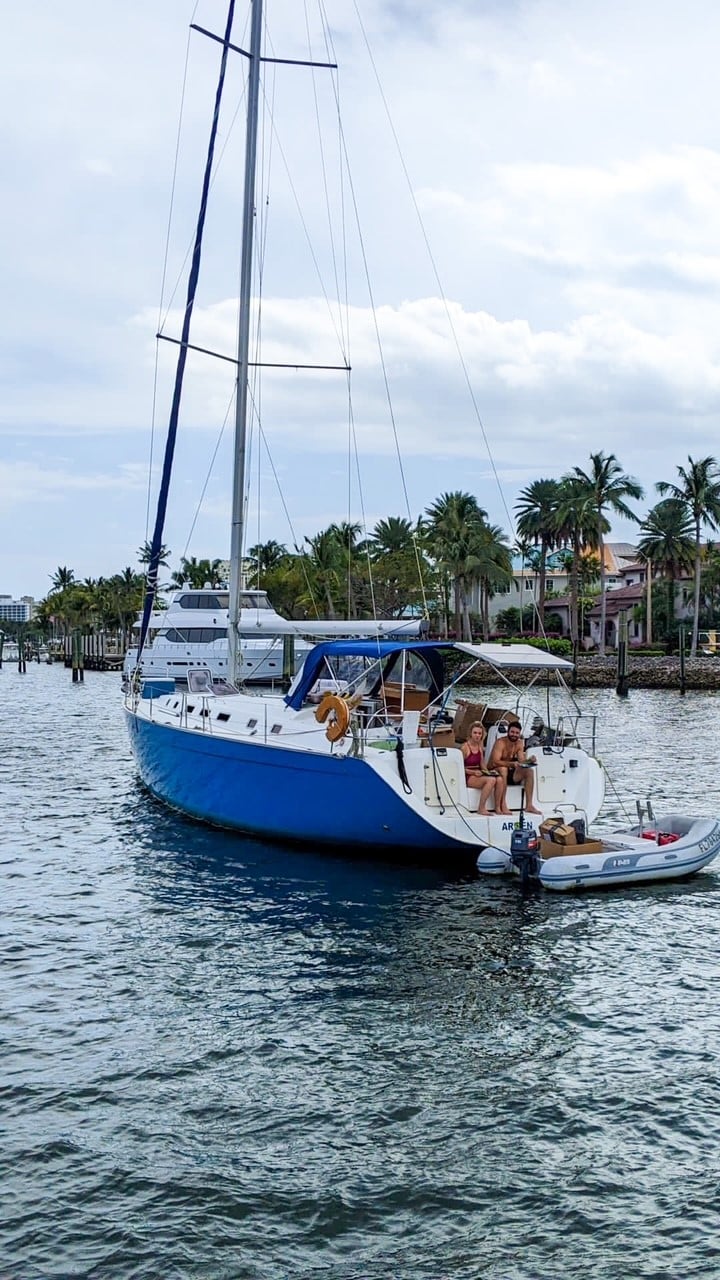 In February of 2021, both Sascha and Raf had sailed their respective boats to the island of Georgetown in the southern Exumas of the Bahamas. After both heading into shore, with Nathalie and Ben, Sascha and Raf crossed paths for the first time at a little beach bar. Immediately, Sascha and Raf knew they had a connection and weren't ready to sail off in opposite directions.
So, for the next 7 months, Raf and Ben "buddy boated" around the Caribbean with Sascha and Nathalie. During that time, they sailed all the way down to the Dominican Republic before returning to the US for hurricane season. Following their return to the US, Ben decided to go back to life on land and he and Raf sold their sailboat, but Raf wasn't ready to give up on his dream.
Raf began looking for a new sailboat and traveled all around the Caribbean searching for the perfect one. At the time, it was late 2021 and sailboats were in high demand. While looking at boats elsewhere, his dream sailboat, a 50' Beneteau Cyclades, went up for sale in St. Augustine, Florida and without even thinking about it, he jumped on the offer and purchased it. A week later Raf and Sascha flew to St. Augustine and spend the next 3 days sailing the boat down to Fort Lauderdale, Florida.
Upon further inspection of sailboat, Raf and Sascha discovered the boat was nothing more than "a piece of fiberglass that only floated if you bailed out water faster than it was coming in." Nothing on the boat worked the way it was supposed to, and they quickly learned their lesson of always inspecting a boat before purchasing it. Nevertheless, Raf was still determined to make the Beneteau, "Spear It Animal", his dream sailboat and he and Sascha got to work repairing and remodeling nearly every part of the boat. Eager to get back on the water, they got many of the necessary upgrades done in record time, Sascha left her dad's sailboat behind in Florida, and the pair were itching to head out on the open water.
Powering Spear It Animal with Battle Born Batteries
As Sascha and Raf were working on Spear It Animal, they knew a generic marine electrical system just wasn't going to cut it. "On our previous vessels we would wake up to a screeching low battery alarm 6 out of 7 nights a week. We could only charge our phones when the sun was out, play music at a low volume, and would have to turn off lights within an hour of the sun setting. After cruising for over a year like that, we realized that batteries are ESSENTIAL to living comfortably on the water."
Considering the various battery options for marine electrical systems, lithium was the best choice in terms of power, life cycle, efficiency, weight, and reliability. Looking into different lithium batteries, "Battle Born stood out as a CLEAR winner. Their quality, their craftsmanship, and their excellent reviews, were all key selling points, but what sold us the most, was their customer service team. You could tell they were extremely knowledgeable, honest, and proud of their products, and they took the time to explain to us exactly what we needed."
Sascha and Raf determined their power consumption and outfitted Spear It Animal with 2200 watts of solar, 5 – 12V 270Ah Deep Cycle LiFePO4 8D Battle Born Batteries, and the accompanying components. With their new electrical system, Raf and Sascha haven't had to turn on their generator once. Between the 2200 watts of solar and 1350 Ah of Battle Born Batteries, they have more than enough power to run any and all of their electronics including: the 110v watermaker, the 110v electric Air fryer, a washing machine, a portable AC unit, a water heater, underwater transom lights, radar, GPS, VHF, a windlass anchor, and numerous other portable electronic devices.
A Dream Home on the Water
Finally headed out to sea following their electrical install, their refit of the boat wasn't quite complete, but Raf and Sascha were ready to start enjoying their dream home on the water. One of the main things that drew them to Spear It Animal, was the five cabin lay out. This gave the couple plenty of room to spread out and truly feel at home, rather than cramped together in small quarters. They even choose to remove one bunk cabin and transform it into a full office, where both of them can work comfortably and store all of their equipment.
Another feature on the boat, that truly helps it feel like home, is the water maker. When sailing, many of the countries and islands they sailed to didn't have filtered water readily available and if they did, it was very expensive. With a water maker, Sascha and Raf are able to flip a switch and turn salt water into drinking water at a rate of 40 gallons an hour. This gives them the freedom to not worry about having enough water to drink, shower, or do the dishes.
In comparison to the sailboat Sascha grew up on, Spear It Animal is full of many luxuries she could have only dreamed of as a kid. Having unlimited water and more than enough battery power, allows Sascha and Raf to enjoy all of the normal conveniences of life on their floating home. They were even able to utilize an air fryer, in place of a traditional oven, despite the immense power consumption, due to the robust nature of their electrical system.
Sascha and Raf's Life at Sea
Hands down, one of the best parts about Sascha and Raf's life at sea is the ability to take all of the conveniences and luxuries of home anywhere they want to go. At a moments notice they can pack up and travel to a different state, a different country, or even across an ocean. "We love the freedom we have to move our home wherever we want. We love meeting new sailors and spending our days on the water spearfishing and freediving as well as getting the freedom to explore all different places."
Although they've loved many of the islands and countries, they've been able to visit, the southern Bahamas tops both of their lists of favorites. Not only was the southern Bahamas where Sascha and Raf first met, its also home to beautiful clear waters and a huge variety of fish. Many of the islands in this region are mostly untouched and the sea life is vast and diverse, making it a place Sacha and Raf like to visit as often as they can fit it into their travels.
While they're travelling from port to port, Sascha and Raf spend much of their time doing the essential activities: adjusting sails, completing night watches, fishing, and ensuring everything is appropriately tied down. When they're lucky enough to have smooth passages and good weather, they enjoy spending time reading and listening to music. Then, once they're at anchor, Sascha and Raf spend as much time as possible outdoors spearfishing, scuba diving, freediving, meeting other sailors, and exploring nearby islands.
Another thing that keeps Sascha and Raf busy while at sea, is running and keeping up with their YouTube and other social media channels. They tend to spend 40-60 hours per week filming, editing, and posting social content in addition to other projects they are working on to continue supporting their lifestyle. While things such as working remotely, constant repairs, and routine maintenance and cleaning aren't very glamorous, they're all worth it as they allow Raf and Sascha to continue living the life they always dreamed of.
What's Up Next for Spear It Animal?
As Sascha and Raf finally finish the full refit of Spear It Animal, they hope head from Florida towards Panama and through the Panama Canal, eventually crossing the Pacific next spring. They can't wait to spend time in French Polynesia and encounter hammer head sharks, massive schools of tuna, and active volcanos.
While they're looking forward to their upcoming sailing plans, they also can't wait for the pure freedom and ability to move anywhere in the world, any time they want. "We never get bored, we never stop moving, and we love meeting amazing, like-minded people, everywhere we go."
To keep up with Sascha and Raf's upcoming travels in their quest to sail around the world, be sure to check them out on Instagram, Facebook, YouTube, and their website!