A school bus conversion, or skoolie for short, is typically a decommissioned and modified bus that has been transformed into a mobile home on wheels. You're apt to see school buses, both long and short, along with Greyhounds and other types of public transportation that have been ripped apart, remodeled and restored into cherished skoolie treasures.
These buses still have the iconic clean lines and classic shape you'll recognize from childhood, but step inside and you'll find an area suited to build a modern living space much like you'd find in an RV.
Most skoolies were built with robust diesel engines that can last upwards of 1 million miles, making them a perfect mobile home.
Battle Born Batteries last between 3,000 and 5,000 cycles, weigh less than half of a lead-acid or AGM battery, and come with an industry-leading 10-year warranty. Other types of batteries can only be discharged down to 50% capacity, but Battle Born Batteries can be discharged fully which means you can keep your appliances, electronics and other toys powered while your skoolie cruises down the road.
What Is A Skoolie?
A skoolie is an old school bus someone has converted into a house on wheels. If you were to transform a "short bus," it would be called a "mini skoolie."
These buses are often DIY projects that allow for complete customization. So no matter your family size, there are plenty of options for making a school bus into a home.
Do Skoolies Make Good RVs?
Skoolies aren't just good RVs; they can be tremendous for getting you where you need to go! A correctly converted school bus often involves generous care and attention in quality.
The craftsmanship of a skoolie can differ significantly from a typical RV! On the one hand, some who convert a school bus into an RV are only amateur DIYers who may not know the ins and outs of constructing a solid home on wheels. There may be mistakes or shortcuts as a result.
On the other hand, many skoolie owners have given significant attention to detail without taking shortcuts. They may have been frustrated with shortcuts manufacturers have taken with previously-owned RVs and wanted something different. When you choose to convert a bus, you get to choose what shortcuts you take or don't take during construction.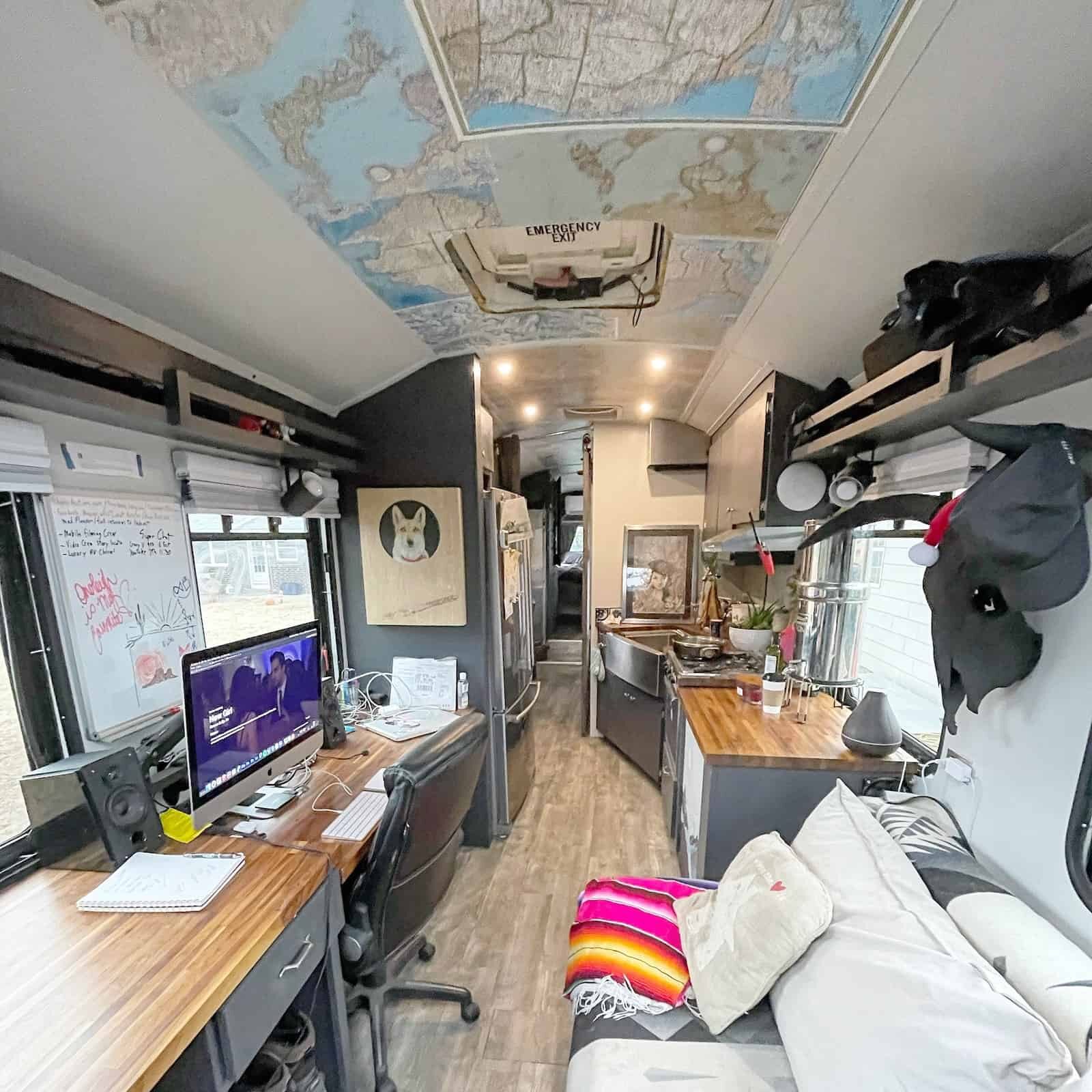 A skoolie is also an incredibly safe vehicle for RVing. Because they must pass rigorous safety tests before children can ride in them, school buses provide optimal passenger safety. This means that you and your passengers have a higher chance of suffering no or minimal injuries if you're in an accident.
Many choose skoolies because of the reliable motor. Bus engines often run for hundreds of thousands of miles, but school districts usually sell buses with a couple hundred thousand miles. That leaves several hundred thousand miles for you to go adventuring! So you can score an incredible deal and have a vehicle that can potentially last for years!
What Is the Best Kind of Bus to Convert?
The best bus for converting will largely depend on how much room you'll need. If you're a family, you'll probably want a full-size bus. However, a couple could get by with a mini skoolie.
The smaller the bus, the easier it will be to find camping and parking spaces. The longer the bus, the harder it will be to maneuver around parking lots, roads, and campgrounds. A mini skoolie is usually 20-25ft long, but a full-size Skoolie will be 35+ ft. If you've never driven a long vehicle before, piloting a full-size bus will require some adjustment.
Factor in fuel usage, too. A diesel engine may require more expensive maintenance and cost more to fill. However, diesel engines usually last longer, have better gas mileage, and are more capable of inclines than gas engines.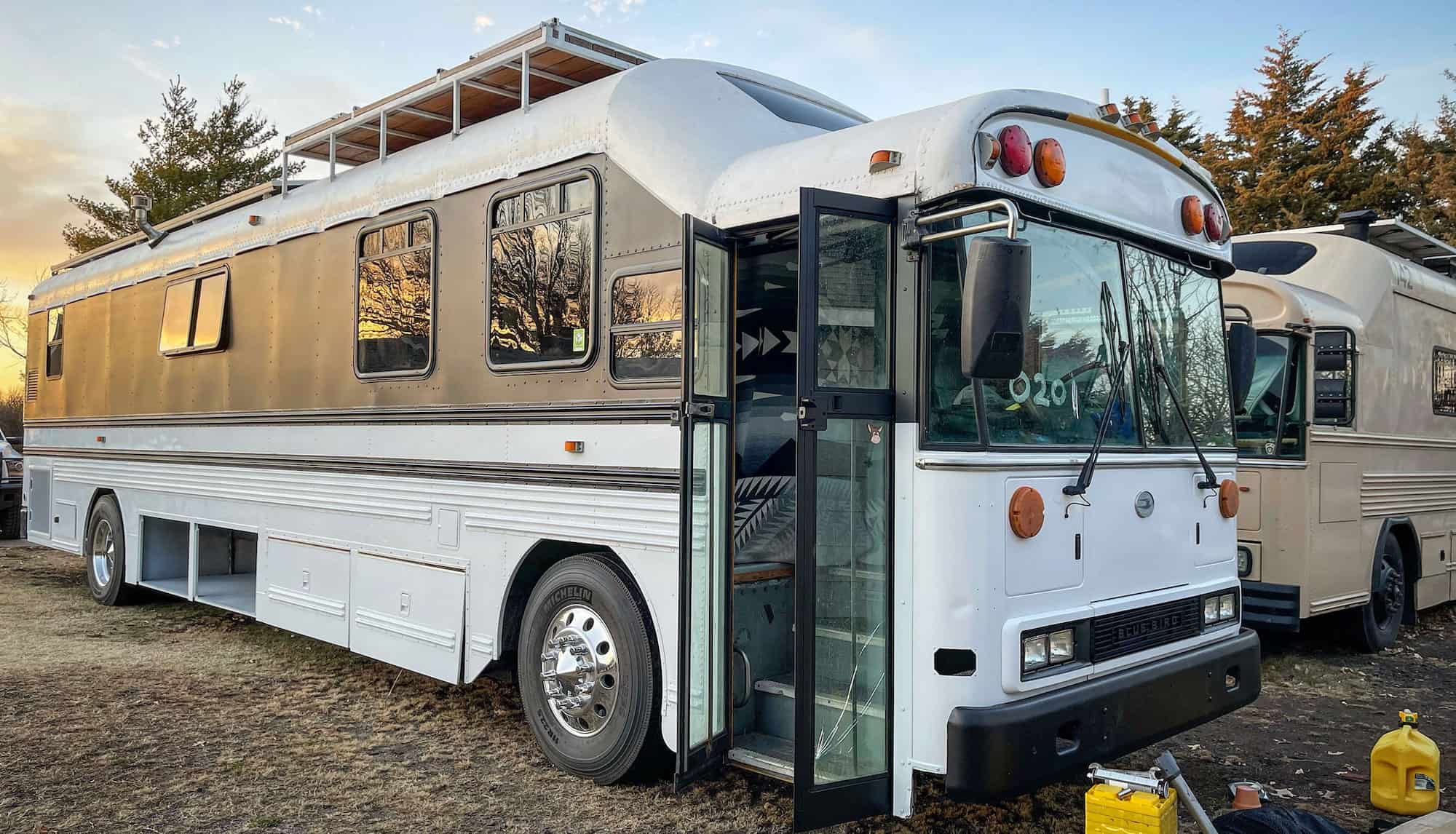 How Much Does a School Bus Conversion Cost?
According to Trusted Choice, 66.1% of bus conversions are DIY projects, and 13.6% are for professional use. Unfortunately, the price points for these two are very different, and it's common to go over budget when converting a school bus, whether professional or DIY.
A DIY school bus conversion can cost upwards of $25,000 to $35,000. However, you can quickly exceed this price range based on the options you select. For example, a massive solar power system can cost $10,000-$15,000 alone.
Overall, converting a bus could mean finding more issues and spending more money than you initially anticipated. Many used buses require significant mechanical work to be road-worthy. You may need to replace tires and other essential equipment before hitting the road.
If you're not a DIYer or would prefer to purchase a pre-converted skoolie, that's an option too. However, you'll likely need deep pockets, as they usually come at a premium. An already-converted bus can cost upwards of $80,000. You lose the freedom to make some of the major decisions regarding bus layout and features, but you escape the incredible amount of work required to convert the bus.
Are Skoolies Allowed in RV Parks?
RV park restrictions vary from one park to the next, so confirm with every RV park whether or not they allow skoolies before making a reservation. RV parks may have stricter policies on older RVs and skoolies, too.
Major Components of the Skoolie Conversion
There are a few components that almost every school bus conversion includes. Let's consider each of these significant components.
Walls & Rooms
After removing the seats in a school bus, you have a massive blank canvas and can create the layout of your bus to your liking. That means deciding where walls go and how large rooms will be. The bus's length, height, and width will restrict you, but you have plenty of space to consider.
This freedom means you can create a home that meets your needs. If you plan to work from the road, you can set up your dream mobile workspace to increase your productivity. If kids are traveling with you, you can include adequate play space for days when they can't play outside.
Skoolie Electrical Systems
An adequate skoolie electrical system can significantly increase your comfort level while adventuring. During the conversion process, pre-plan your electrical system. You'll likely end up running wires and installing electrical sockets and lights before putting up walls. Doing so will keep wires safely hidden and out of the way.
A skoolie's electrical system will be similar to many RV electrical systems. It should include a battery system and wiring for appliances, lights, and outlets. If you want to spend most of your time camping off-grid, include inverters and solar panels as well. Lithium batteries are a great choice to take your skoolie build or upgrade to the next level.
Remember: If you're unsure of installing a skoolie electrical system, seek professional assistance.
Plumbing
School buses rarely come with a shower, toilet, or sinks. Yet, these are items you'll want in your bus, especially if you want to camp outside of established campgrounds. These conveniences mean running water lines and installing holding tanks for fresh, gray, and black water. It's not uncommon for many buses to have composting toilets instead of a black tank. A composting toilet helps reduce water use and minimize smells.
Furniture
If you're planning your skoolie conversion, consider furniture as well. You'll want a table to enjoy your meals, a relaxing place to sit, and a bed for adequate rest. Planning your furniture needs helps increase your home's comfort level.
Cabinets for storage and counters are also essential. You'll want plenty of room for storing gear and generous counter space for optimal functionality.
Why Would You Want to Live in a Skoolie?
The reasons someone might choose to live in a bus vary. First, these conversions often have significant space–you don't often hear RVers complaining about having too much space!
These buses can also be cheaper and could have better construction than many traditional RVs. They're also easier to customize, especially if you're the one doing the conversion.
Lastly, skoolies are ideal whether you want to be mobile or stationary. Having a house on wheels lets you decide where you'll be and when. However, just because your home is portable doesn't mean you have to be mobile. Some choose buses as their choice of residence in a permanent spot.
Would You Drive a Skoolie? 
Converting a school bus into a residence can be an incredible DIY journey and provide you with an amazing home on wheels. Traveling the country this way could be a remarkable experience you'll never forget!
We love seeing these impressive pieces of creativity and talent on the roads. Would you ever consider converting a school bus into your home? If you do, consider adding Battle Born Batteries to supercharge your travels with a reliable and powerful skoolie electrical system.