Every year, alpine recreation enthusiasts flock to the Pacific Northwest to enjoy the breathtaking beauty and adrenaline-pumping adventures of the various mountain peaks and vast expanses of wilderness. From climbing to backcountry skiing, hiking, and more, there is a broad range of activities to satisfy every outdoorsman. With the large number of individuals partaking in these activities, there is a need for search and rescue teams to be available when an emergency arises. Since 1948, Seattle Mountain Rescue (SMR) has been doing just that. As technology advances, SMR continues to adapt and add resources that allow them to serve the alpine recreationists of Washington State.
The Inception of Seattle Mountain Rescue
It was a stormy winter day in 1936 when avid climber Delmar Fadden made a solo ascent of Mt. Rainier. Dreaming of one day conquering the Himalayas, he pushed through the less-than-ideal conditions but never made it back down. Well-known local climbers Ome Daiber, Arne Campbell, and Will Borrow were contacted to search for Fadden. Braving sub-zero temperatures and an aggressive winter storm, they found his snowshoes and later recovered his body.
Following Fadden's recovery, Ome was contacted for other search and rescue missions around the State of Washington. Over the years, Ome collected a list of climbers he could trust in emergency situations. He contacted them to assist in the search and rescue efforts, and they completed several successful operations.
After World War II, a group of climbers from the Swiss Alps came to the Northwest United States. Among this group were well-known climbers Wolf Bauer, Kurt Beam, and Dr. Otto Trott. They founded the Mountaineer's climbing course and brought Ome's group together to screen the movie "Bergwacht", about the highly trained rescue team from Innsbruck, Switzerland. They took on the challenging terrain of the Swiss Alps and worked cohesively on treacherous mountain terrain.
Ome and his fellow climbers were in awe of the technical capabilities of the Bergwacht team. During the post-screening discussion, the group reflected on the pace at which climbing was advancing in the Pacific Northwest. The group began planning for a formal organization to keep up with the increasing alpine emergencies. "Seattle Mountain Rescue (SMR) was officially organized in the spring of 1948 under the sponsorship of the Mountaineers, the Washington Alpine Club, and the Northwest Region of the National Ski Patrol."
Seattle Mountain Rescue Grows with the Increasing Popularity of Alpine Sports
In the Pacific Northwest region, search and rescue missions rapidly increased in 1952 and 1953. "During those 2 years, more than 15 full-scale rescues were mounted for various accidents — avalanches, lightning strikes, crevasse falls, glissading accidents, falls off cliffs, rappelling accidents, rockfall, and 4 aircraft crashes which alone claimed 40 victims." SMR's efforts in these missions did not go unnoticed and received extensive publicity.
As SMR gained recognition, they worked to increase their ability to serve the alpine recreation community in the Pacific Northwest. Mountain Rescue units were formed in adjacent counties, in addition to an Explorer Search and Rescue team that specialized in lowland wilderness areas. SMR was incorporated and on its way to becoming a national organization as fundraising efforts commenced to purchase a rescue truck and specialized equipment. Comprehensive training programs were established, and SMR began recruiting rescuers, attending conferences, and adding supplementary training to increase members' technical knowledge and capabilities.
In 1959, the National Mountain Rescue Association (MRA) was formed. The MRA united various search and rescue organizations to form a support, knowledge, and training network. SMR joined the MRA early on and benefited from being a part of the network. Over the next decade, the MRA grew substantially, including teams from Alaska, Washington, Oregon, Idaho, Montana, Colorado, Arizona, and California.
Not long after the MRA's inception, Seattle Mountain Rescue was challenged with their most arduous rescue to date. A group of climbers, including two SMR members, were near the summit of Mt. McKinley when they fell. Fifty-four rescuers were flown in to assist in the search and make their way up Mt. McKinley to the climbers. The most seriously injured were evacuated by a helicopter at 17,200 feet, and the others were helped down to safety.
Professional Outdoorsman Volunteer to Help Save Lives
Since 1960, Seattle Mountain Rescue has operated under its original premise as "a volunteer organization of experienced alpinists dedicated to saving lives in all seasons through search, rescue, and mountain safety education." They remain a fully accredited member of the MRA and the King County Search and Rescue Association, responding to numerous missions each year. SMR "is a primary first responder for all-season search, rescue & recovery operations in mountainous and hazardous terrain throughout the State of Washington, operating under the King County Sheriff's Office."
Currently, SMR has 150 volunteers. Each volunteer member is classified as a "highly-trained professional". This ensures that the King County Sheriff and the alpine recreation community in Washington can rely on the SMR volunteers as their go-to resource. Every one of their volunteers is a critical resource as SMR responds to 125 missions each year. The organization plays a key role in the safety of alpine recreation in the State of Washington and the surrounding areas.
"We are an all-volunteer, non-profit organization of seasoned alpinists dedicated to saving lives through search, rescue, and mountain safety education in the Pacific Northwest. We take satisfaction in serving the climbing community with skill and dedication and look forward to many more years of effective service."
Missing Essential Points of Communication in Remote Areas
Reliable communication is paramount to a successful rescue operation. SMR and the other rescue teams in the Pacific Northwest heavily rely on a radio system created by the MRA. This system provides invaluable communication channels between SMR members and other MRA rescue teams. "All teams and most individual team members have radios. They need to be able to talk to each other and back to base camp and often back to town." These communications get increasingly more difficult the farther out from civilization a mission is. Many climbers and other alpine recreationists are drawn to the rustic beauty of remote wilderness areas. As more individuals venture off the beaten path, more rescue missions occur in these remote areas. The ability to transmit urgent communications, even from the depths of the backcountry, is essential.
King County in Washington State, and the neighboring Chelan and Kittitas counties, are full of natural beauty and remote wilderness. A case study about Modernizing Emergency Service Connections in the Pacific Northwest describes this area as "mostly rural and sparsely populated" with challenging conditions for transmitting radio frequency (RF) signals.  "Streams, rivers, and lakes cause RF signals to reflect, distorting communication transmissions and degrading audio quality. The valley is also populated by numerous mountains that impede the propagation of RF signals."
Seattle Mountain Rescue often goes on rescue missions in a particular river valley that has never had deep penetration, radio communications. Rescues missions in this area have always been difficult. On good days, rescuers could communicate halfway through the valley before the RF signals dropped, and on bad days, they had no communication whatsoever.
Seattle Mountain Rescue Installs a Radio Repeater
The lack of communication in this valley became a major roadblock for SMR and posed a safety risk for recreationists and rescuers. SMR determined that installing a radio repeater on top of a mountain along the valley would be the perfect solution. A radio repeater transmits RF signals from one side and repeats them on the other. This allows rescuers to communicate from one valley to another and all the way back to town. "The placement of radio sites with repeaters is critical to ensuring that our responders have coverage, wherever it is required."
After determining where they wanted to place the radio repeater, SMR reached out to the owner of the property that went up the mountain. The property owner agreed to allow SMR to install a radio repeater. Despite clearing this major hurdle, installing the repeater would be the next feat. The SMR volunteers hand-cleared the road to the repeater with axes and chainsaws. Then, they lugged the parts up the 200 vertical feet to where the repeater would be placed.
In addition to the physical challenges, the area is off-grid and without access to power. This left solar power as the only option.  "If you have to have solar, you have to have batteries. The solar panel charges the batteries, which power the repeater whether it's dark, snow-covered, or night. You need power 365/24/7 to run the radio repeater. We could only charge when there is sunlight for the solar panel, so we need to have enough reserve capacity to run the radio until the sun is available again."
Upgrading the Reliable Power of Battle Born Batteries
For the first season, SMR installed an 80-watt solar panel with 2 lead acid batteries but immediately noticed their lack of capabilities. The lead acid batteries were extremely heavy, difficult to maneuver, and lacked reliability. "We decided we needed to up our game, so we switched to Battle Born."
While discussing battery alternatives, SMR found Battle Born Batteries. They contacted our technical sales specialists, who helped them determine their power needs. "We decided on Battle Born for what you get for your dollar, the number of cycle times, and the weight."
SMR's radio repeater has 80 watts of solar and 3 – 12V 100Ah Battle Born Batteries. This gives it plenty of power to transmit signals all season long. It requires no maintenance and can be left alone for months without any worries. They only have a 3-month window each year to readily access the repeater and make the off-road trek up the mountain. "It's hands off. The idea is to drive up once a year and just look at it and see that everything is still working well and then leave it until next year."
Not long after they installed their new system, SMR received a mission to rescue a group of lost hikers. The rescuers used the radio access in that valley for the first time ever. Having the ability to communicate throughout the entire mission was a complete gamechanger. SMR has since used their system for three more missions and is in awe of its capabilities. "We're doing something that no one else has really done in that area before."
A New Era for Seattle Mountain Rescue
Seattle Mountain Rescue is taking the next leap to continue growing their organization as they build the Mountain Resource Center (MRC). "For 75 years, our organization has been without a home. This has made finding training spaces and equipment storage an endless dance. With population growth in our region and a subsequent increase in recreation, we have seen the need for our services grow rapidly. The Mountain Rescues Center (MRC) will help us meet this need."
Many of SMR's members have volunteered their time and talents and are working hard to build the MRC. They hope it will be open and fully functional by June of 2023. Once completed, they will have a central place to store recreation equipment, train members, and gather with partner organizations. The community and members of SMR are excitedly looking forward to completing this next milestone.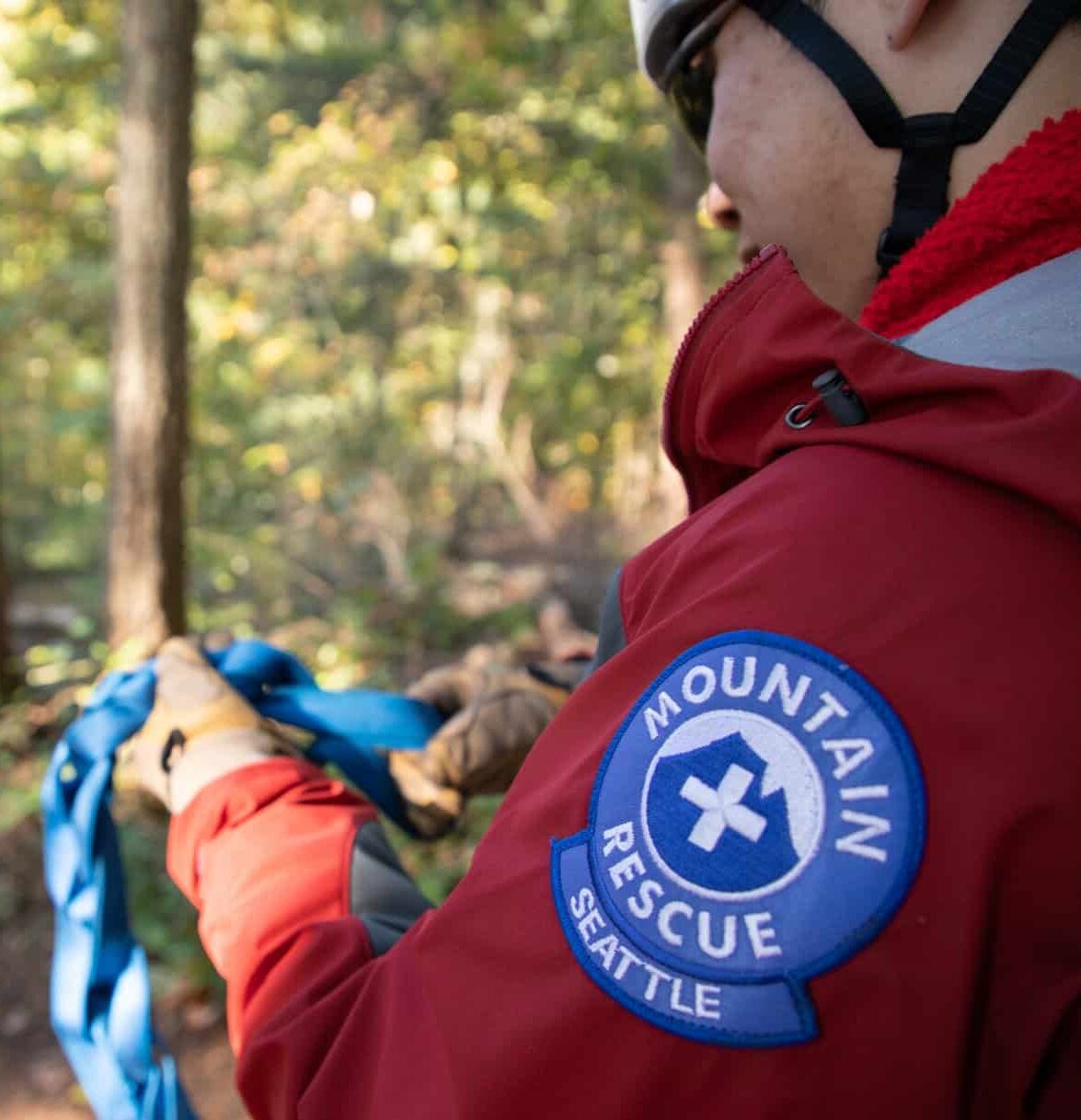 To learn more about Seattle Mountain Rescue, check them out on Facebook, Instagram, and their website.