Morgan and Melanie Finley developed a deep love for the open ocean early in their marriage that they wanted to share with their daughters. After realizing how quickly the girls were growing up, the Finley's bought a boat, dropped everything and set sail for a life at sea. Together this family of four tackles the challenges of sailing and navigating unfamiliar places while experiencing the magic of travel and new adventures.
Meet Sailing Swift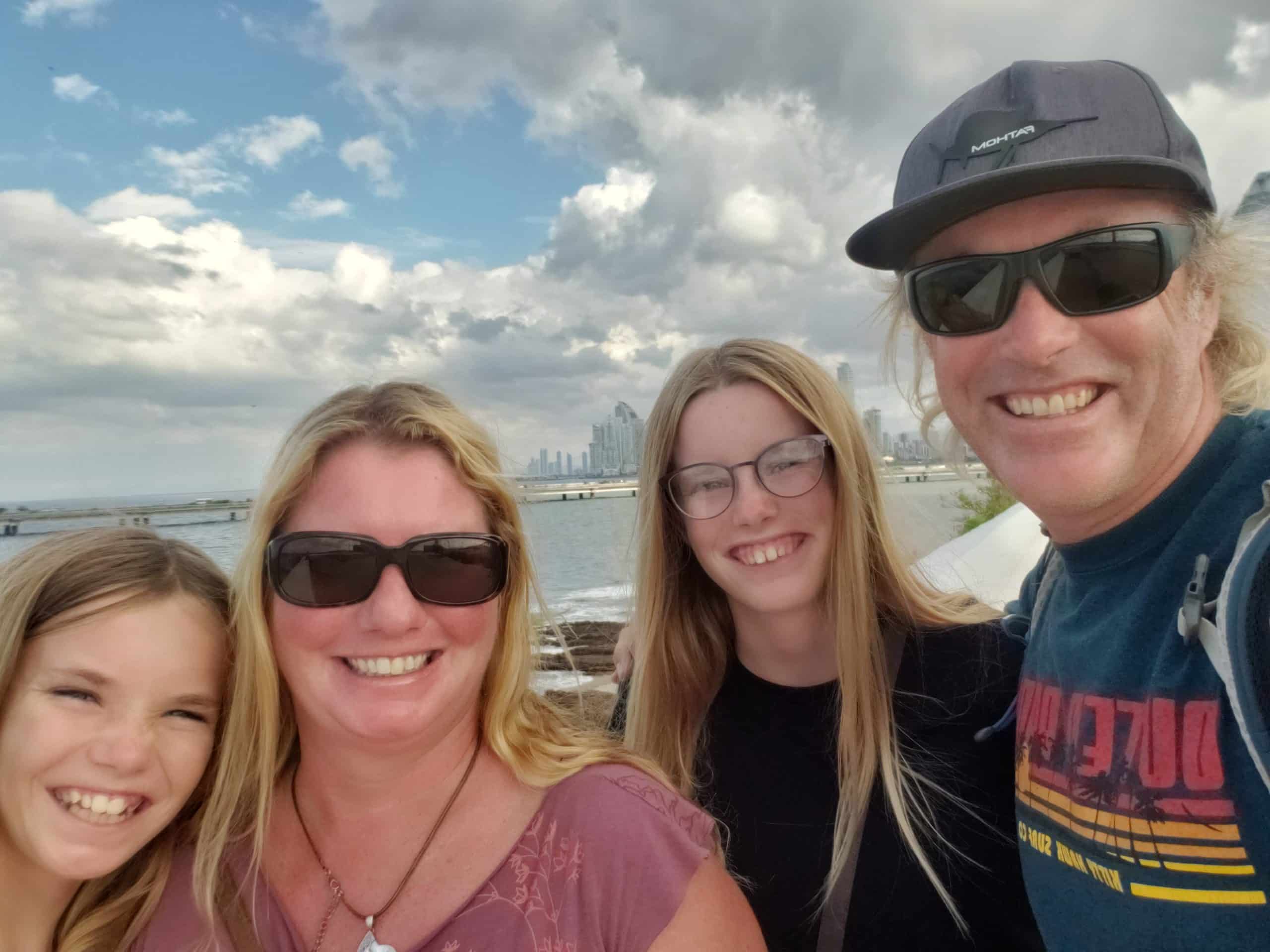 Morgan Finley spent his teen years sailing offshore with his family. His wife Melanie grew up in the middle of Canada, nowhere near the ocean. Despite they're vastly different upbringings, when Morgan and Melanie became a couple, sailing became a major part of their lives together. They both quickly fell in love with being out on the water and spent the early years of their marriage sailing offshore. Even after their daughters Isla and Pippa were born, they continued sailing locally for a few years.
As the kids got older and life got busier, Morgan and Melanie realized their daughters were growing up so quickly and they didn't have much time to spend as a family. This realization kickstarted their desire to go on a "crazy family adventure." Thinking back on their time on the water and their love for sailing, Morgan and Melanie began researching boats and saving money. They eventually came across the perfect boat with comfortable indoor and outdoor spaces, a solid, safe build, and three separate cabins so they all could have their own spaces. Not long after, they started homeschooling their daughters, said goodbye to friends and family, and made the leap to the journey of a lifetime.
In March of 2020, amidst the Covid-19 pandemic, the Finley family left Canada and set sail on their 1996 Moody 44' Monohull Sailboat. Since leaving port 2 years ago, they've sailed over 16,000 miles and have been to 17 different countries. While they sometimes wish they had more space, the Finley's love having the ability to travel anywhere, even remote locations, with the safety, comfort, and conveniences of home.
A Dream of Sailing Becomes Reality
What once appeared to be a far-fetched dream, became reality seemingly overnight. After 2 years at sea, Morgan and Melanie are still awestruck that they get to live they're dream life. Over the vast miles and countless countries, the Finley family has visited on their sailing adventure, it's nearly impossible for them to pick the best place they've ever been, but there are many places they loved visiting. From the Seine River through the middle of Paris, the Potomac up to Washington DC, the remote Ragged Islands in the southern Bahamas, and the Aeolian Islands north of Sicily, they love being able to visit diverse locations, immerse themselves in local cultures, and travel to remote beaches from the comfort of their own home.
While they're out on the water, the Finley's love diving, fishing, and kiteboarding. They're oldest daughter Isla has even developed a passion for spearfishing. Morgan and Melanie love being active with their kids and watching them grow in their knowledge and skills. They also love making friends with other boating families, especially one's that have kids that are similar ages to Isla and Pippa. Being able to meet new friends along the way and travel together to new anchorages, is one of the Finley's favorite parts about offshore cruising.
Through many miles of oceans and across many passages, the Finley family has made countless memories. Surprisingly, some of their favorite memories involve their more difficult journeys. Morgan and Melanie quickly recalled traveling through the French canals with very narrow channels and locks in a rural area where they hadn't seen many people. After finally reaching the summit of their canal journey they enjoyed and meal together in the French countryside and stayed up until the stars came out, very proud of everything they accomplished. Another memory of a difficult passage was the 19 days it took them to cross the Atlantic from the Canary Islands. Following lots of wind, rain, and rolling seas the family made landfall on Antigua on Christmas Eve in an incredibly calm harbor. Finishing that challenging passage and reveling in their accomplishments made for a Christmas to remember.
Life at Sea Raising Two Kids
For Morgan and Melanie, the sweetness of arriving at a new anchorage is so much sweeter after a particularly challenging passage. Their daughters, Isla and Pippa have a very different perspective on their favorite memories of life at sea. The youngest, Isla, remembers a travel day in the Bahamas where there was no wind, and the waters were shockingly smooth. The Finley's motored slowly through the clearest water they had ever seen and even stopped midway to swim around. Isla fondly remembers seeing a couple of dolphins while they were out swimming.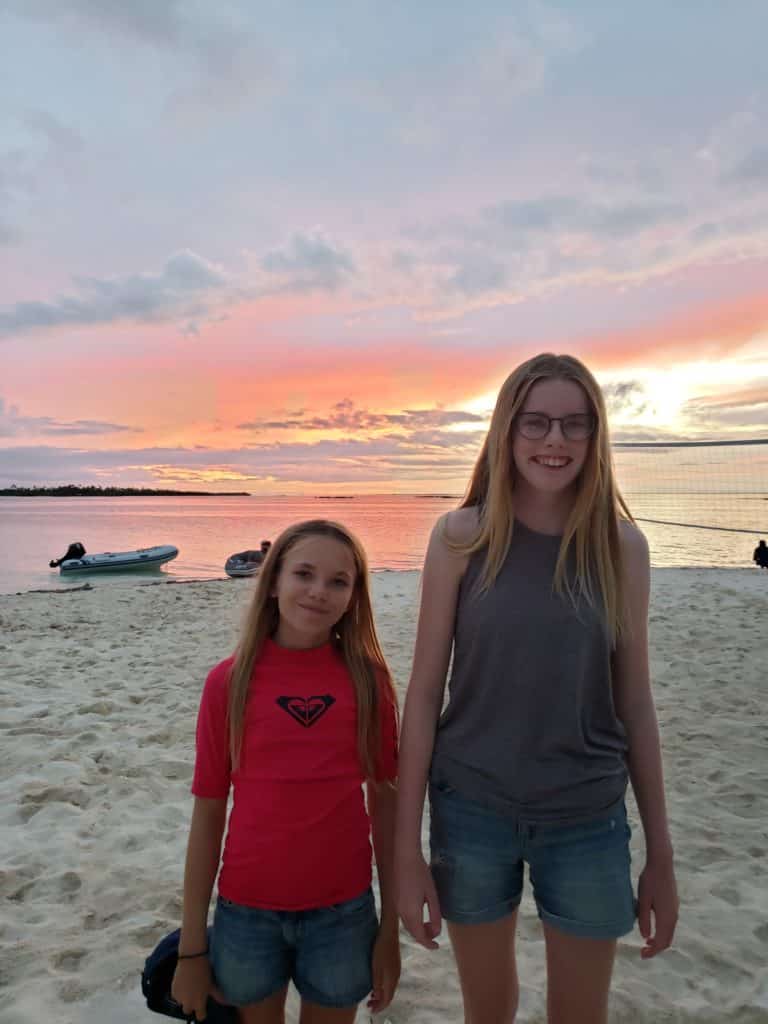 Although it's not always easy raising an 11- and 14-year-old on a sailboat, Morgan and Melanie enjoy getting to see the world through their daughters' eyes. While Isla and Pippa love to read, play games, and listen to music, they also love to get outside and play in the water. Meeting other "boat kids" is one of the girls' favorite parts about being at anchor and Morgan and Melanie love watching them make instant friendships. "Language, culture, even various ages; these things don't seem to make any difference. It is hard to describe how cool it is to watch them develop tight friendships with kids from all around the world." Through their travels, the girls have become comfortable in many diverse cultural and social settings, while growing their sailing knowledge by helping with line handling and watch keeping.
In addition to the joys of traveling as a family, the Finley's have faced their share of challenges. Most notably, was starting their voyage at the beginning of the Covid-19 pandemic, which led to rerouting multiple passages due to lockdowns and border closures. They're also constantly navigating through unfamiliar places and trying to fix and maintain the boat in places where parts are hard to find, and they don't speak the language. Despite these challenges and the additional difficulties of long ocean passages, planning for days at sea, and being away from friends and family, the Finley family wouldn't trade their life of adventure for anything.
Upgrading to Battle Born Batteries
Morgan and Melanie's years of sailing experience has taught them how to roll with the punches and take on everything that boat life throws their way. In March of this year, the Swift crew embarked on a treacherous, 1,000+ mile passage from the Bahamas to Panama. After fighting through strong current, lots of ship traffic, and rolling seas, the Finley's still had 600 miles to go when they're 3 AGM batteries melted. At only 1.5 years old, the middle battery failed took the other two out with it. Luckily, they had a spare 100Ah AGM that they were able to wire in so that they could power the essentials. The Finley's were able to make it to Panama by keeping the engine running all night to keep the autohelm and navigation going.
Once in Panama, the Finley family knew they needed to find a better and more permanent solution before they set out on their longest passage yet. With how quickly they're AGM's failed, Morgan and Melanie decided it was time to make the switch to lithium. After spending a month plugged-in in Panama, they got 4 – 12V 100Ah Battle Born Batteries to get them back out on the water. They were able to quickly install the batteries and add a few upgrades to their system including a 30A Orion DC-to-DC charger, a Smart Solar MPPT Controller, and a BMV 712. Immediately there was a noticeable improvement in their solar charging and the system was working impressively well. "For our offshore cruising, the combination of good solar and a LiFePO4 battery bank provides an excellent electrical backbone from which to base our electrical system."
When determining the necessary components to upgrade on their system, the Finley's knew they wanted the confidence to be out a sea while still being able to power all of their electronic devices. Between their fridge, freezer, watermaker, navigation, autohelm, and countless devices that need to be charged, they needed a robust electrical system. "We love how the addition of lithium to our electrical system has let us realize our goals of living off solar as we travel." Even with the addition of a second freezer and an induction cooker, the Finley family is still able to stay out in remote locations far longer than they could with their previous system. "Our solar array combined with the Battle Born LiFePO4 batteries gives us the confidence to live this way. Assuming the sun shines for at least part of the day, we can stay at anchor indefinitely without running any engines or generators, we love that!"
What's Next for Sailing Swift?
Following the install of their new Battle Born Battery powered electrical system, the Finley's set out on a daunting 4,100-mile passage across the Pacific from Panama City to the island of Marquesas. After 27.25 days at sea, rough water, high winds, and at one point being 1,500 miles from the nearest land, they reached their destination.  Morgan and Melanie were able to confidently take on this daunting passage knowing they had more than enough power for all their essentials.
Looking into the coming months, the Swift crew has plans to sail through French Polynesia and the south Pacific islands and then looping up to the north Pacific and finally back home in the Pacific Northwest. Along the way they would love to visit the Solomon Islands, Papua New Guinea, Japan, the Aleutian Islands, and Alaska. With ambitious goals and lots of distance to cover, the Finley's are excited to continue their adventure of a lifetime.
To follow along with the Swift's exciting travels, be sure to check them out on Instagram!