Nearly 30 years after they founded Sage Mountain Center, Christopher Borton and Linda Welsh continue to pioneer off-grid living. Their commitment to make a minimal impact on the environment and promote physical and mental health hasn't wavered through the decades. As industry advancements make living off-grid easier with more complex technology, Sage Mountain is leading the way in showing just how much can be powered with wind and solar.
About Sage Mountain Center
It was the late 1980's when Chris Borton and Linda Welsh began dreaming of establishing a retreat center, far away from the clutter of standard American living. After a year of searching, they found the perfect piece of land in Montana and were ready to start building their dreams. The couple felt an intense responsibility to "tread lightly" on this beautiful piece of land and knew that purchasing it would likely save the land from a worse fate. "We decided to view the land as a teacher, an ancient sage with answers for those willing to listen."
Utilizing as much as they could–only the material on the land–Chris and Linda began working on the various buildings over the course of a 10-year plan. While the land was under construction, the two lived out of a trailer run by solar, and while Chris did most of the construction, Linda provided a constant source of income as a Registered Nurse (RN). Eventually, they drilled a well, and after years of hard work, they started opening the facility at regular intervals following the completion of the third structure in 1996 and then began offering workshops.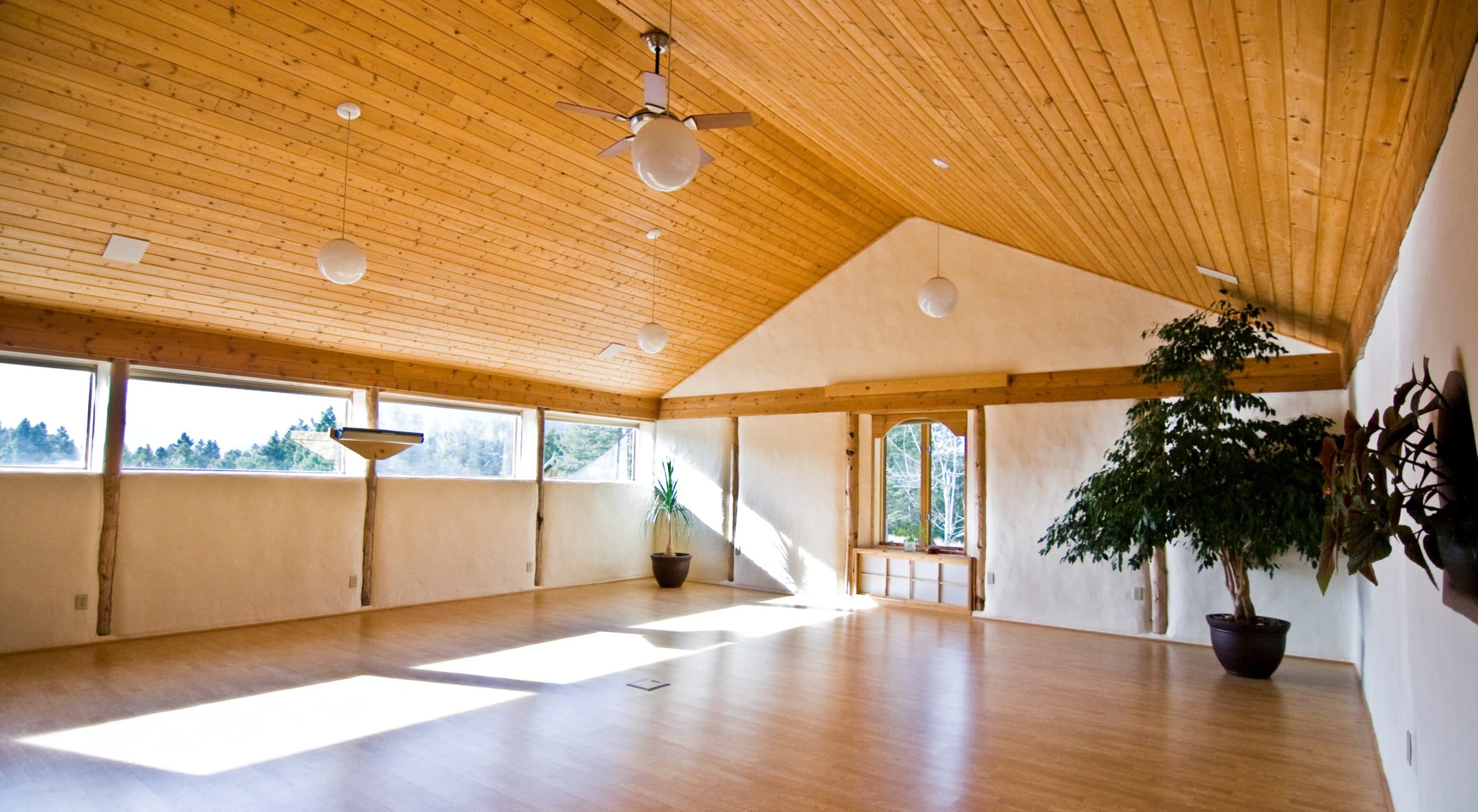 Now, over 25 years later, Sage Mountain Center is continuing operations while remaining "focused on sustainable and holistic lifestyles" and "offering overnight accommodations and retreats for those wishing to experience an off-grid sustainably designed environment." In addition to retreats, Sage Mountain also offers a variety of other services including consultation for businesses and individuals interested in sustainable living, giving tours of their gardens, labyrinth, solar system and more, and "a multitude of workshops balancing efficient, real-world knowledge with direct hands-on learning."
The People Behind Sage Mountain
Sage Mountain would not operate at its current capacity without the amazing team of people that founded and currently operate the retreat center. There is a core team of four full-time staff members that joined this journey with co-founders, Chris Borton and Linda Welsh.
Chris Borton is the director of Sage Mountain and was raised in California but spent time traveling throughout India, Europe, and the US throughout his life. He's a certified Hatha yoga instructor, a fourth-generation home-builder with 25 years of experience, and he specializes in consulting and giving lectures about sustainable living and renewable energy. In his spare time, he is on the board of directors for both the Montana Renewable Energy Association and the Montana Butte Symphony, is a drummer in various ensembles, and is a figure skater who won the 2015 US Adult National Figure Skating title.
While Linda Welsh moved up to Montana with Chris to start Sage Mountain, she continued her career in the health care industry. Aside from her work as an RN, certified in Hospice and Palliative Care, she was a regional educator at Rocky Mountain Hospice. Additionally, Linda's is a certified yoga instructor and has an MA in Transformative Learning and Change.  She currently handles all hospitality at SMC while maintaining a passion for poetry, gardening, permaculture, and trail hiking all over the world.
Eventually, as the retreat center grew, Chris' mom Linda Borton, moved up to Montana to be a Projects Assistant and Operations Support for Sage Mountain. As an environmental activist, yoga practitioner, and avid reader, Ms. Borton enjoys pursuing her passions through her work at the retreat center and loves being closer to family.
Finally, Warren Hill VI was the most recent member to join the Sage Mountain team. He was a frequent attendee of Sage Mountain retreats and loved them so much that, following his retirement from his 30-year career in the grocery business in Los Angeles, CA, he joined the team in 2004. Warren is also a Projects Assistant at the retreat center and is a vegan, yoga practitioner, and an avid reader.
Emphasizing Practices that Encourage Physical and Mental Health
One of the core values at Sage Mountain is emphasizing the mental and physical health of everyone who sets foot on the grounds. The practice of yoga is highly beneficial for internal and external wellness and is taught and utilized by the retreat center's staff members and guests. Sage Mountain specializes in Hatha Yoga, which "consists of a series of postures or asanas that exercise every part of the body…internal organs, glands, and nerves as well, keeping all systems in radiant health." These key physical benefits, combined with the release of physical, mental, and emotional tension likened to untying a knot, allow for a deeper sense of peace and well-being for the individuals that practice.
In addition to yoga, the staff members of Sage Mountain "embrace a vegetarian/vegan diet as the most comprehensive way to maximize personal and environmental health." While they are passionate about this lifestyle, they take a "soft" approach to vegan dietary choices, making compromises as necessary as they interact with the meat and dairy-based society around them. Sage Mountain has been highly successful in their implementation of these diets through their gardening system. Making use of various gardening practices such as permaculture, xeriscaping, drought tolerant species, rainwater harvesting, and more, Sage Mountain has been able to produce home-grown food year-round with the support of their straw bale root cellar and greenhouse as well as canning, drying, and freezing foods as necessary. "Our goal is to be gardeners of Eden and foster ecosystem vitality. We understand that humans are indigenous to Planet Earth, and we have an influential and positive role to play in the interconnectedness of all things."
The various health and wellness practices at Sage Mountain have been supplemented by the addition of a labyrinth in 2015. The labyrinth was built in a Baltic "wheel" pattern that reaches a center and then continues to the exit without any backtracking to get out. "A labyrinth is not a maze; a maze involves choices, analysis, and decisions. You can get lost in a maze." With a single path, and no choices to make, the one walking the labyrinth is left with only the awareness of themselves and the moment they're in–a sort of walking meditation.
A Commitment to Minimal Environmental Impact
While many of the aspects of Sage Mountain were added to aid in physical and mental health, the commitment to have a minimal impact on the environment remained. Sustainable construction was utilized in the labyrinth and all the structures at the center. They were built mainly with materials that could be found on the land, while using low-cost, energy-efficient, and aesthetically pleasing construction methods. The techniques of Cordwood masonry and plastered straw bale construction are quick and easy to build, work perfectly with passive solar home designs, and have a beautiful old-world appearance the suits the environment the retreat center is built in.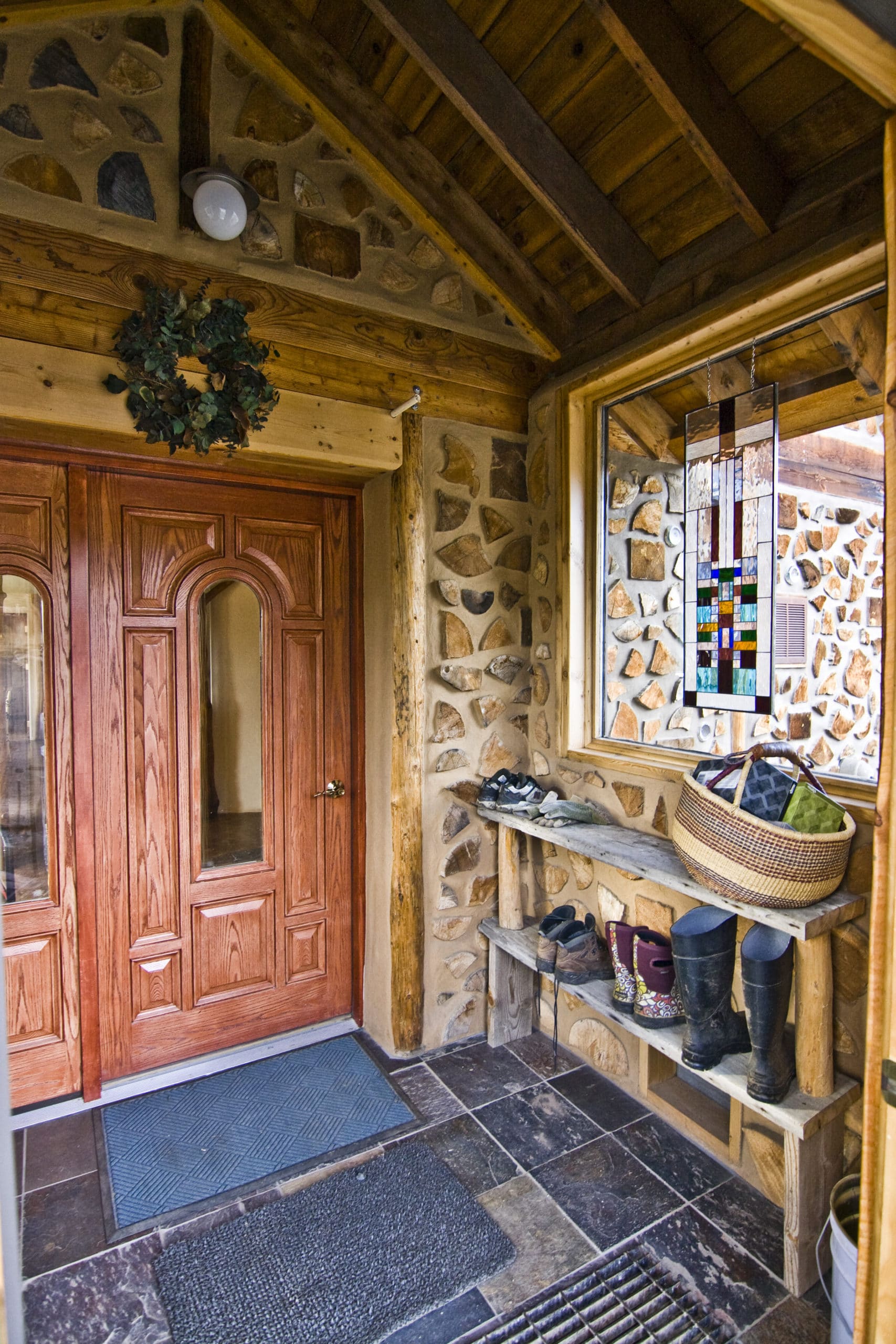 The environmentally friendly aspects of the buildings don't end with the frame and construction but continue throughout the interior. Dry (composting) toilets complement a conventional septic system at Sage Mountain. "A dry toilet is basically a warm, well-ventilated container with a diverse community of aerobic microbes living inside that break down the waste materials. The process creates a dry, fluffy, odorless compost, like what is in a well-maintained garden compost pile." This technique has even made environmental impacts far outside the reach of the retreat center as over 400 dry toilets were built in Guatemala that were modeled after Sage Mountain's designs.
Additionally, the electrical system at Sage Mountain was designed to have little to no environmental impact. "For over 25 years, Sage Mountain Center has never paid an electric bill; it has generated all its electricity from the sun and wind." Utilizing 3,000-Watts of solar and a 1,000-Watt wind generator, the retreat center is able to convert natural elements into electricity. There has been a huge push around the world in homes and businesses to utilize solar electric power, but most grid-tied homes don't generate and store power for later use, so they still have an electric bill. These systems are also battery-less, leaving no backup electricity for times when there isn't a constant inflow of power. Although Sage Mountain had a battery system for nighttime use, the batteries they had in the past hardly met the standards of their power needs or environmental interests, and they were in search of a more permanent solution.
Sage Mountain Upgrades Their Off-Grid System to Battle Born Batteries
As Sage Mountain began researching battery bank solutions, lithium-ion batteries were making large strides in advancement and cost reduction. These batteries were lighter weight, more efficient, and had a far longer lifespan than traditional lead-acid batteries. In 2017, Sage Mountain officially made the switch and upgraded to Battle Born LiFePO4 batteries, with a smaller bank that supplied the same amount of power. The retreat center's new lithium-powered system includes:
24 – 310W CUN Solar Panels on Carport
12 – 175W Kyocera Solar Panels on the roof
8 – 130W Kyocera Solar Panels on a tracker
1 – 1,000W Whisper H-80 Wind Generator
2 – Outback FLEXmax 80a Charge Controllers
2 – Outback FLEXmax 100a Charge Controllers
4 – Outback FXR 2524 Inverters
Various fuses, breakers, digital monitors, and meters
With this new system Sage Mountain can run their various electronics, power tools, well pump, kitchen appliances, washing machine, vacuums, and more. The latest upgrades have allowed all these appliances to function just as they would in a grid-tied home. While the retreat center sacrifices certain luxuries, such as an electric dryer and an electric stove/oven, they can power everything that they need while still prioritizing having a minimal impact on the environment. While "the average American household consumes 25,000 watts of power over a 24-hour period, Sage Mountain's passive solar design, super insulation, and high appliance and lighting efficiency allows them to only uses 8,000 watts of power over a 24-hour period for 6,600 square feet of living space."
Revolutionizing Off-Grid Solar for Electric Car Charging
Over the 30 years of Sage Mountain's operations, Chris and Linda remained committed to continuously seeking out the latest innovations to remain sustainable and environmentally-friendly. Even with permaculture gardens, solar and wind power, a lithium battery system, and recycled and repurposed building materials, something was still missing. For many years, it was simply impractical for Chris and Linda to drive anything other than traditional fossil fuel-powered vehicles. Electric car technology was primitive, and the mileage range of an electric vehicle (EV) was much too small to be viable in a large state like Montana. But, as technology continued to advance in the EV market, Chris began looking into what it would take to make the use of EVs possible at Sage Mountain.
Charging an EV from an on-grid location is as simple as charging a phone. The battery in the vehicle runs down during the day, is plugged into the wall at night, and, in the morning, it's full again. With an "unlimited" supply of power (as long as you can pay for it), there is no need to worry about how much power it takes to charge the EV. In an off-grid home, you only have access to the power that was deposited previously into the battery bank, but "if one balances one's usage throughout the day and night, off-grid [EV] charging, from the largest nuclear reaction in our universe – the sun, is very possible."
In order to make his dream a reality, Chris designed and built an upgraded system with the assistance of Planetary Systems in Ennis, Montana. He supplemented his Battle Born-powered system with 24 additional 310W CSUN Solar Panels to the carport and two 100a MPPT Charge Controllers and upgraded from 120V AC to a 120/240V AC system. These changes have allowed Sage Mountain to add a Level 2 EV charging station, utilized for daily business and free solar charging, to visitors. Chris and Linda's 2017 Chevy Volt can charge in about 4.5 hours at 16A, which is the standard for the Volt. Full electric cars can charge and charges even quicker in their 32A Level 2 station. Since the car doesn't need to be charged every day, Sage Mountain now has 'unlimited' solar electricity with their new system, even in the dead of a Montana winter. They can now choose to occasionally use electric heating, cooking, and some water heating, and they never have to use their back-up gas generator.
What's Up Next for Sage Mountain?
Sage Mountain is currently enjoying the endless benefits of their new and improved solar electric system. They remain committed to having a minimal impact on the environment and are always seeking the latest innovations that help the retreat center run more sustainably. "We look forward to the clean harmonization of low-tech and high-tech for all our lifestyle and transportation needs."
If you are interested in learning more about Sage Mountain, consultations, booking a tour or a retreat weekend, or attending a seminar, check out their website for more information.