At Battle Born Batteries, we do everything we can to help people get out there and stay out there. Mostly that means selling long-lasting lithium batteries, but we also aim to break down barriers that prevent people from enjoying the outdoors. That is why we are proud to collaborate with Outdoor Afro, an organization that has created a nationwide network to encourage Black people to get out in nature.
We're encouraging people to participate in Outdoor Afro's Juneteenth event on Saturday, June 19. Outdoor Afro is asking people to think about "What does freedom mean to me in America?" and spend 2.5 hours in nature and share your reflection on their website. 
To learn more about the importance of Juneteenth and how to participate, go to Outdoor Afro's Juneteenth Commemorate Freedom page.    
The outdoors are for everyone, but not everyone has had equal access to green spaces.
That is why Outdoor Afro created a network that reconnects Black people to outdoor experiences and inspires them to take leadership roles in nature conservancy. They encourage Black Americans to get out into green spaces and experience the rejuvenating benefits of nature: whether it's hiking a mountain, fishing, ice climbing, skiing, or just spending an hour in a public park.
Rue Mapp founded Outdoor Afro in 2009. She enjoyed getting out into nature, and though she met plenty of friendly people on the trail, as a Black woman, she didn't see herself reflected in other hikers.
"Even though nature was welcoming and nurturing, she didn't see too many people who looked like her," Joseph Mouzon, Chief Operating Officer of Outdoor Afro, said.
She started blogging about her hikes and posting pictures of herself enjoying the outdoors. She got lots of responses from Black nature enthusiasts from different parts of the country, making her realize people like her were out there, they just didn't have a platform to connect. So, she created Outdoor Afro to focus on creating networks throughout the country with volunteer leaders to help teach people about the outdoors and lead hikes, backpacking trips, campouts and more. Outdoor Afro holds an annual leadership training plus monthly continuing education calls to give volunteers the knowledge, skills, and confidence to connect their local communities to natural resources.
Healing in Nature with Outdoor Afro
Joseph emphasized the health benefits of spending time in green spaces: it helps people recharge to be more focused and effective in their everyday lives. He linked it to a trend of doctors prescribing time in nature to patients to help with anxiety and other health conditions. Joseph lives in Oakland, CA (where Outdoor Afro is headquartered), and he likes "forest bathing," inspired by Japanese people. Joseph loves jumping on his bike and breathing in the highly oxygenated air in the tree-covered hills in the city of Oakland.
In 2021, Outdoor Afro grew to 102 volunteer leaders who live in 56 cities across the U.S. They put on 1,000 events annually with a participation network of 48,000 people of all skin colors.
"The reason that we are growing is because there is such a need for community. 2020 was a tough year. As much of the world shut down, many people sought refuge in nature for community and healing," Joseph said.
The Outdoors is Big Enough for Everyone
Building a community of people with different backgrounds and creating positive experiences in nature is a big priority, Joseph said. Before every hike, they start with an
opening circle so people can introduce themselves, and leaders can set the stage for what to expect during the event and answer any questions.
"We've been able to bring people who didn't necessarily grow up 'outdoorsy' to the outdoor world and see the smiles on their faces and see how much they enjoy it. Occasionally, participants wind up bringing their kids along with them on subsequent outings and hiking trips," Joseph said.
Outdoor Afro has created many programs to bolster participation in many activities Black Americans are underrepresented in: they have programs and partnerships to encourage activities like fly fishing, skiing, and ice climbing.
According to the CDC, Black youth between the ages of 5-19 years old drown at a rate of 5.5 times higher than among white children. So, the organization also has its Making Waves program that teaches children how to swim and provides scholarships for swim classes.
Reaching New Heights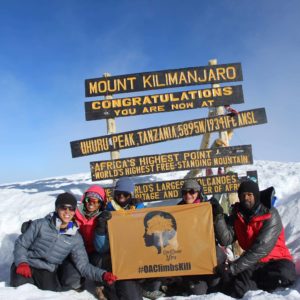 Outdoor Afro also holds events to inspire people to push themselves to see what they can achieve. In 2018, they launched an all-black expedition who summitted Mt. Kilimanjaro. This August, they are organizing a trip to kayak 100 miles down the Missouri River.
"We also know that we are having an impact because people tell us that activities like downhill skiing, ice climbing and kayaking 100 miles are experiences those leaders and participants would not have ordinarily attempted if not for Outdoor Afro. Helping folks and providing a safe way for people to access those activities or sports and seeing how they respond when they complete the excursion— It's just amazing, and that's what I love about Outdoor Afro."
But in the end, Outdoor Afro is about encouraging Black people to get out into nature at whatever level they can, feel comfortable and get healthy, Joseph said. Sometimes that means climbing a 19,341 ft mountain, but most of the time it means finding the time to go to a park and enjoy an afternoon with your friends and family.
"A lot of our participants like birding, plenty of them like gardening, many of them like fishing, swimming, and hiking. We go on events as large as summiting Mt. Kilimanjaro, downhill skiing at Winter Park, CO, Yosemite hikes, and Half Dome summiting, but we don't want to only highlight those because nature is all around us and recreating outdoors doesn't always look like someone dangling off the side of a cliff," Joseph said. "Mt. Kilimanjaro is a great experience and memory to have, but if you can engage with nature every week, doctors will tell you that those benefits that accrue to you at the cellular level may even exceed the physical, psychological and emotional benefits of a single summiting of Mt. Kilimanjaro."
"What we are trying to do is get more people to just get outside to a park, the woods, a forest, a lake, river or beach because of the health and wellness benefits and to create a sense of community."