In search of a more capable camper van, Jim Ritchie and Lars Severin decided to create their own. With high quality components and build materials, Jim and Lars combined utility and luxury to create an RV unlike any other. Extensive off-road capabilities, a robust electrical system, and a small but spacious footprint make this the AEONrv perfect for off-grid adventures.
Meet Jim Ritchie and Lars Severin, Co-Founders of AEONrv
As an executive and entrepreneur in Silicon Valley, Jim Ritchie spent many years in the software and technology industry and has most recently been working on a blockchain technology startup in San Francisco. Although Jim is a technical guru by trade, he is also an outdoor enthusiast who loves camping, hiking, biking, and skiing. He truly enjoys immersing himself in the beauty of nature and getting away from the chaos of city life to spend uninterrupted time outdoors.
Whenever possible, Jim finds different trails across the country to explore and will often rent camper vans and smaller RVs for his extended trips. After trying various RV's and camper vans, he was less than impressed with the current market offerings. Initially, Jim wanted to build out his own van and began designing it using 3D CAD software. Despite looking into various options, nothing quite fit his requirements for comfortability, accessibility, and true off-road capability. "I started to look into other options and soon realized that my ideal RV did not exist. So, I decided to custom design and build my own RV."
While Jim was working on his design, he continuously received positive feedback from friends and family and realized he was addressing an unmet need in the market. At this point, Jim knew he wanted to build more than just one RV, so he reached out to his friend Lars Severin to discuss the possibility of starting an RV company. With a similar tech background to Jim, an enthusiasm for outdoor recreation, and prior experience building yachts, Lars would be the perfect business partner and future CTO.
Building an RV Unlike Any Other
It didn't take long to get Lars on board and he and Jim began making plans to get their new business, AEONrv, up and running. They immediately gravitated toward Reno, Nevada as a homebase for their company for a variety of reasons. In addition to Lars and his wife already living there and the access to incredible outdoor activities, Reno also offered a more cost-effective location than the Bay Area and proximity to multiple vendors.
Following the move to Reno, the final design decisions were continuing to come together for the first AEONrv. Focused on creating an all-season, off-road capable RV, Jim and Lars didn't want to settle for low-quality components or materials. In order to ensure the AEONrv would be more durable and rugged, they found a company that developed a proprietary reinforced fiberglass panel system. This build material was ideal for the AEONrv "as it is strong, lightweight, highly insulated, and provides a complete air/moisture barrier, perfect for an all-season vehicle."
In addition to high quality materials, the AEONrv also comes standard with many of the essential off-roading components. With a lift kit, custom shocks, all-terrain tires and a smaller footprint than standard RVs the AEONrv is perfect for any type of camping. Upgraded software with full integration of all monitoring and control aspects within the RV as well as green technology that increases thermal efficiency allow the AEONrv users to enjoy off-grid wilderness exploration without having to worry about being attached to hookups.
"The AEONrv is a true all-season vehicle, with highly efficient air conditioning and heating systems, superior insulation, proprietary thermal transfer-free construction, dual-pane windows, and many other features that makes it the ideal year-round, all-temperature RV."
Getting Off Grid in the AEONrv
"Anyone looking for the freedom to work or play anywhere, anytime, safely and in comfort" is a perfect fit for the AEONrv. With the space to fit up to two adults, two children, and even some pets, the AEONrv is great for families, couples, or individuals. Whether a weekend warrior family is looking for more flexibility and camping options or an adventure enthusiast is looking for a full-time home on wheels, the combination of luxury and utility within the AEONrv makes it a great rig for anyone heading off grid.
A "major benefit of AEONrv is that you can camp nearly anywhere." Although it can be used with hookups in an RV park, it also has enough power, freshwater storage, and water filtration equipment for up to a week of boondocking. This allows campers to access forest service land, BLM land, and isolated wilderness areas to truly be immersed in nature. Additionally, the extensive insulation and heating and air conditioning systems within the AEONrv allow for comfortable camping in any season or weather condition.
While the AEONrv has many features that add to the functionality and off-road capabilities, the internal components were designed to allow users to camp in luxury and comfort. The cabin is equipped with a queen size bed and a convertible dinette that is able to sleep two children and seat two to four people. Within the kitchen is a sink area, indoor/outdoor induction cooktop, and a large refrigerator/freezer combination. There is a full bathroom that includes a sink, toilet, and an indoor/outdoor shower. All the comforts of home plus dimmable lighting, remote-control ceiling fans, plenty of storage, and high-tech security, make the AEONrv the perfect home away from home.
Powering the AEONrv with Battle Born Batteries
Another key factor in the AEONrv's off-grid capabilities is its robust electrical system powered by Battle Born Batteries. In addition to 6 – 12V 100Ah Heated LiFePO4 Deep Cycle Batteries, the AEONrv is powered by a 700-watt solar panel array and accompanying Victron components. The whole system is displayed on a touch screen panel in the cab and is accessible through a mobile device or web browser.
The combination of their high reliability, longevity, built-in BMS and self-heating feature, made Battle Born Batteries the perfect choice for the AEONrv electrical system. Jim and Lars knew their customers would have more than enough power to stay off-grid for extended periods of time in any sort of weather conditions. Additionally, the 10-year warranty and excellent support staff gave Jim and Lars peace-of-mind that their customers would be taken care of long after they purchase the AEONrv.
"We found Battle Born lithium (LiFePO4) batteries to be far superior to AGM batteries for our electrical system. AGM batteries are not energy dense enough, are too heavy, take too long to charge, and are ultimately more costly in the long run. Battle Born provides a significantly better alternative that delivers greener, renewable energy, lasts longer, is more cost efficient, and provides huge weight savings over AGM. Battle Born batteries were a complete game changer for us."
What's Up Next for AEONrv?
In the near future, AEONrv hopes to continue to help people truly enjoy their time outdoors by giving them the means to explore safely and comfortably. They will strive to keep up with the ever-changing technology of the recreational vehicle industry to provide customers with cutting-edge capabilities. Eventually, Jim and Lars hope to leverage electrical vehicle development and create a completely electric (or hybrid) AEONrv. "Our wish is to create vehicles that are more sustainable and help achieve carbon neutrality."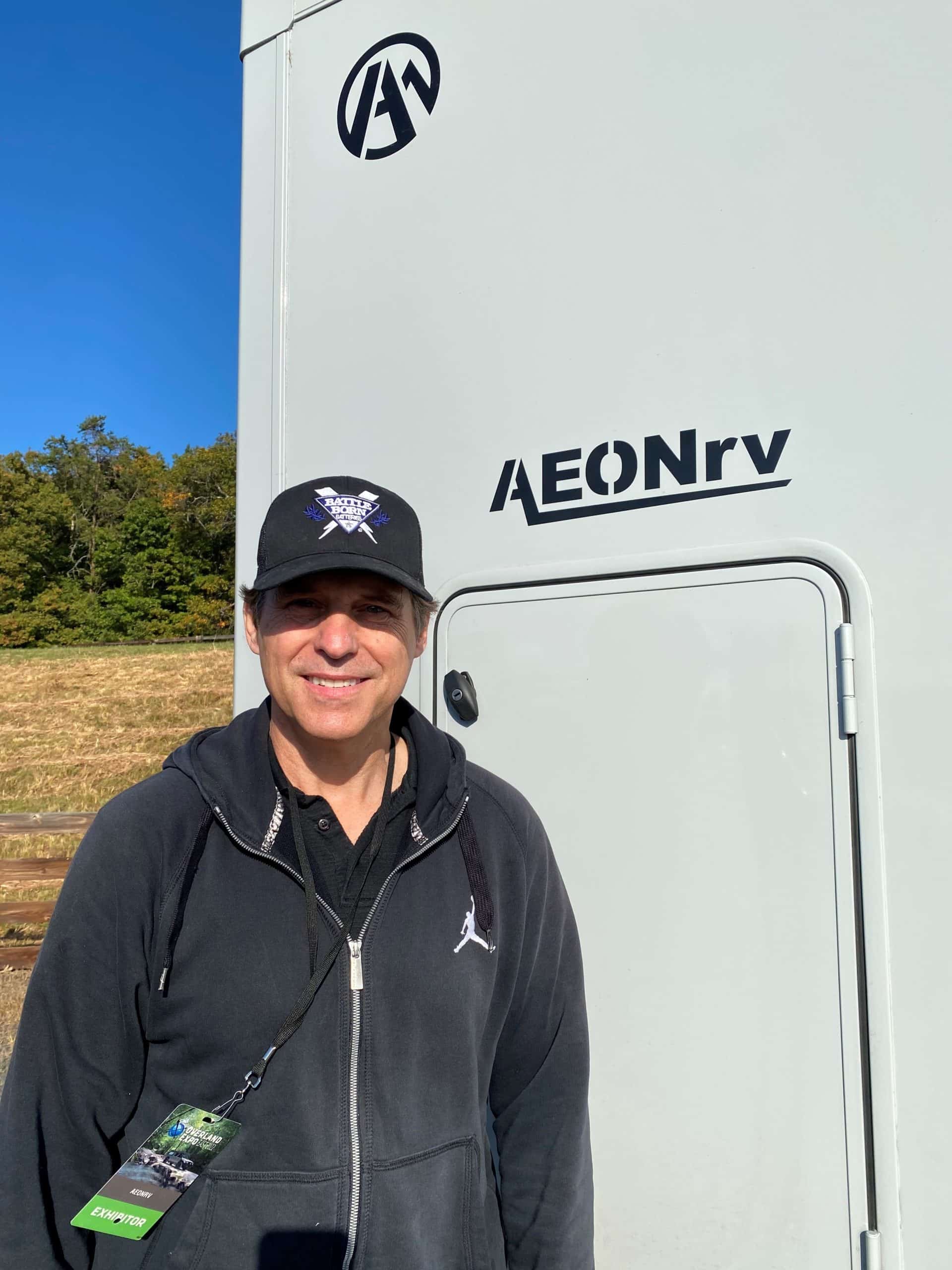 To keep up with AEONrv's latest innovations, be sure to check them out on Facebook, Instagram, YouTube, and their website!