Gabi and Tyler loved the life they created for themselves in Ontario, Canada, but they were still searching for more. On a whim, Tyler suggested moving into a bus and, despite initial protest, Gabi fell in love with the idea and they purchased a retired school bus. Now, the couple is in the midst of converting their Skoolie into a home on wheels with hopes of eventually living a life of full-time travel.
Meet Gabi and Tyler
Outdoor enthusiasts, dog lovers, and adrenaline junkies, Gabi and Tyler Laponite love living their lives in search of their next grand adventure. Gabi spent the majority of her life in Argentina, where she is originally from, and Tyler grew up in Canada. Despite being from different countries, continents, and world hemispheres, the pair eventually found their way to one another and were married in May of 2019 after Gabi moved up to Canada to live with Tyler.
They built their life together in a condo in Ontario where Gabi adjusted to her new subarctic home after leaving the hot, desert region of Argentina. The pair embraced every outdoor activity you could imagine, including snowboarding, rock climbing, gymnastics, riding motorcycles, drifting cars, various water sports and much more. Their home in Ontario gave them access to many of these activities in relatively close proximity but, although they enjoyed many aspects of their life, they knew there was something missing.
Gabi and Tyler described their life as typical, both having 9-5 jobs and working 60+ hours a week just to get ahead. They were paying rent to live in their condo and felt trapped in a constant cycle of paying bills and trying to save up to eventually purchase a home. Inevitably, purchasing a home would lead to a mortgage and they would be back in the same cycle. Tyler brought up the idea of living in a bus in order to downsize, avoid having a mortgage, and free up more time and money to spend traveling. Initially Gabi said 'no' immediately, without giving the Tyler a chance to explain himself. But after more research into what Skoolie life would actually be like, Gabi was completely on board.
Building Out a Skoolie to Start Full-Time Travel
In 2020, Gabi and Tyler bought a 2007 FS-65 Mercedes Freightliner and began building out the Skoolie home of their dreams. Throughout the build, they were searching for ways to increase their sustainability and pushing the limits of their imagination. As Gabi and Tyler converted their retired school bus into an affordable mobile home, they were excited to embrace minimalistic living and, in return, have more joy and more experiences.
With a home base in Canada, it was essential for Gabi and Tyler's Skoolie build to be able to handle the demands of harsh climates. Anticipating winter temperatures all the way down to -40 degrees Fahrenheit, they were sure to add insulation and other precautions to prevent internal freezing. Although this hasn't been easy, every step of the build offers opportunities to learn and grow in their skills. Gabi and Tyler have loved the meticulous planning of each part of the build to ensure comfort, sustainability, and durability.
They quickly realized their Skoolie build was going to take longer than they had initially planned. As Gabi and Tyler worked through the framework of the Skoolie, it became clear that they wouldn't be able to finish up in a few short months. So, even though the weren't finished, they decided to kickstart their new lifestyle.
The couple moved out their condo, downsized their belongings and began preparing to move into the home on wheels. With essential features such as a bed, composting toilet, a way to cook, heating options for the winter, and a few other build pieces, Gabi and Tyler moved in full time while still working towards eventually finishing their build.
Transitioning to Skoolie Life
Shortly after moving into the Skoolie, Gabi and Tyler were relocating it to their new home-base where they would live until its completion. After finishing the roof raise, they decided they were ready to make the quick, hour and half drive to their new home. Despite the fact that they hadn't finished closing in any of the walls yet, they figured the short drive wouldn't be too much for the bus to handle in that state.
But a freak hailstorm made this simple task a challenging feat in a matter of moments. Even though it was a frightening experience for Gabi and Tyler, they are able to look back at it and laugh. "Nothing was ever simple, it always had to be an adventure."
From that moment, the adventures continued, and Gabi and Tyler shared many fun, challenging, and exciting memories as they continued working on their Skoolie. In order to sustain their new lifestyle while they were living in and working on the Skoolie, Gabi and Tyler start the remote work life.
Focusing on content creation and some contracting work to pay their bills required a reliable internet connection. They added mobile, high-speed internet to the Skoolie early on and have been able to utilize it to keep up on their work while on the road. With their flexible work hours and location, and the limited monthly expenses of living on the bus, Gabi and Tyler are able to work less hours and spend more time exploring together.
A Home for the Pup Too
Another key factor the duo took into consideration during their build was that the Skoolie wouldn't be just their home. It would also be home to their adorable pup, Kiwi, and they wanted to be sure he would be comfortable living on the bus. As soon as Gabi and Tyler moved Kiwi into the Skoolie, they knew he was going to love it. He was comfortable from the very beginning and enjoyed laying by the patio door while Gabi and Tyler were working.
When he's not in the Skoolie, Kiwi loves being able to run around and explore outside with so much more space than he had while they were living in the condo. Kiwi easily transitioned to Skoolie life and has become the perfect adventure buddy for Gabi and Tyler.
Prepping for Winters in Canada with Battle Born Batteries
As Gabi and Tyler were making steady progress on their build, they entered into their first winter living full time in the Skoolie. With only three small lead acid batteries, they had minimal power and struggled to keep their essential electronics running. The limited power meant utilizing their diesel heaters on high all day long on really cold days, which led to alarms going off in the middle of the night as the diesel ran low and causing panic while trying to a get little charge back on the batteries before everything completely died and froze. "It was an anxiety-filled winter trying to survive with those lead-acid batteries."
Following that first winter, Gabi and Tyler knew they didn't want to attempt to survive another cold season struggling to keep everything heated and powered. They began researching for alternatives to lead acid and stumbled across Battle Born Batteries. After realizing that Battle Born stood out from other battery options in every aspect, they knew it was time to upgrade.
Their new system is powered by 4 – 12V 270Ah Deep Cycle LiFePO4 GC3 Heated Battle Born Batteries and additional components. They're combined to form a 48V system that gives Gabi and Tyler all the power of a conventional home. "It's really impressive to see how well the batteries complement the system and give us all of the power that we need."
An extra benefit is that in addition to having more power, they've also cut out a ton of weight, which is a crucial factor in a mobile home. They're able to have the power to live comfortably without sacrificing weight allowance they can utilize elsewhere.
For Gabi and Tyler, making the switch to Battle Born Batteries has changed everything about their life on the road. "Battle Born has given us the confidence to know that we will always have the power that we need. No matter where we go or what season it is, we will always have the power available to us to run our business and all of our appliances without having to worry." Especially having a home base up in Canada, when the grid looses power Gabi and Tyler don't even notice and they're able to continue living like normal.
"A huge component of our travel goals is being able to be off-grid and Battle Born really gives us the freedom to do that and go long durations of time off-grid without worrying about recharging."
What's Next for Gabi and Tyler?
Currently Gabi and Tyler are still in the depths of their Skoolie build and making substantial progress every day. They're focused on getting the bus finished as quickly as they can, but with the difficulty of winter travel and Canada due to ice and snow conditions, they won't be hitting the road until next summer. As of right now, Gabi and Tyler are on track to officially be living on the road as soon as the snow melts.
In the meantime, they're itch to get out and travel is continuing to grow and the list of places they want to visit is getting longer and longer. Towards the top of their list is spending an extended amount of time in Colorado during the winter ski season. As they both love to snowboard, they can't wait to take their home and park at the base of a ski resort to get out on the mountain every day.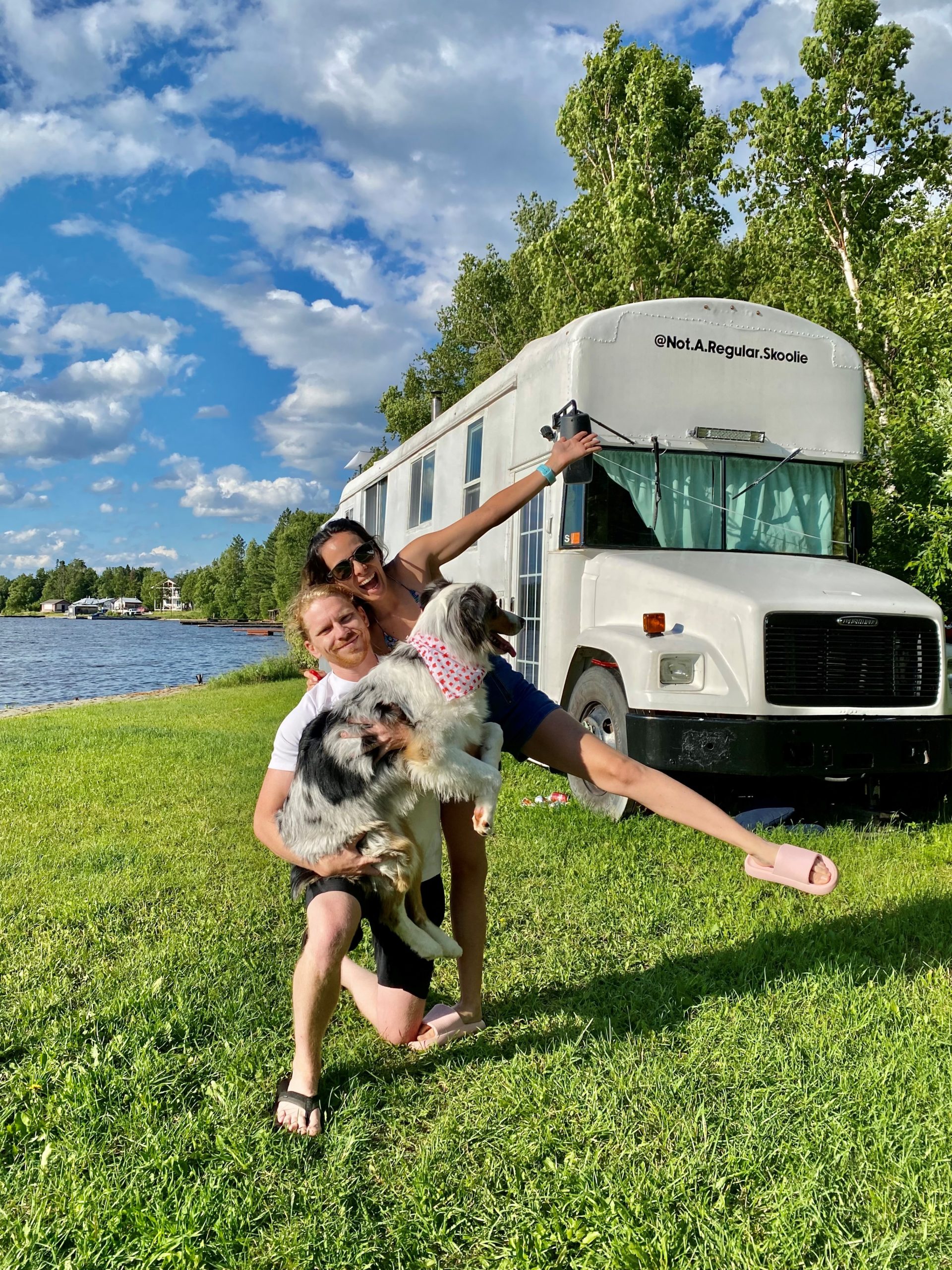 Until then, Gabi and Tyler will continue daydreaming about the travel days to come.
To follow along as they finish out their Skoolie build and finally start full-time travel check out Not a Regular Skoolie on Instagram, Facebook, YouTube, TikTok, and their website.