After growing up on the island of Trinidad, Noami Grevemberg moved to the United States at 17. Upon finding a 9-5 routine, Noami realized a standard, run-of-the-mill life simply wouldn't be enough to satisfy her. She left her stationary life behind and set out on the road to begin the adventure of Van Life. Now, with a newly built out 1987 Ford Bronco, Noami is finding freedom in getting further off-grid and inspiring others to do the same.
Meet Noami Grevemberg
Hailing from the Caribbean oasis of Trinidad, Noami Grevemberg grew up in the midst of rich culture and biodiversity. She spent her childhood in a remote village and was raised without many modern-day comforts. Without electricity, oil lanterns produced a soft glow in her grandmother's living room, where Noami recalls spending many nights listening to her tell stories and recite poetry. These fond memories ignited a passion within Noami for the magic of storytelling that only increased as she got older.
At 17, Noami packed up her life in Trinidad and moved to the US. After getting a job, she finally found her routine and then quickly grew tired of it. "I began to feel a pull towards something different, something more. I wanted to explore new places, learn about different cultures, and escape the 9-to-5 grind." Searching for a new calling that would quench her thirst for adventure, Noami was seeking to experience more with less.
As a way to escape being stuck in a mundane routine, Noami discovered van life. Creating a home on wheels gave Noami the freedom to live out her dream of finding balance and sustainable living. She's been able to spend time immersed in nature and fall in love with the peace of being unplugged. "The freedom of van life gave me the opportunity to immerse myself in the diverse landscapes of this beautiful country."
Van life has allowed Noami to reignite her passion for the outdoors. In awe of the beauty around her, Noami took up photography and fell in love with its ability to capture each awe-inspiring moment. She began sharing these photos and her experiences to inspire others to take the leap into van life.
Beginning A New Chapter of Van Life
Early on in her life on the road, Noami began focusing on social justice and sustainability. Seeking to show her followers how these two pressing concerns can intersect on the road, she became a digital nomad. Noami was living on the road full-time and sharing her experiences through social media and a podcast. This gave her a place to document her travels and start a movement to diversify van life. She set out to inspire other BIPOC individuals to take on a nomadic lifestyle.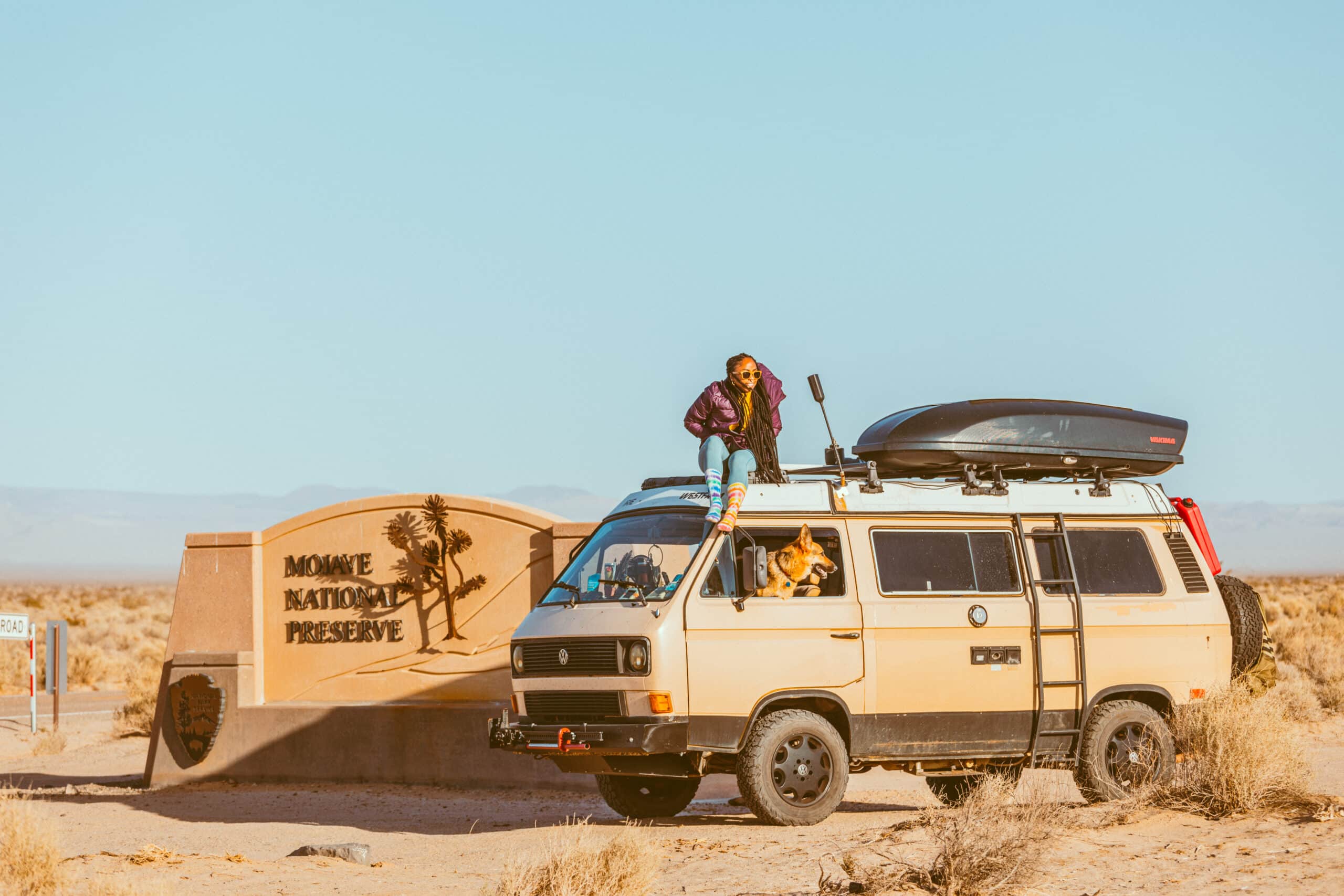 Initially, Noami was traveling around the US in a custom-built Volkswagen Westfalia. The Westfalia was complete with a kitchenette, a pop-top for extra headroom, a fold-down bed to expand the living space, 2 – 12V 100Ah Battle Born Batteries, and more. Noami loved the creativity of the build, but with 2 adults and her German Shepherd Amara, the van quickly cramped. Ready for a new, solo adventure and over the mechanical frustrations of the Westfalia, Noami began a new chapter of van life.
After some extensive research and reevaluation of what she wanted her new life on the road to look like, Noami purchased a 1987 Ford Bronco. "The Bronco had been a dream car for me for many years. Its rugged appearance and off-road capabilities made it a compelling choice for someone looking to explore more remote areas." With a desire to get even further off grid, Noami chose to create a new home on wheels in her Bronco. Its capabilities to handle a variety of terrains would open up a whole new world of possibilities in her nomadic lifestyle.
Irie to Aurora's Unique Overland Rig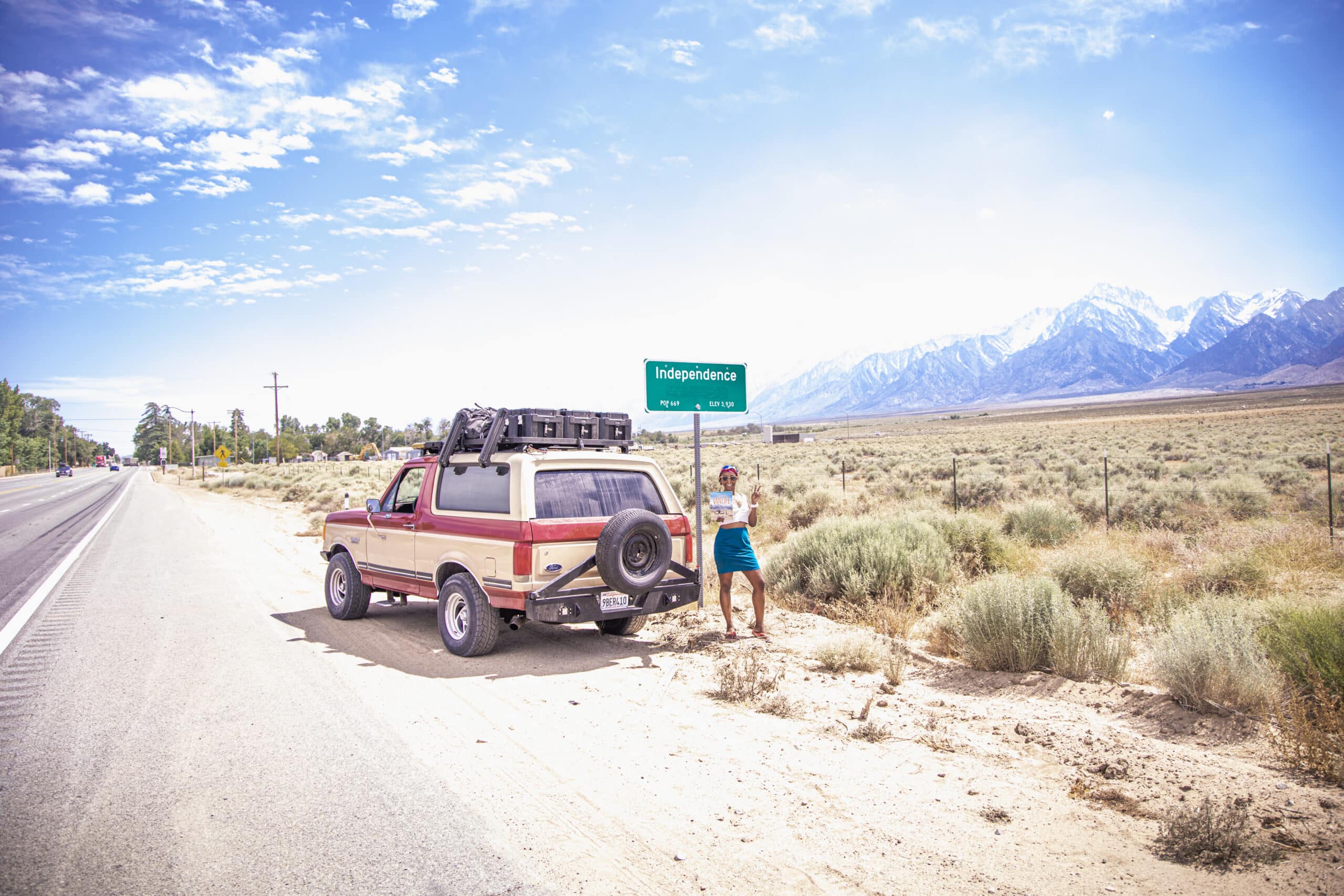 Although it offers more rugged capabilities, the Bronco has much less real estate for living space than the Westfalia. This led Noami to get creative with the internal layout to ensure that she could include all of the essentials. Noami found a way to include a comfortable sleeping area, full kitchen, and extra storage without sacrificing any of the Bronco's off-road charm. "The Bronco had been a dream car for me for many years. Its rugged appearance and off-road capabilities made it a compelling choice for someone looking to explore more remote areas."
Throughout the build, Noami was sure to maintain a balance between comfort and practicality. Leaving the driver and passenger seats in place, Noami had the entire back of the Bronco to turn into the perfect home on wheels. She was able to include a bed that can comfortably sleep one adult with slats that pull out to offer more sleeping space. With the addition of a small but functional slide-out kitchen and plenty of storage for all of her gear and personal items, she has everything she needs no matter where she goes.
By far, Noami's favorite part of the Bronco is her pull-out kitchen. "It lets me cook outdoors, enjoying nature while preparing meals. It's a simple joy that brings a lot of happiness." With a sink, a stove, and a Dometic Fridge, Noami has the capability to cook full meals even in the most remote locations. This allows her to spend more time off-grid. While there could always be more storage in a home on wheels, Noami loves the way the Bronco turned out, and she can't wait to see where it takes her.
Life on the Road Powered by Battle Born Batteries
In spite of missing the cozier experience and extra living space the Westfalia offered, Noami wouldn't trade the off-road capabilities of the Bronco. Its power and reliability make up for sacrificing the "homey" feeling that came with the van. Although both vehicles offer benefits for different seasons and stages of life, Noami is confident the Bronco will be the perfect home on wheels for her next adventure.
A key component in both the Westfalia and the Bronco is the power system. As both vehicles were designed to function as full-time homes, there were critical pieces that required a robust and reliable power system. In addition to needing the ability to power a wide variety of electronics, Noami was focused on living sustainably and wanted to utilize solar power.
Following extensive research, Noami determined Battle Born Batteries would offer her the best of both worlds. Equipping the Bronco with 1 – 12V 270Ah GC3 Battle Born Battery, rooftop solar, and accompanying Victron components, Noami is able to harness the power of the sun reliably and sustainably.
"When you're living off the grid, having consistent energy is crucial. [Battle Born Batteries] have made my life easier, ensuring I have power when I need it, whether for work or everyday living. It's peace of mind that allows me to focus on enjoying the journey."
Irie to Aurora Heads Further Off Grid
Over the years of her nomadic lifestyle, Noami has created so many amazing memories while living life on the road. One of her favorite recent trips was her first multi-day solo backpacking trip with her German Sheperd Amara. Noami loved spending a few days trailblazing with Amara through the Three Sisters Wilderness of the Pacific Northwest. "The sense of accomplishment, navigating the trails, overcoming challenges, and the serenity of camping by a remote mountain lake is something I'll never forget. It's a reminder of why I chose this lifestyle."
While exploring in the Bronco, Noami loves staying active and engaged with her surroundings. Spending time hiking and paddle boarding helps her feel connected to the nature around her, and she loves capturing its beauty through photography. When she's in less remote places, Noami prioritizes meeting other nomads and connecting with local culture through cooking. One of her favorite things about meeting other people who live on the road is engaging with like-minded and diverse groups of people.
Noami's outdoor lifestyle wouldn't be complete without her favorite adventure buddy, Amara. Amara is Noami's German Shepherd pup and travel companion. Together they roam across the United States, taking time to explore new places and meet other dogs and people. Although Noami is taking on a solo adventure, she will have Amara's companionship as they take on this new chapter.
Living the Vanlife with Irie to Aurora
As Noami embarks on her latest journey, she's thrilled to be marking the milestone with the release of her book, Living the Vanlife. Her deep-rooted passion for storytelling and exploration drove Noami to share her own story.  Throughout the book, she shares her "personal journey of overcoming the fear of uncertainty." Noami also  provides "practical tips for designing a captivating life path that aligns with your true passions."
Within the book and throughout her journey, she has become the driving force behind "Diversify Vanlife." This "vibrant community of adventure seekers and road travelers" is breaking through the societal norms of the nomadic lifestyle. They're making space for all people to take their life on the road. "With a focus on inclusivity and sustainable living, we're breaking down barriers and creating spaces where all are welcome to share their love for travel, exploration, and the outdoors."
In light of her book release and the completion of her new home on wheels, Noami is looking forward to "immersing herself in the joys of creativity, culture, and camaraderie, whipping up fiery Afro-Indo Caribbean dishes in her tiny kitchen, blazing new trails, and dancing under a star-filled sky. Keep up with her latest travels by following Irie to Aurora on Instagram and Facebook and checking out her website!