Battle Born Batteries is proud to have our products powering anglers who are passionate about fishing, and Jeremiah Johnson is no exception. He no longer has battery anxiety about running out of power while doing what he loves out on the water.
Who is Jeremiah Johnson?
For angler Jeremiah Johnson, our batteries power his rig all day and he can fish the lakes of Minnesota in peace! His dad introduced him to the sport at the age of three, and as a ten-year-old he knew he wanted to be a professional bass fisherman. At 12, his parents would drop him off at small lakes to practice fishing at, and he joined the Minnesota Bassmasters club in 2004.
As a fishing guide on Lake Mille Lacs, this self-proclaimed "old-school fisherman" can spend more than 22 days a month out on the water all day long with clients of all skill levels. It's his favorite place to fish because it's got sand, grass and a wide variety of species to catch, and he describes it as the one "he really cut his teeth on for bass fishing." The lakes in Minnesota are clearer and hard to fish during intense competitions, so learning how to work around this gave Jeremiah an advantage when competing!
This accomplished angler grew up watching the TNN channel where legendary fisherman Bill Dance was a host. Jeremiah cites Bill as a fishing inspiration due to the host's energetic, hyperactive style of reeling it in! "It's basically like seeing my dreams as a little kid become a reality because of hard work," he said. "Never give up on your dreams and goals, especially if it's something you really want to do."
Jeremiah spends more than three quarters of the year on the water. With Battle Born Batteries onboard, he was able to free up 300 pounds on his rig. As his schedule allows, he participates in back-to-back fishing trips with clients and he doesn't have to worry about taking valuable time for batteries to charge.
Jeremiah has a good luck charm that he brings with him on every occasion that he's out on the water, a little lure that his son painted at four years old. "I always keep it on my boat and I feel that it's just something that gives me good luck. At the end of the day, whether it was a good day or a tough one, I can just look at it and it reminds me of my boy," Jeremiah said.
As a fishing guide, Jeremiah makes sure that all trips he takes with his clients are memorable. He sees a lot of father-son pairings and admits that sometimes tear-jerking moments happen on the water, so he's glad to be there when memories are made.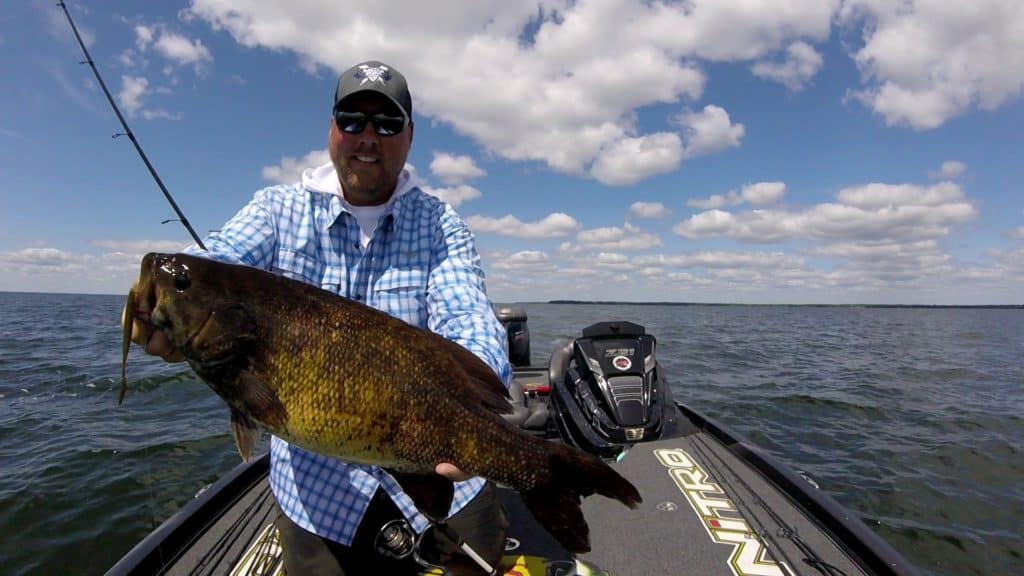 "It's hard to see them smiling behind the mask but I just know it's there," Jeremiah said. "The people I've met in this industry are just really, really good people at the end of the day."
Growing up in a small town, Jeremiah is excited to host his own television show and works with Strike King lure company. He's frequently featured as a guest on their programs and believes it's gratifying to have the opportunity to film with other angling experts.
Jeremiah's ideal catch is either a goliath grouper or a tarpon, since he wants to explore more saltwater fishing opportunities in the future.
About the Rig:
Jeremiah has three of our flagship model batteries, the BB10012, installed in his new rig for the 2021 season, a Z21XL. He describes our batteries as "badass" and is glad that the technology can handle cold Minnesota temperatures while providing plenty of power to fish large lakes. It was something that he admitted to being skeptical of at first, but he's glad they perform well any time of the year.
When it comes to advice for those looking to get into bass fishing, Jeremiah jokingly advises people to get a college degree as a backup! In all seriousness, he admits the sport is high-risk, high-reward and because it's so competitive, he wants the younger generation to know that they really should be passionate about pursuing a career and putting effort into it.
"If you want to stay in the game, you've definitely got to stay focused and have a strong mindset," he said. "I'm still on the quest for knowledge about the sport every day and I try to share everything I've ever learned."
What's Next for Jeremiah Johnson?
Jeremiah has taken a step back lately when competing in tournaments mostly because he wants to spend time with his fourteen-year-old son, Jordan. The travel that's required for anglers to compete can take a toll, so Jeremiah makes sure that he never misses his son's football games and other important milestones. The two enjoy hunting and riding snowmobiles together during the winter season and being able to make memories like that is something Jeremiah cherishes.
Jeremiah is currently filming a series that will be released through Amazon later this spring. You can follow him on his Instagram and YouTube channels, and plenty of his content can be found on the MyOutdoorTV channel.