LiFePO4 technology allows our customers to get out there and stay out there at any stage of life. For John and Arlene Tasco of Mingo Adventurers, their travels have been ongoing for the past 2 years and show no signs of stopping. If you've got a story to share, our marketing team would love to hear it! Email [email protected] and we'll happily connect.
Meet Mingo Adventurers:
John was born in Texas, spent time in Colorado, and joined the Army as part of the 7th Special Forces group. He met Arlene at the local Hardee's where she worked part-time while attending college.
"Our first meeting was at the Hardee's drive-through window and apparently I may have said something silly cause she took my straw, paper and all, and shoved it in my drink," John said. "This was repeated at each visit and even her sister, who was also working at Hardee's joined in!"
They married soon after, and Arlene went to nursing school and spent her career in the labor and delivery unit. Together for more than 39 years, they have two grown children and a need to see the world!
When John was given the option to retire from the Army, he was immediately offered an option to work with the federal government, living mainly on the East Coast in addition to Norway and Nepal. They finally were able to fully retire.
"The idea of traveling while pulling a camper was all mine," said John. "She had some doubts we would survive being on the road and living in a 15-foot trailer."
John and Arlene watched a lot of YouTube videos to decide what kind of rig they wanted, and then one day during a walk at the beach, they spotted a NuCamp [email protected] 320. It caught their eye and the owners of the trailer were nice enough to offer a tour. They immediately found a dealer in Alabama but picked it up straight from the factory.
"It was an experience because neither one of us have ever pulled a camper or set one up," said John. "There was a huge learning curve but we thought with time we'd be set for our dream trip from Florida to Alaska."
Their first trips with the 320 went well, but on their third trip, they ran into bad weather and realized the rig was much too small. The same dealer called to let them know that they were making the rig in a larger size with the ability to off-road. John and Arlene tailed it to the lot, saw one in person, placed the order, and had it delivered.
"We use RV Trip Wizard for our route and stop planning since we like to keep our daily driving down to about three or four hours," said John. "Our preferred stops include state parks, FamCamps (Air Force and military-focused campgrounds), KOA (Kampgrounds of America), and others."
"By far our best trip was from Florida to Alaska, we found more joy in the actual drive, the people we met, things we saw and the challenges than our destination of Prudhoe Bay," said John. "Yes, we've had some bad stops but overall, we have tons of great memories, and the hiccups along the way just make it more interesting."
A Rig Ready for Adventure
John and Arlene first became aware of our batteries by watching Battle Born family member Chad DeRosa of Living the Van Life, in addition to the Travels with Delaney channel. As for the battery installation process, John felt that it was similar to the AGM installation, but later learned it's an entirely different procedure. He often relied on calling into our sales and tech team just to clear things up when working with his two BB10012 batteries.
"The batteries in our rig are under the bed on the passenger side, in a safe but tight space," said John. "I had to do a couple of squats to lift the two AGM batteries out, but the Battle Borns were much lighter and a bit larger to get in place."
While on the road, they've learned to make lists that focus on essential gear, camping gear and clothes. Space is minimal in the [email protected], and the two learned that a good majority of the time they don't need half of what they pack.
"Each stop along the way we buy postcards and send them to our home, so when we return we have a good reminder of our trip," said John. "We do the same with the photos we take and publish on our blog."
They also travel with their service dog, Bugsy. John says that sometimes it's a challenge when going to stores or other places with stringent rules about animals. The main issue they run into is that places are avidly against comfort animals due to a lack of definitive rules. They've also run into people who unfortunately purchase illegitimate service dog vests to get around general guidelines.
"At a stop in Tennessee, we were asked to leave a grocery store by a security officer, because unless I was creating a disturbance, my service dog and I were allowed in the store," John said. "It was a misunderstanding because so many people were not clear on what the rules are for service dogs, what they do and how they behave."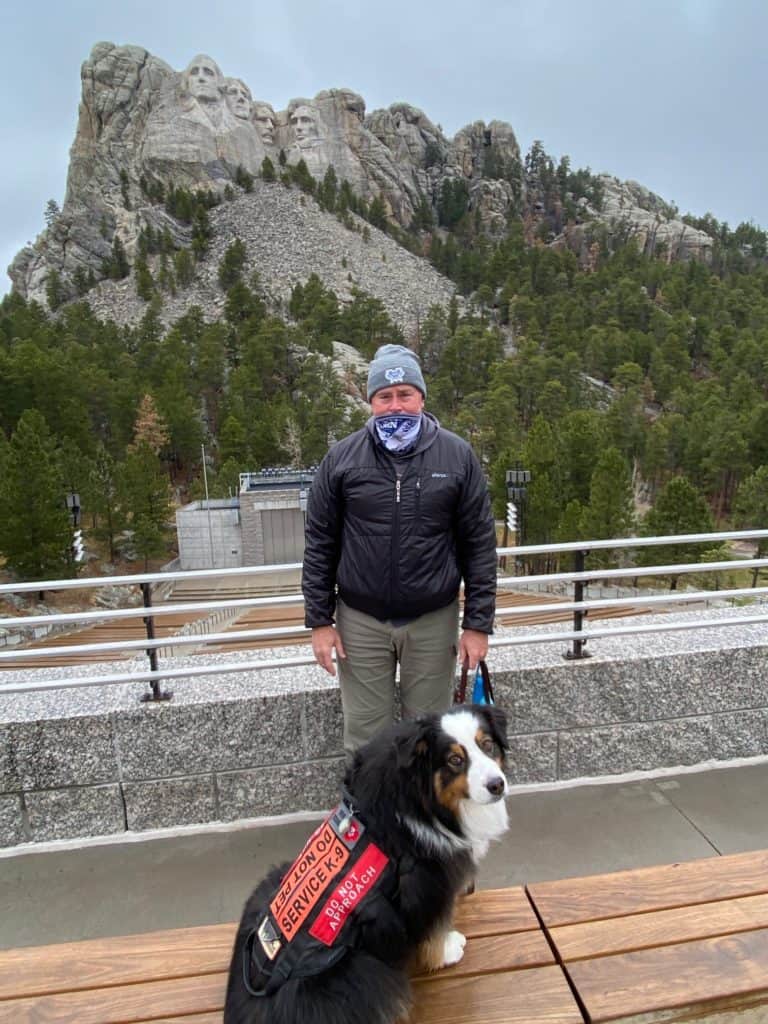 What's Next for John and Arlene?
They're looking forward to traveling out to the factory for a major service visit in Sugar Creek, Ohio while also making time to visit Jekyll Island on the East Coast. There's also plans to revisit Alaska, so they're actively mapping a route that will have them traveling through areas they've been to before but didn't spend as much time in. Lastly, their goal to hit the East Coast in the fall and end up in Newfoundland is coming to fruition as well.
They love taking photos of all kinds of subjects, like beautiful terrain, interesting subjects, cool campers, off-road vehicles and anything else eye-catching.
"After looking back through the blog, I realize some of the photos aren't the best, but now I'm trying a bit of photo editing to enhance the photos!" joked John. "It takes time and if we're only staying in a spot for a day or so, I like to prioritize exploring where we're at instead of doing the editing process."
He also sends photos of his travels to our sales and technical team, and it always makes our specialists' days to see his messages come through.
Check out Mingo Adventurers on their blog here.