Here at Battle Born Batteries, helping our anglers get out on the water and stay out there is what we do best. Mikey "Balzz" Meisenheimer is ready for the fishing season and any trips afterward because his rig is powered by our flagship battery, the BB10012.  
All About Mikey:
Mikey "Balzz" Meisenheimer's top priorities in life are shooting videos, catching fish, and adventuring with Bog, his rescue dog. Mikey's favorite place to fish is Florida and says it's the mecca for big bass fishing in the eastern United States.  
"I've had some insane experiences fishing down there and have met a lot of great people," he said. "I had a great time on my last trip capturing videos, learning, and getting tan!"  
Passionate about videography and online projects, Mikey is always filming his fishing trips with friends. In one of his most recent posts, Mikey caught a 13-pound, 5-ounce bass that he described as a "peanut butter" bass. One of his favorite fishing techniques when catching pre-spawning fish is known as "flipping" and can be done in many ways, like flipping docks, punching mats, and pitching jigs. He describes these all in his recent video! 
"I love making videos, whether they focus on fishing road trips visiting new lakes, lure and technique videos, or just a day out on the water, capturing the dynamic of the sport on video and rendering that experience to others is just something that I thrive on," he said.  
When it comes to his career, Mikey is excited by the fact that he can go fishing and be involved so deeply in the sport that he loves and has "wow" moments every day. His favorite days have been spent on the water all day, one in 2017 where he went out and caught five fish weighing a total of 49 pounds. He's always ready to chase his dreams which are often in the form of lofty goals. One feat that Mikey has dreamed of and believes is very possible with a touch of luck and timing, is to catch a five fish limit of over 50 pounds. 
Mikey's advice for anyone looking to get into fishing or videography is to just "turn on the camera and do it!" 
"I hear from so many people that want to capture their fishing adventures on video and I'll talk to them a few months later and ask them how it went, and they'll look at me with frustration and say they never started," he said.    
He wants anglers to know that their first videos of their experiences on the water will be the hardest ones they ever shoot and it's not going to be as perfect as they expect. Mikey says that it's a great medium for rendering and sharing the experience and everything you learn with others.  
"As you go through the motions you'll be recreating and embodying the passion, and that very reason brings you out on the water each time you launch the boat!" he says. \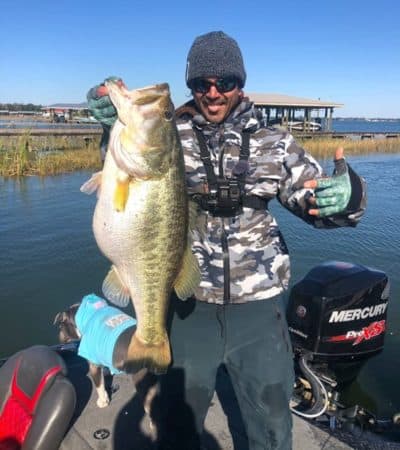 What's in Mikey's Bass Boat?
Mikey is thankful that his boat, a Triton TRX 189, runs on the following components that allow him to get out on the water to run equipment for 12 hours straight:  
With this setup, Mikey can run his four giant tablet style graphs on his rig and doesn't need to worry about power running down or any additional performance issues.  
"These batteries are awesome and always are able to fully deliver!" Mikey said. "I've also gone about a day and a half to two days between charges." 
His Battle Born Batteries truly allow him to have multi-day power that is more efficient and weighs less than his lead-acid powered boats did in the past. Mikey is glad his lithium batteries power his trolling motor and has the additional voltage to run his graphs at peak performance. He believes that the boats of today and tomorrow are more and more reliant on integrating and hedging new technologies to become more fluent at angling. All these devices and aids only last as long and work as well as the power infrastructure that anglers are able to contain on their boats.  
He recently used his trolling motor for nearly 12 hours straight looking for spawning fish. If he would have been running on old school lead acid batteries, not only would he have seen a slow down on his motor but it also would not have made it.  
"I can worry less about if my rig is ready for a day out on the water and more about how to capitalize on catching fish," he said.  
What's Next for Mikey?
Mikey's often able to visit Florida about two times a year to film videos and fish. It's also prime time to fish the state as the mild climate leads fish to spawn while the rest of the country is in the heart of winter. Considering himself a snowbird, he's grateful to be able to also visit warmer waters! When he's not angling to snag his dream catch, Mikey is always ready to put out more content on his YouTube channel.  
"The hunt for content is an ongoing process and frankly it never stops. I'm always looking for that next adventure, that next opportunity to learn, wherever it may take me," he said.  
Want to learn more about Mikey Meisenheimer? You can follow him on his blog and Instagram!