At Battle Born Batteries we strive to provide our customers with long-lasting power no matter where their travels take them. Whether it be from coast to coast or going overseas, Battle Born provides customers like Chad DeRosa with LiFePO4 batteries that are reliable and strong. Chad has been living the van life since 2011 and hasn't looked back since. This blog follows Chad's journey of finding his passion, self-discovery, and living life to its fullest. 
Living The Van Life
Chad DeRosa bought his 1991 Volkswagen Westfalia off Craigslist in 2011. What was intended to be a weekend warrior van to help him pursue his passion of photography soon became a new way of life. Chad, also known as "Living the Van Life," started doing just that after he and his father found out the construction company they worked for would be closing its doors for good. Faced with the question of what to do and where to turn next, his parents encouraged him to move into his van and pursue his passions. 
When he was younger, Chad's love of dirt bikes stirred another passion: videography. Using a $20 VHS video recorder, Chad developed and honed his skills for years. "Eventually, I just got burnt out.  Everything was going to HD from standard definition." Moving away from videography, Chad dove into the world of still life photography in 2008. "Still photography, man. That taught me what passion was all about." After the construction company closed and Chad decided to make the shift to van life full-time, it allowed him to pursue his true passion. He was determined to be a professional motocross photographer. 
While taking pictures for a magazine, Chad was presented with the opportunity to film custom motorcycles speed race in the Bonneville Salt Flats, which he turned down. A week later he thought to himself, "Maybe I'm turning down a really good opportunity. Maybe I should start filming these guys. I'm living in a van; I have no excuse not to." The van life was instilling a stronger sense of spontaneity. and allowed him to be more open to different opportunities and experiences. It moved him to say yes to the possibility of new experiences. 
"I remember I used to be the type that would never go to a restaurant by myself, or to a movie, and I think that for a lot of people that's a scary thing. But with photography I wanted to go out in the woods by myself and shoot photos. And that just taught me more independence and taking that leap of faith."  
Exploring the Wilderness
Living in his van forced Chad to push himself in every way. He embraces a spontaneous lifestyle that inspires his audience. In one video, Chad is making his usual trek into the snowy mountains in the middle of nowhere Pacific Northwest when he happens upon some fallen trees.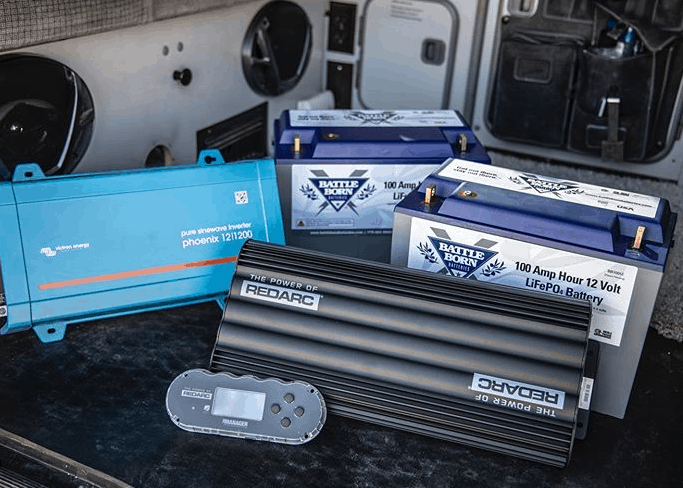 "When I came across those trees, at first I was like 'There's no way I can get through that. There's no way.' His will to persist through the challenges and to push himself made him reconsider. "I proved to myself, that yeah I did this, what else can I do?" Check out his "Behind the Scenes – How it's Made" video where Chad gives us a little insight to what goes into traveling to these remote areas.  
Chad is inspired by the bush craft, a wilderness survival skill set. His content is obviously influenced by this, and gives his audience insight into the world of foraging for food and firewood. It was something that he felt mirrored his nomadic lifestyle well, so he incorporated it into the van. Chad spends his evening sharing magical meals with his viewers. From ramen to pizza, his quiet campfire meals leave his viewers hungry for more. Chad's cinematography alone is worth a watch, but you'll also get inspired by his meals, and may even want to buy a Dutch oven of your own. 
Paired with a nice cup of whiskey and dark starry skies, Chad's videos have a way of making the viewers feel like they're out in the woods with him.  
Living the Lithium Life
Chad spends a lot of time roaming around the rugged terrain of the Pacific Northwest, off-grid as much as possible. A remote area of the country known for its unpredictable weather, mountainous and wooded landscape, Chad often puts his Westy – and himself – to the test. 
As many know, winters in the Pacific Northwest can be brutal. Chad relies on certain components like his diesel heater, his Engle fridge/freezer combo, and his electrical system that powers everything to be able to keep living the van life. To keep Chad's gear powered, he relies on his 12V system.  
Chad's System Specs: 
Red Arc Manager 30

 

Red Arc Manager 

30 monitoring

 system

 

10 W Solar Panel

 

Victron Phoenix 12V 1200W Inverter

 
Check out The Ultimate Off-Grid 12 Volt Battery System video, where Chad goes over the details of his system and hints at a cool new product! 
What's Next?
As van life becomes more of the norm, the people wanting to get their feet wet are always looking for advice, tips and tricks on how to live this life and live it successfully. Chad's parting wisdom? Be mindful, do your research, and overall: be practical. While Chad and many dedicated van lifers love their Westy's, getting an older rig means you have to be willing to do the dirty work, or at least willing to pay for it. Anyone with an older car knows as you put more miles on the car, as it sees more seasons there's a lot of natural wear and tear that occurs. 
So what is next for Chad? The beautiful thing about living in a van full–time means you are always packed up and ready to go. Earlier this year, Chad stopped by our facilities in Reno. As he told our staff about his plans, it became obvious: there wasn't one. "One afternoon I was like, 'I'm done with Bellingham, I'm going to Alaska.'" While gassing up, he decided to change course and head to Wyoming, and Wyoming eventually turned into the Grand Canyon. While unfortunate events had altered his travel plans, Chad is still getting out to the remote regions of the Pacific Northwest sticking close to his family. The plan is that there is no plan, and that's the way we like it. 
You can keep up with Chad as he lives the van life by following him on Instagram along with his YouTube channel!  You can also check out LivingTheVanLife's website.