For Eric and Allison Bieller, renovating their 1986 Chevy Coachmen Leprechaun RV has been quite the escapade! Between stormy, unprecedented weather and supplier issues, the couple behind The Endless Adventure has been hard at work making the most of it all. Here at Battle Born Batteries, we're excited to power their home on wheels for the foreseeable future!
Meet The Endless Adventure: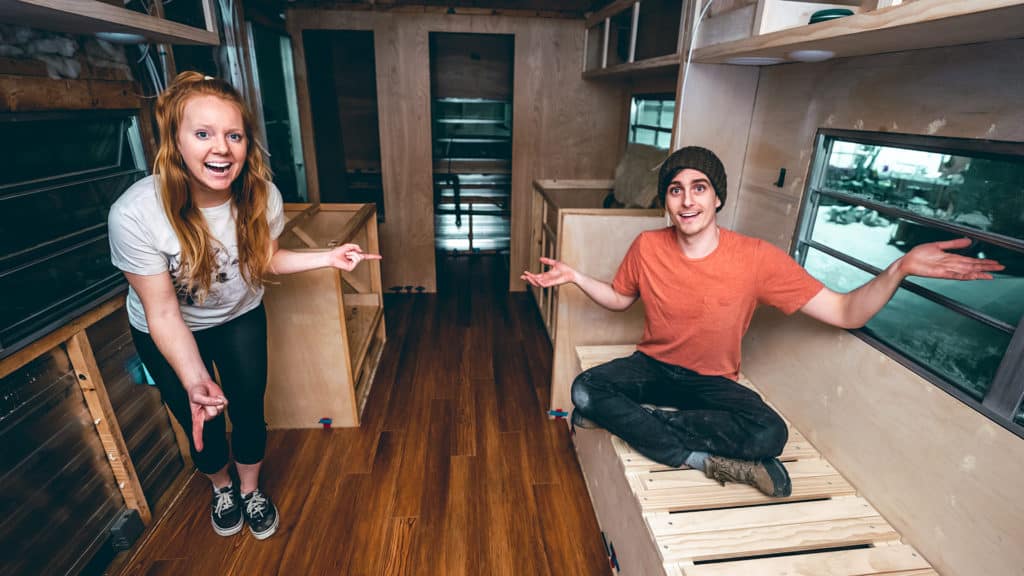 Eric and Allison met in high school in their hometown of Poplar Bluff, MO, and then moved to Nashville, TN. Here, they attended the same college and got married. The pair's dedication to finding ways to budget and travel has paid off over the past 5 years and they love to share helpful tips and tricks with their audience!
They decided to buy an RV during the beginning of the pandemic because, originally, they weren't sure how long they would have to hold off on their travel plans. A love for vintage vehicles sparked their idea to invest specifically in an older, fixer upper and jump right into this RV renovation project.
While working on the RV renovation, Eric and Allison recently found time to take trips to Colorado and Kentucky, where they loved staying in a tree-top Airbnb that was shaped like a UFO! Check out their recent video where they explore lots of fun sights such as distilleries, an old jail converted to a bed and breakfast, and a local forest trail.  Allison said she's also got a soft spot for Colorado and how they're able to be so close to the mountains, cities, gold mining towns, and everything else in between.
An RV Renovation Powered by LiFePO4 technology:
The couple says that there's an order of operations when it comes to the RV renovation process–for them, the installation of our LiFePO4 Battle Born Batteries was one of the earliest and easiest parts.
Here is what's in the Endless Adventure's electrical system:
-Two Battle Born 100Ah 12V Batteries
-Victron Multiplus 2000W Inverter
–Victron MPPT Solar Charge Controller
"I've been blown away by everything Battle Born," said Eric. "I'm completely in love with it, and while there's a learning curve understanding electrical, the installation was totally straightforward."
Eric said when it comes to an RV renovation, the electrical aspect is definitely one of the most interesting topics for viewers. If they inspire people to put game-changing LiFePO4 technology in their own builds, everyone wins!
"We aren't experts by any means, but we're glad that a couple of knuckleheads like us have really inspired a lot of people to take on their own projects," Allison joked.
Eric said that he went all out prepping the electrical system, spending many months creating schematics on LucidChart. Their original space for the batteries was in the closet area but they wanted that valuable area open.
Instead, they came up with the idea that the batteries should be in their own closet space underneath the stairs to the sleeping area. In their install video, Eric notes that they aren't woodworkers by any means, and the reason they tackled this project is because they want to learn new skills and constantly improve them over time.
For their rig, Eric and Allison are excited to be able to obtain power in three different ways with our batteries, especially with the options of shore power and alternator charging. Check out their in-depth installation video where they're able to power the RV's lights (and where their adorable pup, Marvin, makes several appearances for play time!)
The Endless Adventure crew certainly has had their fair share of obstacles during the process. Eric notes that not too long ago, the rig's engine couldn't start and it was his first time working that in-depth on an engine before. He relied on internet research and FaceTime calls with his dad, a former carpenter, to fix it up to running condition. Their followers are also very helpful when it comes to building the RV as they reach out personally to give tips, recommendations, and information to the couple.
With the challenges of the pandemic leading to delayed parts and other supplies, Eric and Allison said they are so thankful the small town they're currently in has a nearby grocery store and a Home Depot down the street.
When the project gets to be too much, Eric and Allison take little breaks here and there and stay away from the garage. They love keeping a positive outlook and believe that the obstacles and stumbles pale in comparison to the sense of accomplishment.
"It really does make the little wins that we get during the build process so much better, and we also can take the time to really figure out what the next steps are," Allison said.
They said it's always rewarding to figure out a challenging problem, whether it's replacing old, moldy wood or building out the kitchen of their dreams!
Often their followers ask for advice with rigs and their own builds, so Eric and Allison love seeing the projects that people keep them in the loop on. Their audience is also helpful with suggestions, especially with professionals extending their advice to the couple. Overall, Eric and Allison love the online community and how renovators near and far are cheering them on!
The Endless Adventure's Big Plans:
What's next for Eric and Allison? One day, they'd love to settle down in the mountains with a bunch of animals, a big garden, and a garage full of tools and equipment to tackle any project they can think of! They call their project a bittersweet process because it was such a big shift from what they're used to. They hope that they're able to travel soon to dream destinations near and far.
After their RV renovation is done, they're looking to get some much needed engine work done by driving from Missouri to Chicago, where they've found a reputable shop to do the intricate work, then starting a trip from there. They're about 80-90 percent done with their current build, and joke that they're looking into pivoting to an RV flipping channel since a good majority of their followers specifically love to see that kind of content.
Follow Eric and Allison's pursuit for the endless adventure on their Instagram, YouTube and blog!