It's no secret that van builds are happening exponentially within the past several years. For full-time adventurers Natalie and Abigail of Let's Play Ride and Seek, being able to get out there and stay out there comfortably is their top priority. The lead-acid system that came standard with their van just wasn't doing it, and Battle Born Batteries is proud to be the driving force that helps these two on their coast-to-coast adventures.
Let's Meet Let's Play Ride and Seek:
Natalie and Abigail are both from Charleston, South Carolina, where they put in the typical work week month after month and often felt unfulfilled. They both shared an intense desire to travel and knew there was an alternative approach to life that allowed them to spend more time together doing the things they love.  So, they researched van life, make the purchase, and sold their belongings. The digital nomads and entrepreneurs hit the road in early 2019, and travel with their two pups, Bear and Peluche.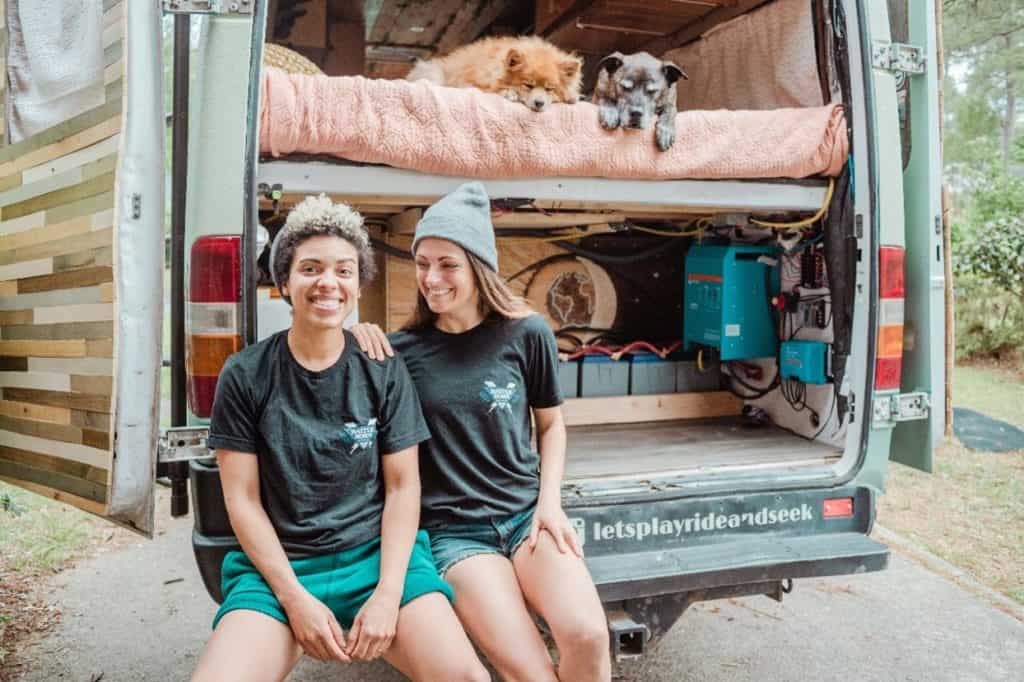 As the owners of the @VanLifePride account on Instagram, the two are "blown away" by the amount of support in the "diverse and beautiful" community they've been able to curate.
"We wanted to create a platform that highlighted our LGBTQIA+ family of nomads and having a safe space to find each other and share stories is so important," said Natalie. "Social media has allowed for all walks of life to come together in so many ways and creating an account focused on celebrating diversity in a space that begs you to live your most intentional life was our mission."
Here's the magic setup that powers their van, Towanda, a 2004 Mercedes Sprinter formerly used as a prisoner transport vehicle:
-6 BB10012 Battle Born Batteries
-1 BMV-712
-1 Victron 12V 3000W Multiplus Inverter/Charger
-1 Easy Start
They described the installation process and the van build as a challenge but were glad to have help from plenty of resources: from YouTube videos online, reading the manuals, and having help from Natalie's father, an electrician, they were able to power through.
As an overview of their system, the batteries are wired in parallel to create a 600-amp hour, 12-volt electrical system. The charge is converted to 110 volts via the inverter/charger, and they've got plenty of outlets scattered throughout the van. With 300 watts of solar panels connected on the roof, Abigail and Natalie love the ability to choose how to charge their batteries through solar, shore, or the alternator while driving.
"We have all the essential options for powering our best nomadic life!" said Abigail.
This system allows them to run all their heavy power draws, like six fans, a water pump, LED lights, mood lighting, air conditioning, and a fridge.
"The best part is we can monitor the system via the Victron Connect app which allows us to keep track of important data like voltage and battery life, on top of how much solar we're absorbing and the overall performance of our batteries. It's a gamechanger!" said Natalie.
Check out their install video about their van build on YouTube, where they mention how now they never have to turn off the lights to conserve power, among other unconventional conservation methods with their previous system.
"It also means no more limitations on power because of cloudy weather or not having places to hook up to," said Natalie. "After living on the road for some time, you're able to find what you value the most in your living space because every single detail has to have a purpose, whether it's improving the quality of life or has a deeply rooted meaning to you."
If you're looking to incorporate a setup similar to Natalie and Abigail's in your own van build, check out our 600 Ah Battle Born Energy Van Kit in our store. It's a versatile kit for your weekend trips or ambitious boondocking plans, and every component comes pre-programmed for your system.
What's Next for Let's Play Ride and Seek?
Their future is wide open for possibilities, and the two tend to lean towards spontaneous travel and don't prefer detailed or strict plans. With a lofty goal of trekking the Pan-American highway from Alaska to Argentina next summer, Natalie and Abigail feel comfortable their new system will allow them to go wherever they please and feel comfortable powering anything they choose to bring along.
"What most van lifers don't show on Instagram or YouTube is the tough stuff, since people want to see others thriving," said Natalie. "I find it incredibly important to share what it's like to condense the important relationships in your life or what it's like trying to relate to a society that doesn't get your opportunities."
"Don't allow fear and change to dictate whether you live a meaningful life or not," she said. "Abigail and I looked at what wasn't working for us and pivoted to a space that we felt could bring us pure joy."
Being a nomad allows them to experience different cultures and landscapes all with low impact on the planet. With Wanda as their ultimate freedom ride and a feeling of growth, the two couldn't imagine life any other way! For more updates on all of Nat and Abi's travels, give them a follow on their YouTube channel, Facebook, Instagram, and blog.