In order to find a life filled with Less Junk and More Journey, Nate and Marissa Moss took a chance and put their home on wheels in 2015. Over the last 7 years of full-time travel, Nate, Marissa, and their two kids have fallen in love with life on the road. Each rig they've called home has provided them with a new and different way to experience travel. As long as they're traveling together, each rig feels like home.
Living a Life with Less Junk and More Journey
When Nate and Marissa Moss got married nearly 11 years ago, they never could have imagined the life that they would be living today. In 2012, Nate and Marissa were a typical, newly married couple. They were living in Tennessee, where they both grew up, close to friends and family. Nate and Marissa purchased their first home and began building a life together.
A couple of years after getting married, they welcomed their daughter Hensley in 2014. Following her maternity leave, Marissa returned to her full-time job as a Labor and Delivery nurse. Nate was working as a remote web designer, which allowed him to stay home with Hensley. Marissa and Nate both struggled with returning to full-time work and longed to spend more time as a family.
After tossing around a few ideas to downsize, Nate and Marissa decided to put their home on wheels and make memories while traveling. They sold their home and most of their stuff in an effort live life with less junk and more journey. Following months of prep and planning, the Moss family officially hit the road in 2015.
At the beginning of their travels, Nate took his job on the road and Marissa continued working as a nurse. As they shared their journey on social media, their following grew rapidly. In 2018, Nate and Marissa transitioned to full-time content creation and travel. Even with the challenges that come with life on the road, they wouldn't change any of the last 7 years. "We have loved the freedom and flexibility that comes with it. We can choose our backyard anywhere in the country and spend time together doing the things we love as a family."
Seven Years of Travel, Seven Different Rigs
During their seven years of full-time travel, the Moss family has lived in seven different rigs. With experience in rigs of all shapes and sizes, from a van to a 40' 5th wheel, and everything in between, Nate and Marissa are experts in living on the road. Whether they purchased a rig for their full-time home or just rented it for an extended vacation, the Moss family has loved the different experiences they've been able to have in each type of rig.
When Nate and Marissa started full-time travel, their daughter Hensley was 1 year old. Now, Hensley is almost 9 and Nate and Marissa have a son, JJ, who is about to turn 4. Over the years, as their family and children continued to grow, Nate and Marissa changed their living space to fit their needs. They learned to constantly balance their need for extra living space and their desire for adventuring off the beaten path.
While larger rigs need larger campsites and require more planning while driving, they also provide much more living space and storage. On the other hand, what they lose in living space with their smaller rigs, they gain in the size of adventure with maneuverability and ease of travel.
Nate and Marissa began life on the road in a Newmar Canyon Class A RV but quickly upgraded to an Airstream, which was their dream home on wheels at the time. They spent the next 3 years in the Airstream and loved that it was the perfect size for their family of 3, while still allowing them to be adventurous and spend time off grid. In 2019, following JJ's birth, Nate and Marissa upgraded to an Open Ranger 5th wheel for more space and a better layout as their kids continued to grow.
Less Junk More Journey's Current Home on Wheels
While Nate and Marissa loved many things about their Open Ranger, they were still in search of a more permanent solution that would continue to suit the needs of their growing family. After coming across a Grand Design Solitude 378mbs, they knew they found the perfect home on wheels. It offered a two-bedroom layout with a loft, a spacious living room, and a gorgeous kitchen that gave them space to grow.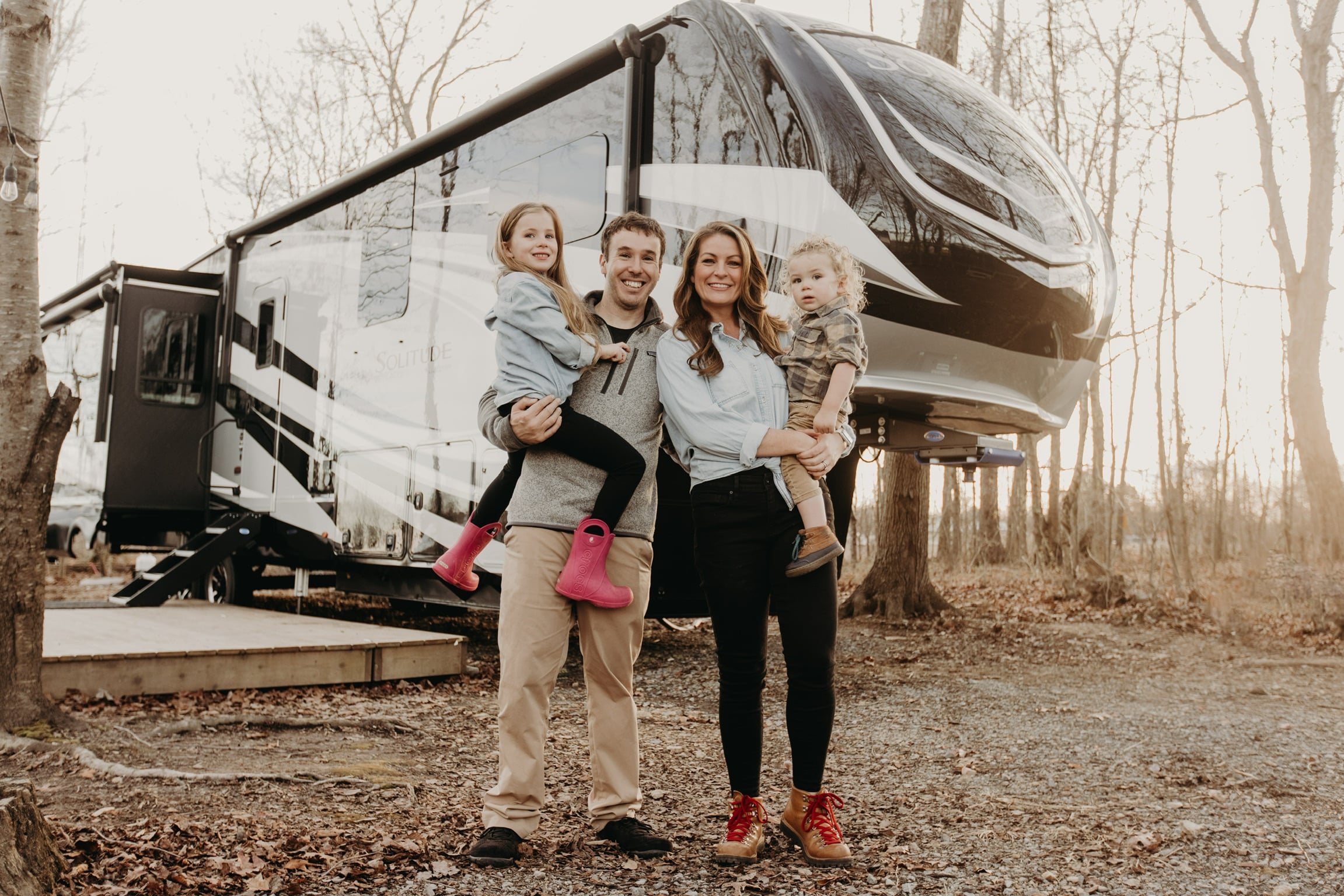 Nate and Marissa purchased their new rig and quickly began transforming it into a home. One of their favorite parts of the rig is the massive windows that seem to bring the outside in. Marissa decided to capitalize on the abundance of natural light and traded out dark cabinets and wood trim for bright, neutral shades. They even added their own couches, dining room table, shower fixtures, and personal touches to help bring their home on wheels to life.
At the end of the day, Nate and Marissa truly feel at home in their RV because they get to share it with their family. While traveling full-time with young kids can be challenging, it is also very rewarding. They've learned to adapt to the constantly changing needs of their growing family and fall more in love with their life on the road with every passing day. "We use the outdoors as extra living space, and the classroom is endless that way. So many places to explore nature and history with RV life. "
Less Junk More Journey Upgrades Their RVs with Battle Born Batteries
Throughout their years of travel, the Moss family has fallen in love with boondocking and exploring off grid. Early on, they began searching for a way to get off the beaten path, while still enjoying the luxuries that come with plugging into electricity. Eventually, they found Battle Born Batteries, and their lives off grid completely changed.
Before upgrading, Nate and Marissa were constantly balancing the power they had available with the electronics and appliances they were able to use.  "Now that we use Battle Born Batteries, we are able to just live life and take out a lot of the guesswork. I don't have to ask what I can use anymore. We can simply just live, and camping feels more like living in a house, but we still get all the great views!"
They're current home on wheels has a robust power system that includes 8 – 100Ah 12V Battle Born Batteries, 1320w of solar panels, and various Victron accessories. This gives them all the power they need for their residential oven and fridge, electric fireplace, endless hot water heater, heating and air conditioning, lights, and even a combination washer and dryer. Switching to Battle Born Batteries has given Nate and Marissa the confidence to spend less time worrying about their power and more time adventuring with their family.
Finding The Best of Both Worlds
While they love calling their Grand Design home, Nate and Marissa found a way to have the best of both worlds. They enjoy day-to-day life in their spacious 5th wheel and then rent smaller rigs for trips when they want to be more adventurous. "Having a large space can make it challenging to move fast and fit in more State and National Parks. On the side, we will use a Class C or Van to get off the beaten path and explore more of those adventurous places and live that style of travel we miss."
During the summer of 2021, the Moss family traveled around the Hawaiian island of Maui in a Class B van. Despite a tighter living space for their family of four, they loved the flexibility and ease of travel on the narrow island roads. Then they spent the summer of 2022 traveling up the coast of California in a MinnieWinnie Winnebago Class C RV. This allowed the Moss family to adventure through state parks, beaches, and winding mountain roads without the stress of towing their 5th wheel.
Finally, the Moss family is currently caravanning through Baja in their newly purchased Winnebago Viva Class B+ RV. Through the rough dirt roads and soft sand beaches, their smaller rig allows them to spend more time off the beaten path and enjoy an authentic Baja experience.
Each time they return home to their 5th wheel, the Moss family is refreshed by their vast living space, but they can't wait for their next adventure in a smaller rig to get them further off grid. "No matter the size of the RV big or small, we have the power to keep up with our lifestyle. One less thing to worry about and more time for adventures together!"
What's Up Next for Less Junk More Journey?
As the Moss family closes out their seventh year of full-time travel, they still feel like they've only scratched the surface of new places to visit and experiences to be had. They can't wait to keep traveling and see so many more of the amazing places the world has to offer.
Entering into their 8th year of full-time travel, Nate and Marissa are focusing on spending more time in the RV community. They will be hosting two of their own "Team Journey" events as well as attending various RV shows. The Moss family will also be adding in more international travel as they finish up their summer in Baja.
Keep up with the Moss family and all of their upcoming events and travel by checking them out on Instagram, Facebook, YouTube, TikTok, and their website!