For Learning the Lines' Randi and Jordan Collinet, having a unique and reliable boat is key. They first embarked on their sailing adventure in 2016, but now Randi, Jordan and their newborn baby Morgan have all settled into a fruitful life in Florida and are currently hunting for their third sailing vessel.
About Learning the Lines and their sailing adventures:
Located in the Florida Keys, Randi and Jordan first became interested in living a life on the open seas after spending time aboard a friend's dad's boat. That spark was first ignited five years ago, and only grew after filming videos and uploading them to YouTube. These adventurous videos were only meant for their friends and family to see, but other subscribers became interested in what they were doing onboard their O'Day 272 vessel, named SV Somnium. The couple took many sailing trips aboard this boat and improved the boat during numerous DIY projects. They loved showcasing their hard work for their audience and building their boat made living aboard it even better.
One day they happened upon a free boat in a harbor, and Jordan and Randi believed it was a good idea to take the plunge and get onboard a new vessel instead. They named it the SV Freebie and it's a 1978 Endeavor measuring 32 feet. Randi and Jordan loved restoring it, converting it from diesel to electric. The couple installed Battle Born Batteries in the SV Freebie after meeting our COO, Sean, at the Miami Boat Show. The following components went into Freebie to make life smooth sailing for Learning the Lines:
12 – Battle Born 100AH 12V Batteries (BB10012)
1 — Victron BMV-712 Battery Monitor with Bluetooth Built In
1 – Victron SmartSolar Charge Controller MPPT 100/20 at 48V
1 — Victron Quattro 48V/3000W Inverter/Charger
1 — Victron Orion-Tr 48/12-20A (240W) Isolated DC-DC converter
1 — Sterling Power ProCharge Ultra 48V Marine Battery Charger
They were able to incorporate 600 watts of solar on board too. Looking for a bundle similar to their setup? Check out our marine setup options here on our website!
When it comes to the batteries, Jordan loves to sing our praises! Surviving saltwater and unbearable heat, the battery system is still in tip-top shape.  He wants to have Battle Born Batteries power their new vessel and knows how well our product can alleviate some of the battery anxiety that comes with having lead-acid aboard.
"They're the best option for deep cycle batteries for any sailing yacht, hands-down," said Jordan. "We had 14.4 kilowatt hours of Battle Born Batteries and we used them to power everything aboard, including the motor, which was at 10 kilowatts."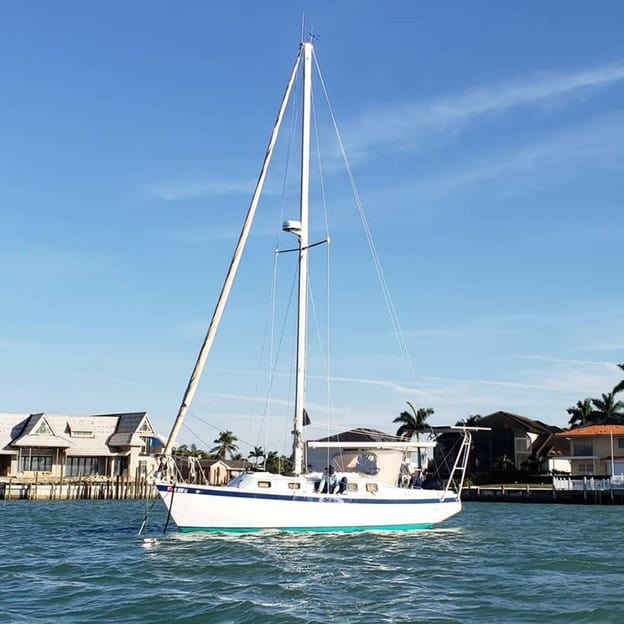 Currently, the couple is obsessed with filming boat tours, which is an aspect of sailing that many viewers are curious about. Jordan and Randi try and switch up which kinds of boats they look at, and in a recent video they explore an abandoned canal boat.
"It'd be a great opportunity to finish the project and the vessel is a good base for an off-grid tiny home," said Jordan.
Overall, the goal with their channel is to educate people through what they learn. While Jordan has considered teaching sailing, he really wants to get more experience before doing so. Right now, he currently enjoys teaching 4th graders and taking care of the baby!
Their Future Sailing Plans:
Randi and Jordan want to make their next vessel sleeker and optimized for their lifestyle, so LiFePO4 batteries like ours are perfect! Jordan stressed the importance of finding something fully electric and high performance for the family.
"Technology is always key with sailing vessels," he said. "Just like you don't want lead-acid batteries weighing you down, especially when there's new and improved options!"
Jordan doesn't like to rely on fossil fuels, something he always considers when looking for a vessel. As someone who has sailed for a good majority of his life, he believes the materials that go into the boat are important.
Jordan's advice to anyone looking to get into the sailing lifestyle is to make sure that you have the proper income to supplement it. Besides their teaching careers, the Collinets looked into an investment property to help fund any additional sailing projects and endeavors. While remote work is becoming increasingly popular, they encourage people to find creative ways to support the lifestyle and generate income, such as investment properties. Minimalism is also key, and Jordan encourages people to inch into the lifestyle as part timers.
Right now, Randi and Jordan love their jobs as teachers and are saving as much as they can to fund a new boat. Looking for something cutting edge takes time, and engineering isn't always an easy process! They want it to be something that fits in their budget and is unique, because Jordan believes you can't innovate without facing some kind of criticism.
Follow Learning the Lines on their YouTube, Instagram, Facebook and blog for more updates about the family!