As a solo full-time traveler, Francesca of Happy Homebodies is driving across North America in her Skoolie she converted into a home. While she may be a solo traveler, she is accompanied by her 3 pups: Sully, Murphy, and Magoo. Together, they live on the road in search of breathtaking views and endless adventure. 
Meet Francesca
Francesca is a lover of nature and truly enjoys spending time outdoors. Her favorite thing to do is take her pups on walks to open fields where they can run and play without restriction. She has a passion for interior design and DIY décor. Creating unique items for her home and thrifting the rest of her décor is how Francesca loves to spend her free time. Despite her various interests and passions, Francesca rarely had free time during her nearly 5-year career in Benefits Communications.
Before beginning her nomadic lifestyle, Francesca describes her life as being "pretty miserable."  She had a deep desire to see the country, spend more time with her dogs, and live her life to the fullest, but it didn't seem attainable. Tied to her desk job, Francesca was working long hours and growing more and more burnt out as the days passed. A job she once loved was draining the life from her and she knew there had to be more to life than the way she was currently living.
One night Francesca was watching a documentary on Netflix called "Expedition Happiness" which follows the life of a couple and their dog as they travel the US in their Skoolie. That was all it took to sell Francesca on this new lifestyle. Living on the road full-time was the perfect solution to her traveling dreams that would allow her to spend more time with her pups. So she bought a 1998 Blue Bird School Bus, found a contractor, and watched her home on wheels come to life.
Francesca's Dream Skoolie Build Becomes a Reality
Although the Skoolie community and popularity of the lifestyle has grown tremendously over the last few years, when Francesca began her build there was little information that was widely available. Instead of taking a shot in the dark, Francesca found an amazing contractor to work with to create her dream Skoolie. From the initial planning stages to the finished product, Francesca was a part of every step to ensure her new tiny home was exactly the way she wanted.
Initially, Francesca started bus life in Colorado so adding a tiny wood burning stove was essential for surviving the cold and snowy winters. The kitchen is equipped with a dual fridge and freezer, an oven, a four-burner stove, and plenty of cabinets and drawers to satisfy her love for cooking. In the back of the bus a sliding barn door conceals a private bedroom with a queen-sized bed that can double as an office space.  A split bathroom allows for a full-size shower on one side and plenty of storage space around the sink on the other side. Finally, Francesca chose an open floor plan to allow more room for her dogs to roam and to leave space for a 10-foot couch that folds into a bed for guests.
Following the completion of the build, Francesca began her life of full-time travel in January of 2019. She left her desk job to pursue her dream of working for herself and not being tied to one place. While on the road, Francesca runs a content creation and social media management business.
The Ultimate Skoolie Upgrade
Francesca has been living in the bus for over three years now and has loved every minute of it. It's hard for her to imagine a stationary life and she plans on living the nomadic lifestyle for as long as she can. While bus-life isn't always easy, it's better than she could have imagined, and she's experienced far more personal growth than she was expecting to. "Dealing with the daily changes and unknowns of bus life has helped me become more comfortable and accepting of change–letting go of the things that are out of my control." Although she admits to having to learn most things the hard way, the ability to face the challenge head on and find a solution has been very rewarding.
In late 2021, Francesca made the decision to add a brand new electrical and solar system to her home on wheels. Her Skoolie is now equipped with the ultimate Battle Born Batteries electrical system that includes:
This Battle Born system, complete with 1200W of solar panels, has completely changed Francesca's life on the road. Her battery anxiety is gone as she no longer has to worry about running out of power and could go months without shore power or a generator if she chose to. She loves the efficiency, higher power density, and increased battery life her Battle Born's have that her lead acid batteries couldn't even come close to. Now with a system that requires little to no monitoring and maintenance, Francesca has more time to focus on doing the things that she loves.
Navigating Full-Time Travel as a Solo Female
Full-time Skoolie life has been a dream come true for Francesca. "I love being able to pick up and go wherever and whenever I want, and still always feel at home." She can't stay in one spot for too long and she loves being able to experience new places and share her travels with her pups and fellow full-time travelers. The Skoolie community has only continued to grow as more people choose to live out their dreams and build their own home on wheels.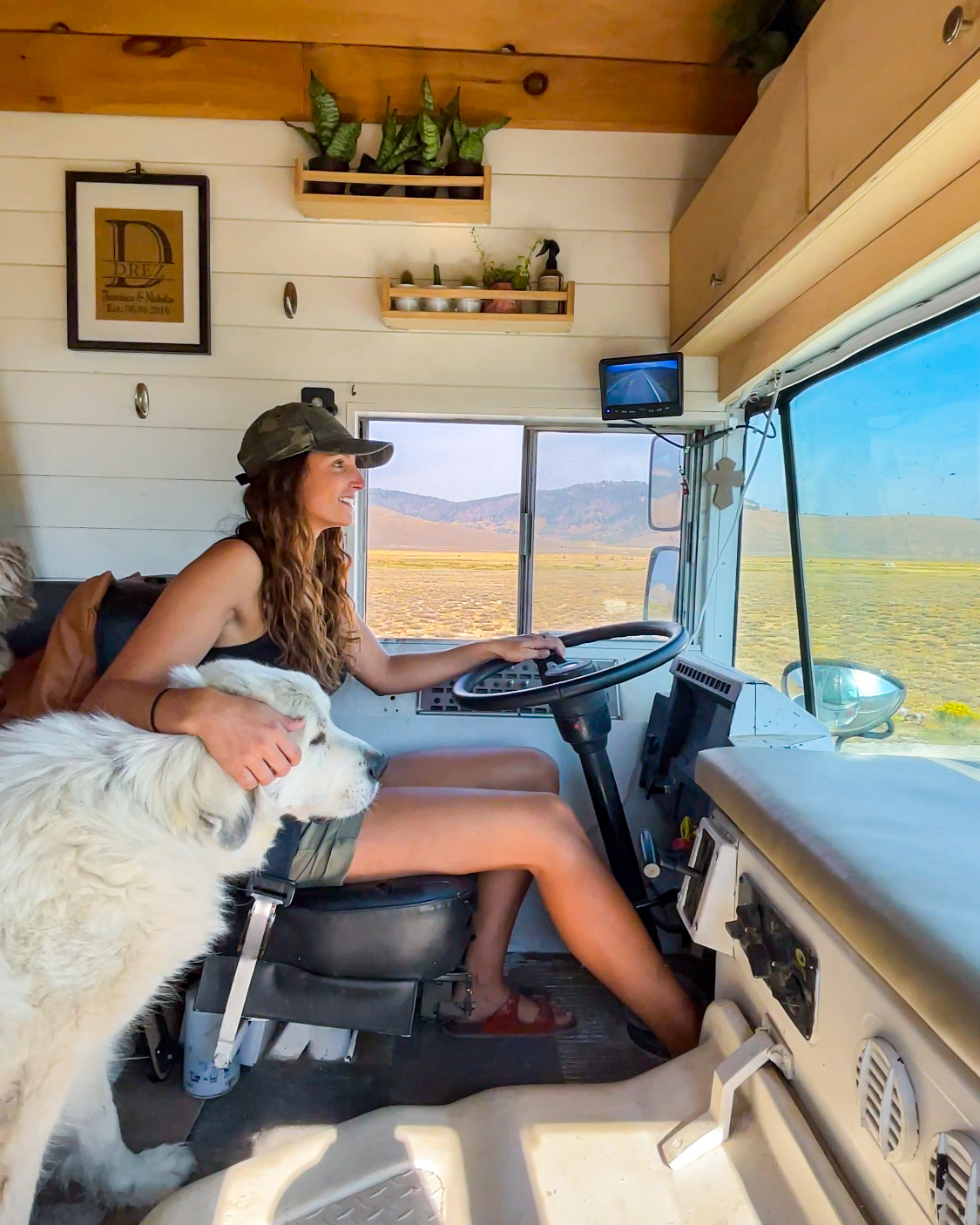 Becoming a solo-female traveler has encouraged Francesca to venture outside of her comfort zone. When she started her life on the Skoolie, Francesca never thought that she would be able to drive the bus by herself. While driving through Montana, she decided she was ready to get behind the wheel and face all of her "road fears, including gas stations, store parking lots, towns/cities, mountain passes, stopped highway traffic, construction zones, and dirt roads." There was something so empowering and invigorating about facing her fears and she quickly became obsessed with driving the Skoolie. "I now prefer driving my 38ft bus over driving a regular-sized car. Long drives have become my happy place."
In addition to having to drive the bus alone, safety was another concern for Francesca while she was traveling by herself. A major benefit of having her pups Murphy, Magoo, and Sully along for the ride is the safety and sense of security they bring her. Francesca loves travel days with them and seeing how much they enjoy being on the road.
What's Next for Francesca?
Looking ahead, Francesca has exciting adventures planned for the rest of this year. As winter comes to a close, she is spending some time in Florida before heading north for the summer. She's never been to New York or spent much time on the East Coast, for that matter. A long-time dream of Francesca's is to visit the Adirondacks and she is hoping to accomplish that this summer.
Following her time on the East Coast, Francesca's plans remain undetermined. Although she plans to eventually return to Stanley, Idaho, which is her "absolute favorite place," and she loves to travel through Montana and Idaho, so we may see her move west following her summer on the East Coast.
To follow along on Francesca's summer adventures and upcoming travel plans be sure to check her out on the Happy Homebodies Instagram, Facebook, and Tik Tok pages!