This customer story is about Brenda and John Nejedlo from
GeoAstroRV
and their journey to lithium ion batteries. Here at Battle Born Batteries, we have customers who are both full-time as well as part-time on the road. They come from all walks of life with different occupations, stories, and goals. We strive to help everyone the absolute best we can and help them get out there, and stay out there!
Brenda and John Nejedlo met in Green Bay, Wisconsin. They got married and lived their lives as teachers. Brenda was a piano and voice teacher, while John was a police officer who later taught science. After teaching for quite some time, Brenda worked at a place called Club Scrap, Inc., an online scrap booking company. Eventually, they sold their home in Wisconsin and chose Texas as their domicile while hanging out on set of a documentary in Wellington.
The couple RVs full-time with their 12-year-old Bichon Frise named Missy, who they take everywhere to spread her joy. They also have two lovely cats named Frankie and Charlie. Together the family is known as "GeoAstroRV," which derived from their passions in Astronomy, Geology and RVs.
Astronomy


Their love for astronomy has been inspired by John Dobson, known as the father of sidewalk astronomy. John Dobson is best known for the Dobsonian telescope, a portable, low-cost telescope. He also put his efforts in promoting awareness for astronomy through "sidewalk astronomy," which is setting up telescopes in urban places for free education and entertainment. Ultimately, he was the co-founder of the San Francisco Sidewalk Astronomers.
Currently, John and Brenda pay tribute to Dobson by giving Astronomy presentations to a group of 8-12 people across the country, whenever they can for free. This past summer the couple spent their time presenting at Theodore Roosevelt National Park (TRNP). These presentations allow people to gain knowledge on celestial objects and perspective on the physical universe.
Getting into the RV Lifestyle
The beginning of their RV lifestyle originated with Brenda's co-worker at Club Scrap. Her co-worker had bought an RV due to her husband's work situation that caused them to constantly relocate. Living the nomad lifestyle would give them a mobile home that would be constant wherever they went. When Brenda heard this idea, she worried and couldn't see it being a successful.
However, as time went by Brenda's coworker came to visit and invited her and John over for dinner. After this experience, the Nejedlo's felt like everything they thought about the RV lifestyle was completely wrong. Instead, they thought it was convenient, fun, and intriguing. If anything, this lifestyle gave them the mobility to go wherever they wanted.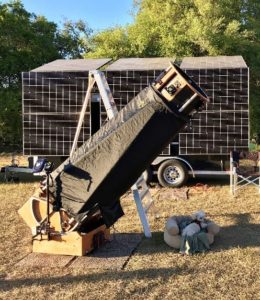 Back at home, they discussed the idea of buying an RV and John said, "let's do it!" Previously, one of their close friends had passed, and this idea would allow them to take advantage of their dreams and aspirations. It reminded them that they need to take advantage of their lives. Not only that, but years before Brenda's parents had passed as well – leaving her an inheritance that would allow them to become full-time RVers. They spent the whole night researching until three days later they put a down payment on an RV.
After they purchased their 2017 Thor Aria 3401 motorhome, they spent three months off grid with Eddie and Aileen Glonek of Mobile Homestead Solar Services. Eddie taught them the basics of living in an RV and set up their solar system. Afterwards, they went to Palmetto, Florida, so John could become a certified RV technician through the Recreational Vehicle Service Academy. His reasoning for this certification was that he wanted to understand his RV and be able to fix it when needed.
With this knowledge, the Nejedlos also wanted to be able to offer their services to those who may need help with their RVs in the same park.
Their RV
Their passion for the stars has been supplemented by the fact that John and Brenda live in their 35-foot 2017 Thor Aria 3401 motorhome. When choosing this rig, it was important for them to have the correct size for national and state parks.
Along with their RV, a Ford-250 pulls their Mobile Solar "MS-325" solar trailer to control the climate for their telescope equipment, "we plan on avoiding the extreme temperatures by following the 70-degree weather (moving north or south with the weather).  However, I wanted to have an air conditioner with heat pumps added to the trailer as well." The MS-325 has 12 solar panels and can house all their equipment along with enough space for a composting toilet, extra water and their gear.
Why Battle Born Batteries?
As for why they decided to choose Battle Born Batteries, the Nejedlos explained that Eric Odom, producer of documentary "RV Nomads: The Movie" brought us together. Not only does he have great synergy, they invested into the film because of the incredible message it spreads. Battle Born Batteries are sponsors of this film as well, which meant that we would eventually meet GeoAstroRV and Epic Nomad TVs work space, known as Co-Lab.
John and Brenda implemented twelve 100 Ah 12 V Battle Born lithium ion batteries. These will enhance their gigantic setup that definitely has an edginess and "wow" factor. Our lithium ion batteries have allowed them to run everything they need to run without the stress. They wanted to be able to go off-grid and be able to charge another RV independently if possible. Lastly, our lithium ion deep cycle battery bank allowed them to lose weight from their RV, going from 750 lbs to around 300 lbs.
Their Current Lithium Ion Setup
2 Tri-Star MPPT45 Solar Controllers
Brenda and John have now been traveling for about a year, when asked where their favorite place has been thus far, Brenda explained, "definitely South Dakota. We had such a good time there, not only because of the ambiance but the people and culture there are immense. We were also drawn to the history and geological features of the state." Overall, they are extremely grateful to live this lifestyle, and share it with others through their website. As for the future, they will continue to grow their community of RVers and meet people that share their love for the stars.
Want to learn more about the universe, non-earthly bodies and phenomena? Then you should follow GeoAstroRV on their Instagram and Facebook!
For more information on Battle Born Batteries, click here.