TukTuk YumYum is the latest business on wheels to hit the streets of Reno, Nevada. Owners Debey Grimes and Dan Faulkner  run the business out of a Piaggio Ape TukTuk. Not wanting to power the unique three-wheeled vehicle with noisy generators at events, Debey and Dan began extensive research on lithium and how it can make a power system as efficiently (and quietly) as possible. With renewable energy on board, TukTuk YumYum is partnering with local vendors and small businesses creating a fun and tasty experience for locals and visitors all across northern Nevada.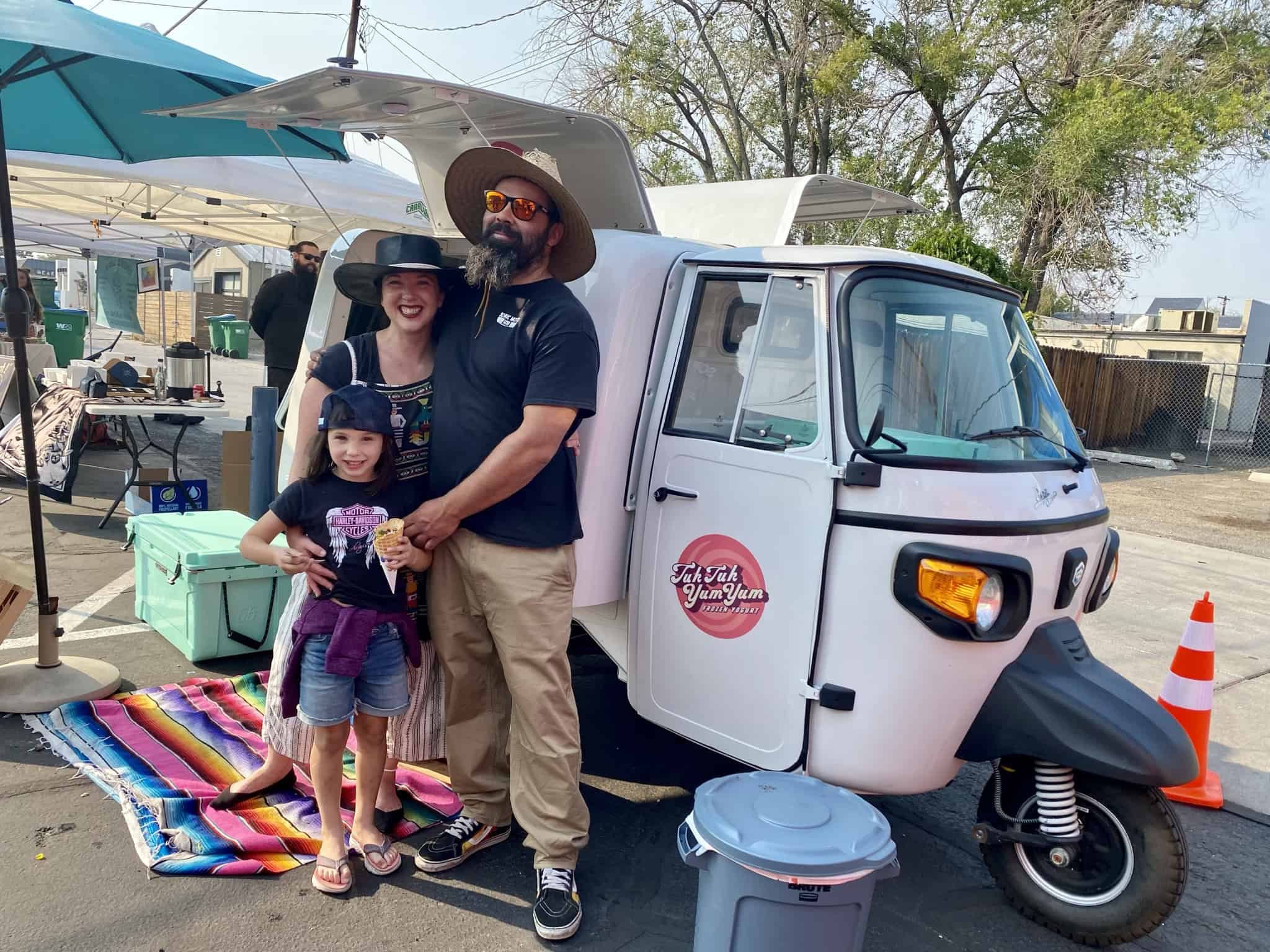 Meet the Owners of Tuk
Tuk Yum
Yum
Debey is a Reno-Tahoe area native and has strong roots in the Battle Born State. She earned her undergraduate degree in Economics from the University of Nevada, Reno, and her master's degree in Hospitality Administration from the University of Nevada, Las Vegas. Inspired by her travels to Southeast Asia and her time spent riding around in rickshaws, Debey purchased a Piaggio Ape TukTuk from the Bello Moto dealership in San Francisco. 
Upon purchasing, Debey and her co-owner and husband, Dan Faulkner, began their custom build of their new business on wheels. Dan's experience as a vehicle designer and builder allowed them to create the perfect frozen yogurt truck out of their TukTuk.  
Powering the Frozen Yogurt Truck
One of the key parts of the build included determining what power source was the best option for their vehicle and for running their business. Despite the hesitation of others to encourage lithium battery usage in a low-speed vehicle, Debey knew a loud generator was out of the question for their frozen yogurt truck. A generator would be detrimental to their productivity and success, and the investment in lithium batteries would be well worth it. 
Getting local products for the build was important to Debey as she searched for local parts and services, using local companies such as Renovate Wall Coverings and Reno Salvage to help bring the rig to life. With our Reno roots, Battle Born Batteries was the obvious choice for the TukTuk's lithium battery power. When asked about their experience purchasing Battle Born, Debey stated, "We just love what the company has going on and the technical sales team was very helpful in assisting us quickly with a purchase."  
Following the purchase of their batteries and components, Dan installed and created a unique lithium battery system that powers the TukTuk YumYum rig. Despite initial challenges during the installation, with a necessary inverter upgrade to larger size, the batteries were easily wired in, and the system was quickly up and running.  
TukTuk YumYum runs on the following components: 
After putting their new system to use, Debey and Dan immediately noticed the drastic difference between powering their business with a generator and using Battle Born Batteries. Their TukTuk is efficient, sustainable, and there's no noise distraction for customers purchasing their tasty frozen treats. It runs on average, for 4-5 hours straight, and Debey and Dan are confident they have the power to last through any event.  
With a lithium battery system, TukTuk YumYum can power everything it needs to carry out business.  
Reno's Frozen Yogurt Truck On Wheels
The TukTuk is equipped with two frozen yogurt machines to churn out fun seasonal flavors such as peppermint and eggnog, in addition to the classics, chocolate and vanilla. There is a plethora of toppings to choose from–sprinkles, fresh fruit, and gummy bears–that take every cup of frozen yogurt to the next level.  
When asked about her goals for TukTuk YumYum, Debey said, "We seek to add a bit of extra fun to everyone's day. It's good for the soul to take a moment to enjoy a simple, delicious, and fun treat." This is accomplished as they attend local and city events, weddings, birthdays, and business partnerships. 
TukTuk YumYum has participated in local business fairs, including  Wandering Wyld pop-up events, which is hosted throughout the Reno-Tahoe area. These events were curated to help get small businesses working together and increase their brand recognition in the local community. During the pandemic shutdowns over the last two years, Debey said it was helpful to have small businesses get creative and come together. TukTuk YumYum is also available to be booked for private events and weddings. On their website, it's easy to select the type of event, desired date, and time, and request pricing quotes based on the number of guests and length of time. In addition to their regular services, TukTuk YumYum has plans to partner with the Nevada Discovery Museum at educational events for kids.  
To learn more about Reno's most unique froyo on wheels or to book the truck for a private event, be sure to check out TukTuk YumYum on their website, Instagram, and Facebook.