After watching bowfishing on a local outdoor channel, James McCaleb took a bowfishing arrow, a piece of string, and his hunting bow and learned how to bowfish. James' makeshift bow introduced him to the adrenaline rush of the sport and led to a lifelong passion for bowfishing. Nearly two decades later, James and his wife Amber, successfully run a bowfishing guide service called Flyin' Arrows Bowfishing.
Meet James and Amber McCaleb
While James McCaleb was growing up in Cheyenne, Wyoming, he spent most of his free time hunting and fishing with his dad. After discovering bowfishing on the local outdoor channel, James converted his hunting bow by adding a bowfishing arrow with a string attached to it. This makeshift bow was all he needed to get hooked on the sport, and James eventually saved enough to purchase his first real bowfishing setup.
Following his move to Texas in 2012, to finish his bachelor's degree, James continued to pursue his passion for fishing. While he was studying Wildlife Management at Tarleton State University, James admitted to primarily choosing the school for their bass fishing team. When he wasn't bass fishing, he was continuing to grow in his bowfishing skills and knowledge. After college, James got a job with the Army Corps of Engineers that allowed him to work on a lake, and he absolutely loved being able to be out on the water while he was working.
In 2017, James met his wife Amber, and they were married in the fall of 2020. Together they live in Granbury, Texas and love hiking, fishing, back-country hunting, and doing anything outdoors. One of their favorite things to do is get away for the weekend while backpacking and exploring the mountains up north. While at home, the McCaleb's are always out bowfishing and working on their boat.
James' Passion for Bowfishing and Guiding
Even though James loved his job with the Army Corps of Engineers, he knew he ultimately wanted to start his own bowfishing guide service. From a young age, he had always been fascinated by fishing guides and the fact that they were able to take other people out fishing as their full-time job. Despite the many unknowns that came along with starting a guide service, James began searching for a boat that would be big enough for guiding. He eventually found a 22' by 8' wide flat bottom boat that needed to be restored and he purchased it.
After spending a year and half completely gutting and replacing everything on the boat, James was able to start his own bowfishing guide service, Flyin' Arrows Bowfishing. James spent the time necessary to ensure the boat was restored properly, so he could provide his clients with the best possible boat and equipment. The once broken-down boat became one of the best bowfishing vessels in the area and Flyin' Arrows was able to give countless guide services from it over the next two years.
Although James loves all types of fishing, he particularly enjoys how different the bowfishing experience is and how there is nothing else like it. Getting out on the water at night, with boat lights illuminating the fish in the shallow waters below, is a whole different adventure. The joys of bowfishing coupled with the clients James and Amber get to meet, is what drives their passion for the sport. They love how bowfishing brings people together and how they get to meet great people and build lifelong friendships.
Two Successful Seasons of Flyin' Arrows Bowfishing
Each guide trip with Flyin' Arrows is specifically curated to ensure that clients have the best chances of putting fish in the boat, while staying safe. Everyone is taught how to shoot the bows, given practice shots, and shown every safety item, so they each know what they are doing. James loves that anyone can go bowfishing and there is no experience required, other than being able to pull 25 pounds back on a bow. Other than that, "we will teach you everything you need to know."
Since Flyin' Arrows is based out of Granbury, Texas, guide services primarily take place on Lake Granbury, Possum Kingdom Lake, and Lake Whitney. But James is committed to offering unique and thrilling fishing trips and he's always willing to work hard to make someone's bowfishing dream come true, even if it means heading to a new lake.
The success Flyin' Arrows has experienced over the last two seasons is primarily attributed to this "can-do" attitude. James sticks to his mission of keeping customers safe and satisfied while on guide trips, allowing them to "gain knowledge of bowfishing and have the trip of a lifetime." Their clients always come first and many walk away with a new love for bowfishing and memories of an unparalleled fishing experience.
A New Boat Powered by Battle Born Batteries
As business steadily increased, James was ready to upgrade his boat. He kicked off the 2022 season with a brand new 22' X 84'' Uncle J's Custom bowfishing boat equipped with:
3 – IP65 Chargers
16 – LED 200W Lights and Bluetooth Speakers
225HP Mercury Onboard Motor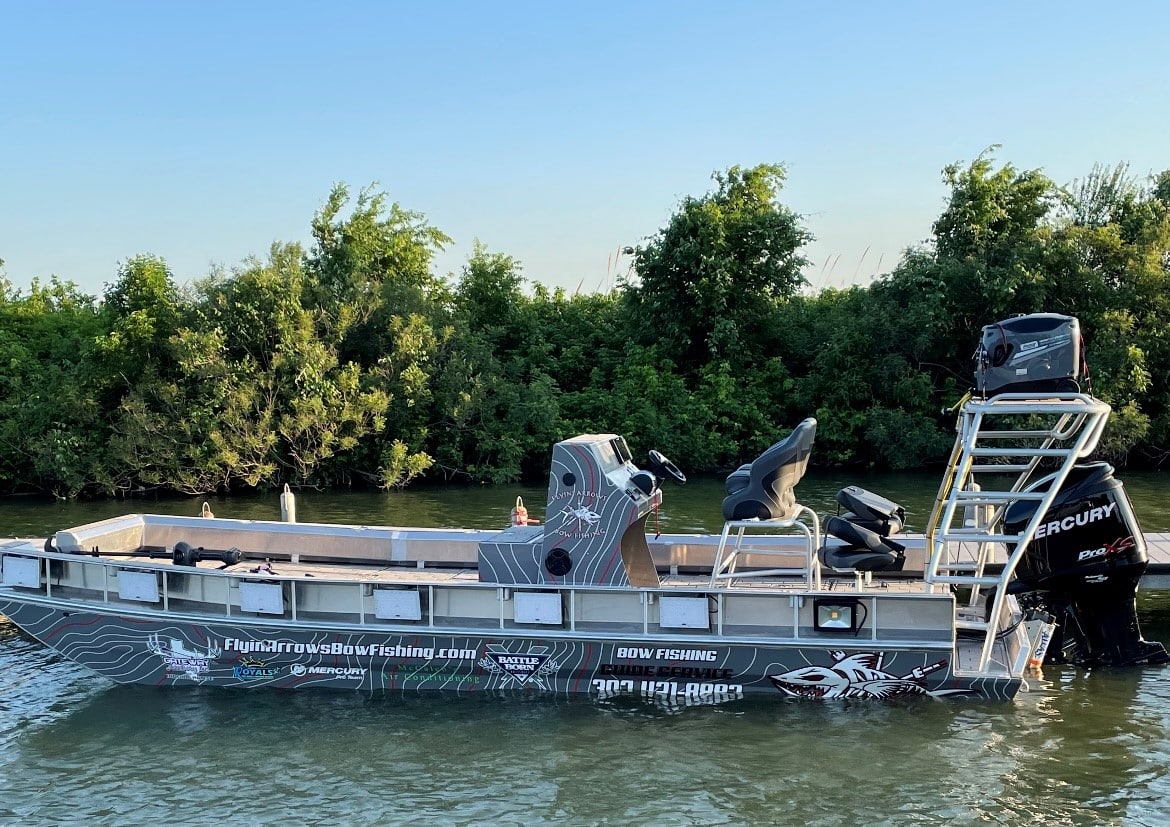 The new rig is perfect for bowfishing guide trips and James loves his new electrical system. "Switching over to Battle Born Batteries has been a HUGE game changer for my business." With his previous batteries, James had to replace them every 6 months and in strong winds they struggled to power the trolling motor all night. Now, James can relax knowing his batteries will last him through the night, no matter what the conditions are. He also eliminated the need for a generator, making his system more efficient and trips more enjoyable for customers with less excess noise.
As his business has continued to grow, James consistently gets asked about the environmental impact of his bowfishing. Aside from switching to greener, renewable energy, James also takes extra steps to ensure he is making a positive impact on the environment. In Texas, carp and gar are considered invasive species so, "when the population gets out of control, they take over habitats, which in return decreases the population of native fish." Removing carp and gar helps protect the ecosystems of the Texas lakes invaded by these species. Additionally, after guide trips, the carp are recycled and used by local catfish guides and the rest of the fish are composted into gardening soil.
What's Next for Flyin' Arrows Bowfishing?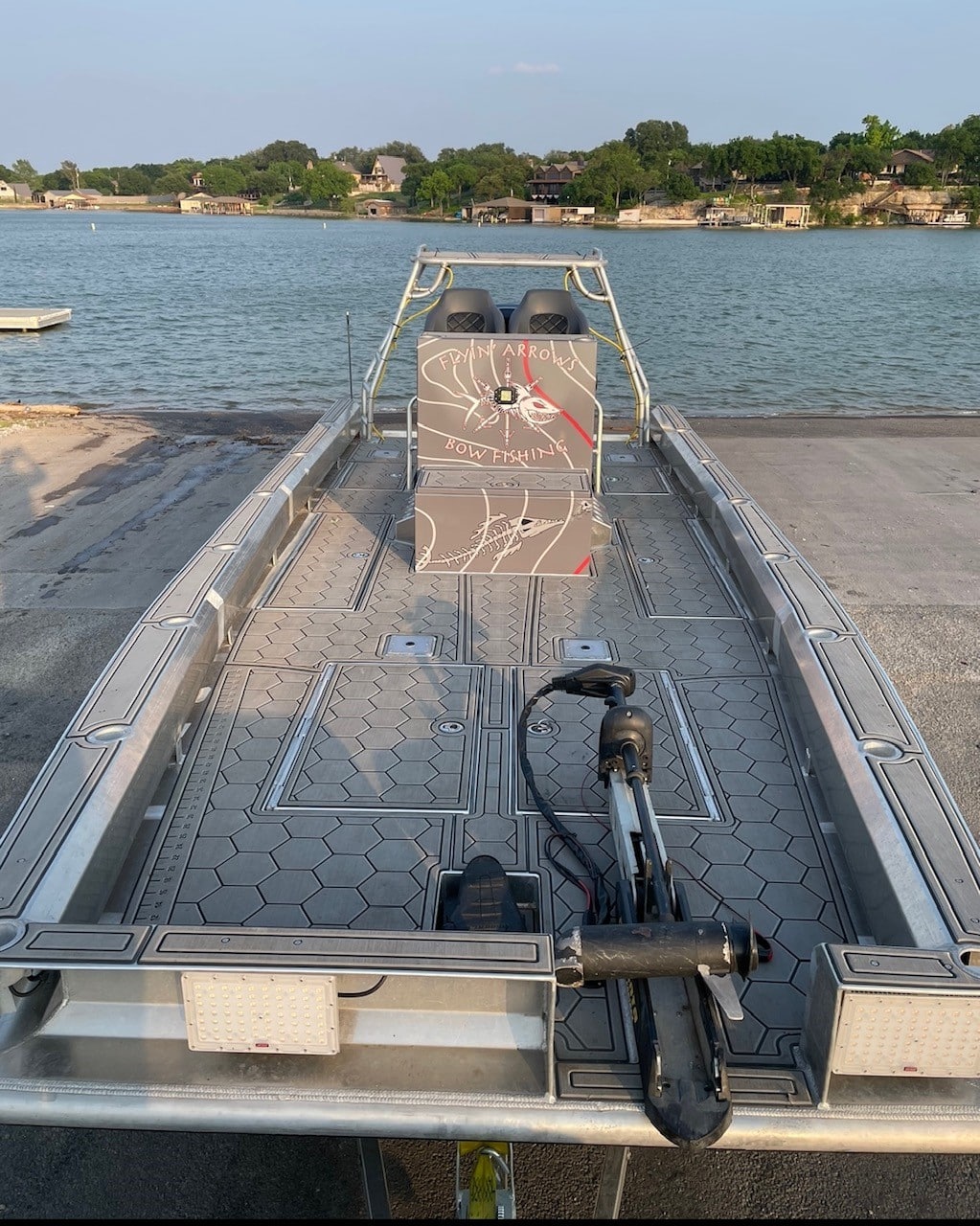 Looking at the rest of the 2022 season, James is hoping to continue growing and expanding his business. Eventually, James and Amber would love to add another bowfishing boat so that they could run two boats throughout each season. "I want to be able to share our passion of bowfishing with everyone."
The McCaleb's are also in the process of selling their home to buy a 5th wheel camper to live in full-time. This will allow them to camp at the lake for weeks at a time and travel between different lakes whenever they want to. "We are excited about the opportunities this will open up for our guide service."
To follow along with James and Amber's upcoming adventures or to learn more about Flyin' Arrows Bowfishing, check out their Instagram, Facebook, and website!