Following a decade at sea with SV Delos, Brady Trautman and his partner Alex Blue were ready for their next adventure. After heading back to the States to start a sailing academy, they got stuck in Lake Tahoe during the COVID-19 pandemic. Taking this setback in stride, Brady and Blue started teaching people to sail in the pristine alpine lake, and Cruisers Academy was born. Four years later, Brady and Blue still love teaching sailing in Lake Tahoe and have expanded their offerings to include several ocean sailing courses in the Sea of Cortez.
Meet the Duo Behind Cruisers Academy
In the late 2000s, a tech guru from Seattle took a chance on his dreams, left his career, and purchased a sailboat. After selling his house, the 53-foot Amel Super Maramu SV Delos became Brian Trautman's floating home. By August 2009, Brian had saved up enough money to last him 18 months, and he set sail for New Zealand. Tagging along, Brian's little brother Brady joined him for adventures on the high seas.
Upon reaching New Zealand, Brian and Brady had fallen in love with sailing. The brothers began working odd jobs around a boatyard in Auckland to save up for their next stint at sea. Four months into their time in New Zealand, Brian met his Swedish princess, Karin, who joined the Delos crew. After gathering some extra crew members, SV Delos left New Zealand with their sights set on Fiji. And so, the adventure began.
The next decade was spent circumnavigating the globe and sailing from sea to sea. As the SV Delos crew began sharing their journey on social media, they quickly grew a massive following. With over 800,000 YouTube subscribers and over 200,000 Instagram followers, many loyal fans grew to know and love the Trautman brothers. Together, they've sailed over 80,000 nautical miles to more than 45 countries.
During their sailing journey, Brady met and fell in love with Alex Blue, who hopped aboard SV Delos and never looked back. In January of 2019, Brian and Karin tied the knot and welcomed their beautiful baby girl Sierra into the world later that year. While Brian and Karin took time away from the boat, Brady and Blue took the reins. When Brian, Karin, and Sierra rejoined SV Delos in early 2020, Brady and Blue were ready for their next adventure!
From Salty Seas to Pristine Alpine Lakes
Dreaming of starting their own sailing academy, Brady and Blue went back to the States. Planning to spend the rest of the winter in Lake Tahoe and then head to the California coast, they quickly had to shift directions. As the COVID-19 pandemic shut down the world, Brady and Blue got stuck in the alpine paradise of Lake Tahoe. Seeing this as a new opportunity, they pivoted from their initial idea. "Although our original concept of the Cruisers Academy was to teach people to sail on the ocean, we were having a blast adapting, 2020 style, and teaching people to sail on the crystal-clear waters of Lake Tahoe."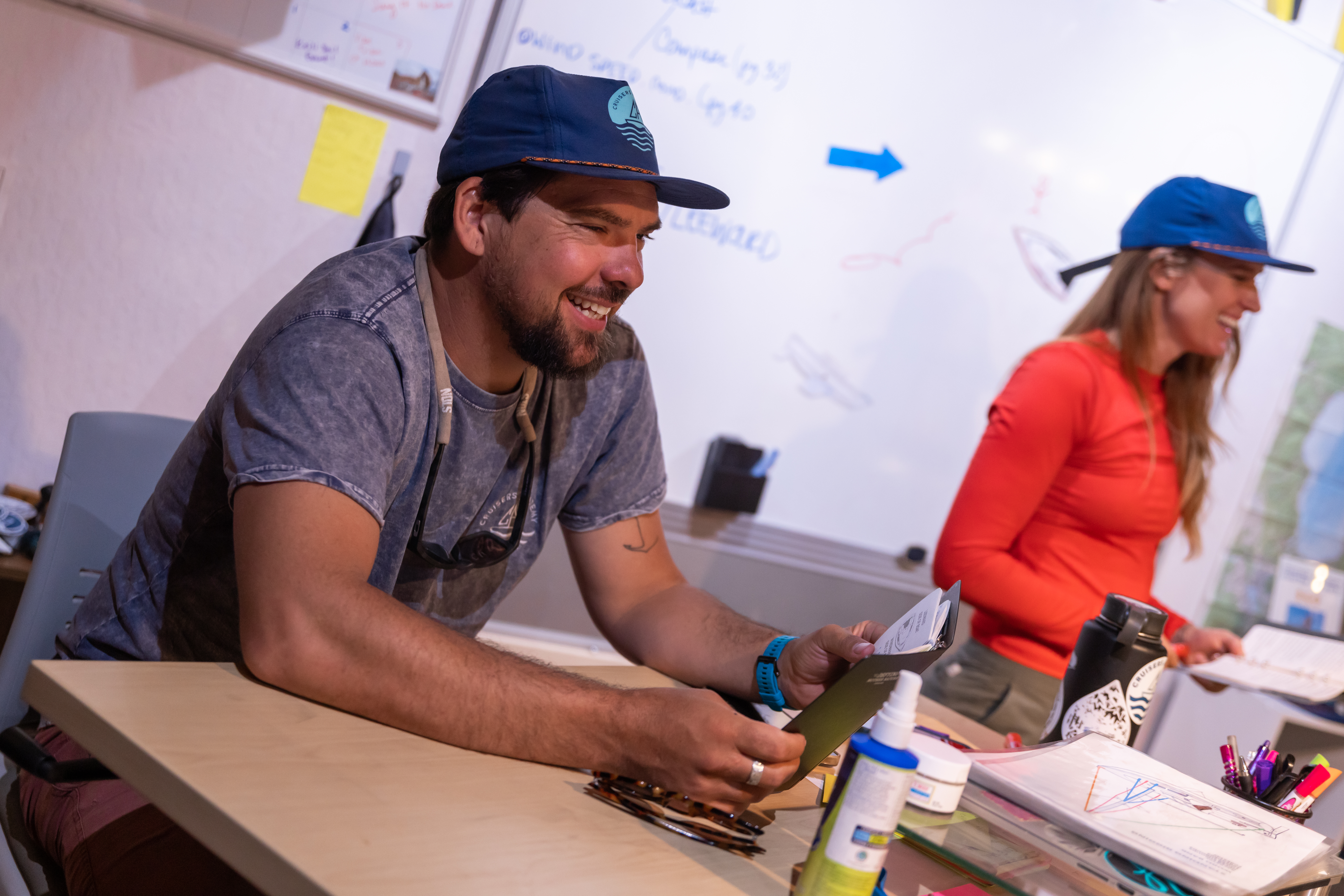 Making the most out of their time in Tahoe, Brady and Blue spent the spring refinishing a sailboat they found under a tarp on their friend's property. The 15 ½ foot all-wooden sailboat named Snipe just needed a little TLC, and it was ready to set sail again. Falling in love with the countless afternoons of pristine sailing conditions, Brady and Blue knew that Lake Tahoe would be the perfect home for Cruisers Academy. "This perfect blend of easy days mixed with demanding conditions provides a great natural classroom for aspiring sailors."
Joined by their first mate Sharki, Brady and Blue's Covid foster puppy turned forever family member, they cruised through their first summer of courses on Lake Tahoe. That year, Brady and Blue added three more boats to the Cruisers Academy fleet. "Bluebird," the famous Catalina 22', Topanga, a 14.2' Capri, and Kelly Kapowski, a Catalina 27', were the perfect trio of sailboats for teaching and cruising on Lake Tahoe. Following a successful first season, Brady and Blue were looking forward to settling into their new alpine home and seeing what the next Summer of sailing would bring.
Setting Sail with Cruisers Academy
By the start of the sailing season in 2021, Cruisers Academy was running full steam ahead. With Brady and Blue's vast sailing experience, they're passing along their knowledge and skills to the next fleet of up-and-coming sailors. "After ten years of sailing around the world, logging over 100,000+ nautical miles, and crossing every ocean, we've created the Cruisers Academy to kick start YOUR sailing journey. We opted for creating our own curriculum so we can teach what we find to be the most valuable information in an engaging and practical style."
Entry-level sailors can begin their journey on the shores of Lake Tahoe with the Cruisers Academy Intro to Sailing course. Even for those who have never set foot on a boat before, this course is designed to create competent, confident sailors. From helming and working the sheets to learning navigation and how to tack and gybe, this all-encompassing 4-day course is the perfect way to get your bearings on the water. "Our mission is to bring you closer to your sailing dreams, whether that's getting your first vessel, crewing bigger boats, or getting involved in your local sailing community."
Following another successful season of sailing on Lake Tahoe, Brady and Blue were ready to add to their fleet. When "Lintika," the perfect 1980 Passport 42' fell into their laps, they couldn't help but jump at the opportunity. This incredible sailboat was complete with a full galley, head, shower with hot water, and multiple cabins and bunks, allowing Brady and Blue to take on longer passages. After equipping Lintika with the reliable power of two GC3 Battle Born Batteries, she was ready to take on the open ocean. Adding cruising courses in Mexico, passionate sailors have the opportunity to experience the sailor's lifestyle with Cruisers Academy.
Learning the Lines on Lake Tahoe
When Brady and Blue invited some of the Battle Born Batteries team members to enjoy an afternoon on the water with Cruisers Academy, we jumped at the opportunity. Just a quick drive up the mountains from our headquarters in Reno, NV, we met Brady and Blue at their dock on the west shore of the lake. Immediately we were captivated by the crystal-clear blue water and the endless mountain ranges. Excited to get started, we followed Brady and Blue down to the boat and hopped on, ready to learn.
In spite of some daunting storm clouds in the distance, we stayed on the course, motoring towards the middle of the Lake. Without any hesitation, Brady and Blue seamlessly worked each of us into their natural sailing routine. Following a safety briefing, we eagerly joined in on the process, learning how to hoist the sails, run the helm, and work the sheets. Before we knew it, the motor was off, and we were slicing through the water powered by the wind and our direction of the sails.
Brady and Blue's natural ability to teach with patience and their infectious love for sailing made it the perfect day on the water. Cruising along the west shore of the Lake, we eventually made it to anchor at Sugar Pine Point Beach, where we anchored and stopped to rest, swim, and enjoy the view. Sailing back to the dock, we felt our confidence growing as we practiced the skills we had been learning. In only a matter of hours, Brady and Blue turned a group of beginners into confident and capable sailors. We can only imagine how much we would grow during a full four-day course. Their unmatched hospitality and passion for sailing create an incredible experience for sailors of all ages and abilities.
What's on the Horizon for Cruisers Academy?
Closing out their fourth season of teaching their CA-1 course on Lake Tahoe, Brady and Blue are stoked for what the future of Cruisers Academy will bring. In October, they are heading down to Mexico to launch the season of sailing courses on the Sea of Cortez. Over the next eight months, Cruisers Academy will be offering 13 different overnight passages, giving crew members the ultimate sailing experience. With their team of talented instructors, Brady and Blue can't wait to create more seasoned sailors through these courses.
When they return from Mexico next spring, Brady and Blue will launch another summer of CA-1. They're looking forward to establishing more sailors and continuing their Sailing Therapy Program for cancer survivors, veterans, underserved youth, and many more groups of people who can benefit from the joy of sailing.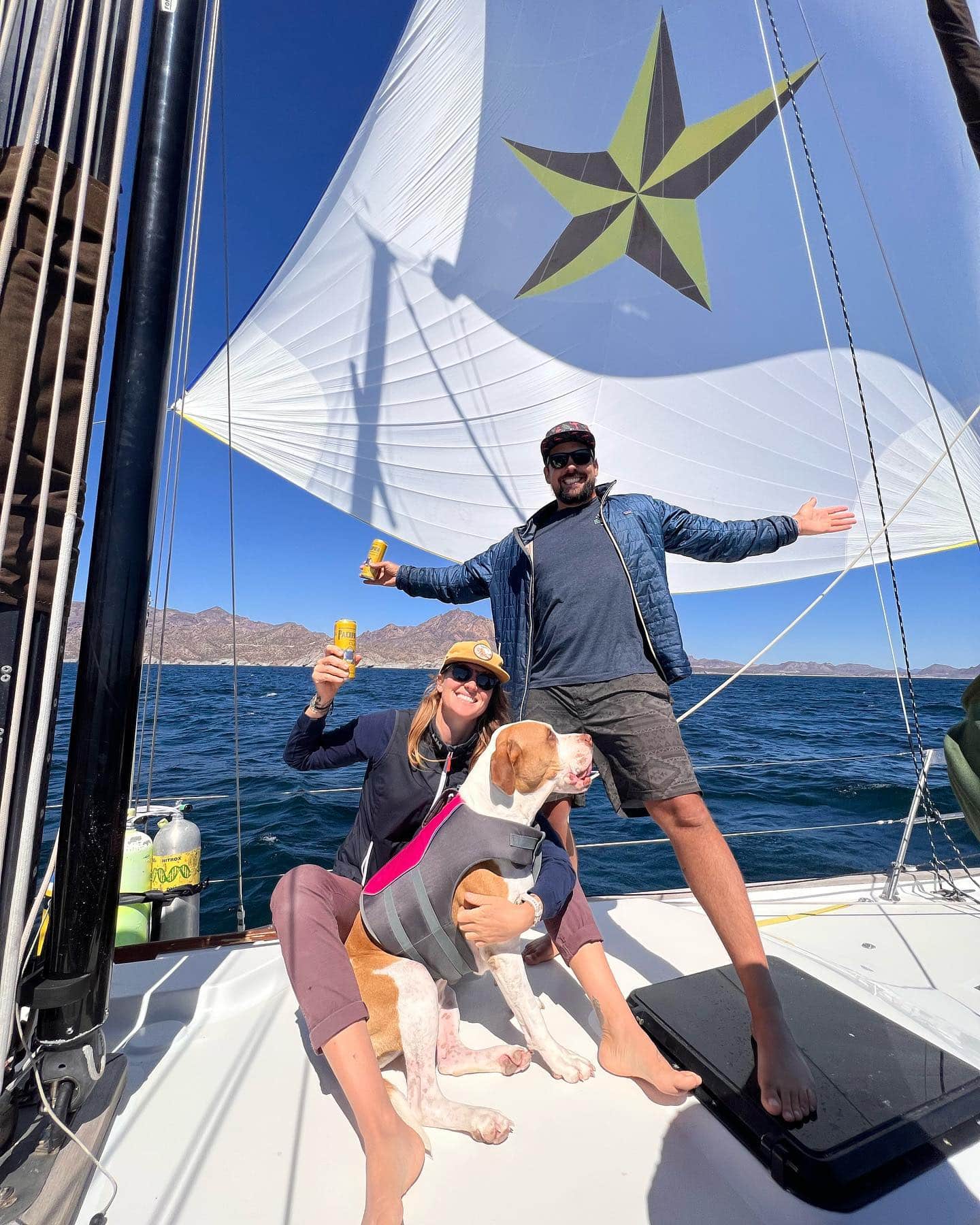 Keep up with the next season of sailing adventures by following Brady & Blue and staying in the loop with Cruisers Academy on Instagram and YouTube. Interested in learning to sail? Book your CA-1 or Mexico sailing courses through the Cruisers Academy website!