Entrepreneur and digital nomad Chris Penn hit the road more than a decade ago and never looked back. Currently living in a school bus, or skoolie renovated to his needs, Chris now helps others live their dreams of being digital nomads. You can often find him getting his hands dirty while renovating school buses into livable tiny homes on wheels. With Battle Born Batteries powering his Bluebird bus, Chris no longer has battery anxiety when boondocking in some of the most remote places across the country.
Meet Chris Penn:
Chris Penn of "Off-Grid Skoolie" lives in a 2002 Bluebird school bus with his dog Kobe. He loves all aspects of the nomadic lifestyle and enjoys the renovation process overall. He says that it's been a fun challenge over the years to learn what's necessary while on the road and what isn't. Chris also created the "Tiny Home Tours" YouTube channel, where he documented his journey full time on the road and posted video tours of his friends' rigs. The channel took on a life of its own, and Chris has branched out into several successful tiny home endeavors since.  
Chris finds school buses to rebuild and finds them everywhere, from public auction spaces to traditional platforms like Craigslist. He's established plenty of trustworthy contacts, and as the trend of tiny living grows in popularity, he must get creative with the ways he buys rigs. He believes that living a nomadic lifestyle has become culturally acceptable now and feels the community has "matured" over time.   
With Zeppelin Travels, he shares the stories of people looking to get into tiny living and leases the rigs to them, with payment in the form of content creation and storytelling. Currently busy fixing up renovated short buses, the vehicles are equipped with everything necessary to live off–grid, like kitchens, beds, solar setups and water holding tanks. Whether it's empty nesters looking to travel full time, or an army veteran looking to write a new chapter in life, getting more people out on the road is the goal. Many of them spend about 4 to 6 months traveling and eventually have the option to extend their lease in the program or buy it. Equipped with video production gear, the clients are asked to document all aspects of their travel experiences. The footage is then turned into content that is released on several platforms. Overall, Chris wants to educate viewers about minimizing, downsizing and navigating an alternative lifestyle. 
One of Chris' favorite client stories is of how his lead production editor, Sage, was able to travel and test pilot the program. Being able to provide Sage and his girlfriend the opportunity to change their lives in such a drastic way is something that Chris really enjoys.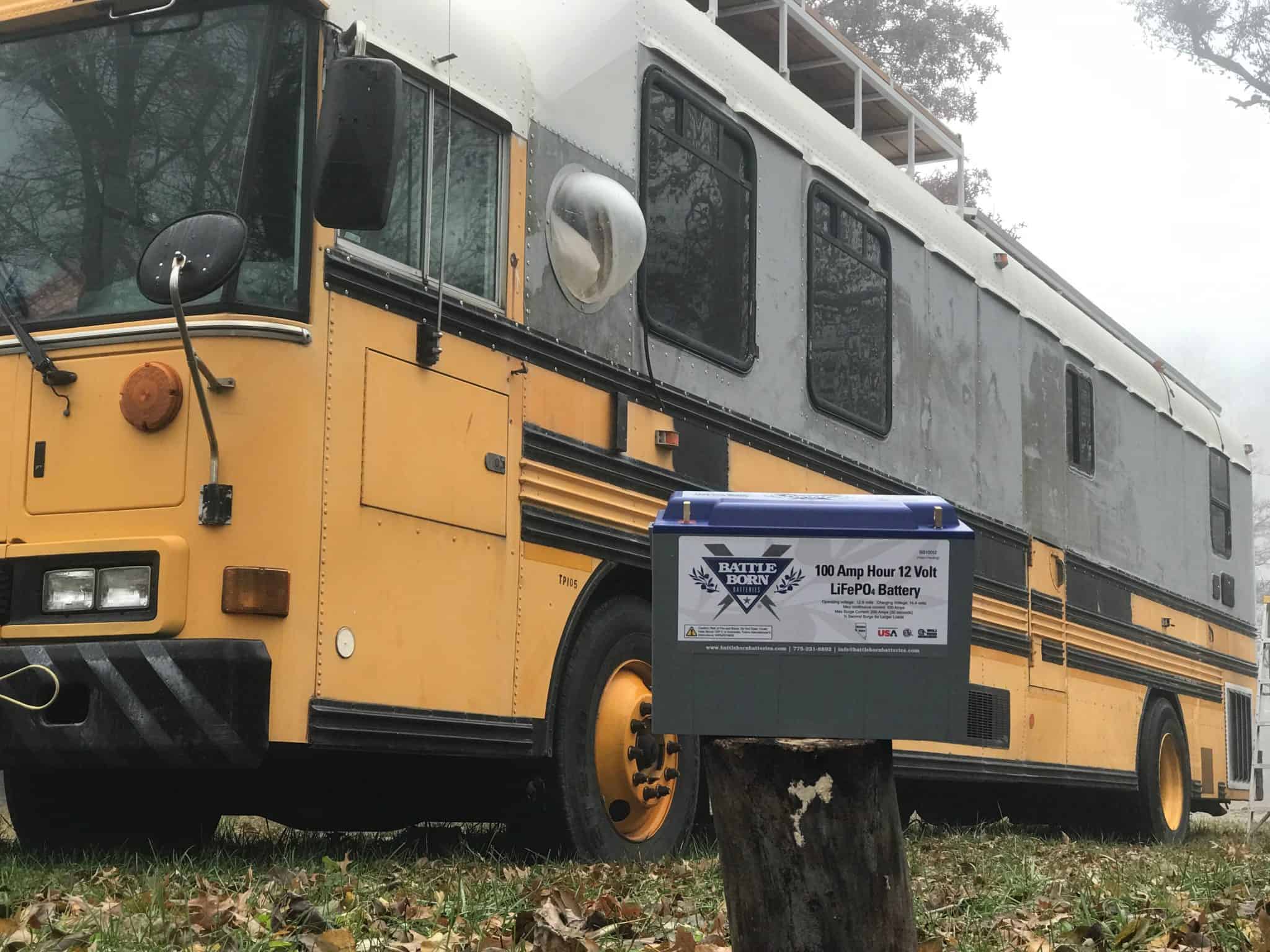 "My time lately has been spent making sure this is a living, breathing business for the people out there, which is exciting," said Chris.  
How Does Chris Power His Own Tiny Home?
As for his skoolie, Chris has 9 BB10012 Battle Born Batteries in the 2002 Bluebird bus. Showcasing it on his Off-Grid Skoolie channel, he built it specifically to be his home for the foreseeable future.  
"When you're on the road, you can hit the easy button and just buy an RV," he said. "But with skoolies, there's more of a challenge to live in and there's an extensive community created [with them] while on the road."  
Living off the grid is also interesting for Chris during the time of quarantine. While he has plenty of solar power, food stocked up, and his own water system, he often stresses the importance of a "bug-out bag" in his videos. It's useful for worst-case scenario situations where you're on foot and need to be prepared with the essentials for staying alive.  
"It's odd to look on your phone or computer and see what's happening out there while you're so completely isolated from everyone and everything," he said. "I've had the prepping mindset for many, many years and when it comes down to it, this bus is an iteration of that." In one of his videos, he notes that friends who made fun of him for being prepared were calling him to see if they could safely stay out in the desert with him as well. 
Chris also has an office in his bus where he works full-time and describes it as his "command station" and the best way to communicate with his team as they're completely remote. His skoolie also uses a residential fridge, and thanks to our LiFePO4 battery technology, the rig can handle a large power draw like that! 
What's on the Horizon?
For 2021, Chris has big plans when it comes to making skoolies into dream tiny homes for people and just bought four buses to build out from the ground up. He's excited to continue sharing seven videos every week from people who are looking to get out there and stay out there, and hopes their stories inspire anyone looking to embark on that journey. His fleet of buses are nicknamed "Zeppelins" and are going to be decked out with lots of power, including our newest battery, the GC3!  
Follow Chris Penn and his endeavors on his blog, YouTube channel and Instagram. Check out Tiny Home Tours on their YouTube channel as well for more inspiration about the builds and how to live in a unique build like the ones showcased.