Just a few weeks from now, a festival unlike any other will kick off in Arizona. It's known as CHASM Fest, and while it focuses on RVers and others who live the nomadic life, it offers events and activities for all. Battle Born has sponsored the event, and we think you should check it out! So let's take a closer look at why the 2022 CHASM Fest is worth attending.
What Is CHASM Fest?
CHASM Fest bills itself as the "destination campout festival for the active, creative, and adventurous." It's a multi-day event that takes its name from the five activities and values it showcases. These are camping, health, art, sports, and music.
As you can see, it provides something for everyone! Of course, there will be plenty of RV-focused events and community. Many choose to attend in their motorhomes, trailers, skoolies, or other vehicles.
In addition to being a great time, CHASM Fest raises money for a good cause. A portion of each ticket sale will go to the Home On Wheels Alliance, a nonprofit founded by iconic van nomad Bob Wells. The group helps low-income people find new homes on wheels, like RVs or campers.
Who Founded CHASM Fest?
JP Smith, the festival's CEO and CFO (chief fun officer), founded the event. Smith leads Armadillo Events and has worked in the hospitality industry for over two decades, including with the nomadic community. Smith is an adventurer who has been to more than 75 countries and lives full-time on the road, ensuring he understands the nomadic lifestyle like few other event professionals.
He's not the only one, either. The entire leadership team of CHASM Fest lives or travels extensively in their RVs! This is an invaluable experience in helping ensure RVers have a great and comfortable time at the festival.
When and Where Is CHASM Fest?
This year's CHASM Fest will run from Friday, Oct. 28, through Monday, Oct. 31, 2022. It'll take place in Lake Havasu City, Ariz., located on the Arizona-California border. The city, set on the shore of the lake that shares its name, is about 150 miles south of Las Vegas or just under 200 miles northwest of Phoenix. The event will take place at Lake Havasu's SARA Park rodeo grounds, a few miles outside downtown.
What Happens at CHASM Fest?
There's so much going on at CHASM Fest 2022 that your biggest challenge might be picking what to do and what to skip! Activities are split up into morning, afternoon, and nighttime blocks, each offering unique experiences and events that provide an unforgettable experience.
Personal Health Activities
If you like to work on your physical and mental health, you'll fit right in at CHASM Fest. Attendees can participate in yoga classes (including goat yoga) and tai chi. You can even work on finding that inner zen with meditation practice and breathwork exercises.
Outdoor Recreation Activities
Looking to be a bit more active? From mountain biking to disc golf to kickball, there are all sorts of fun ways to enjoy the outdoors with your fellow festivalgoers. Plus, with fall in full swing, you'll be able to experience the fantastic Arizona scenery without the scorching summer temperatures.
Music and Dance Events
Get your groove on at CHASM Fest with nine different musical performances and events over the festival's three nights. Bands include Sumptin' Else, Empire Records, Pop Gun ReRun, The Higgs, and The Nickel Slots. There will also be a DJ and silent disco, a unique event where attendees party together while listening to music on personal headphones rather than over speakers. You can even check out the fire dancers if you're looking for a thrill!
Food Trucks and Vendors
All that meditating, mountain biking, and dancing will surely make attendees hungry, and a variety of food trucks will be available for every craving. Other vendors will also offer various items of interest to festivalgoers, RV enthusiasts, and more. One thing you won't find at CHASM Fest is alcohol for sale, but you're welcome to BYOB if you're of legal drinking age.
Which Halloween Events Will Be at CHASM Fest?
You've likely noticed this year's CHASM Fest will take place over Halloween weekend. Organizers couldn't let that opportunity for spooky fun be wasted, so they set up these great events for attendees.
Treats and Tours
Sunday afternoon will be dedicated to a one-of-a-kind Halloween celebration known as Treats and Tours. Those participating will open up their rigs for tours, answering questions and discussing techniques with interested visitors. They'll also provide a sweet treat, snack, or cocktail! It's a great way to get to know your fellow campers, learn more about the amazing RVs and other vehicles at the festival, and satisfy that sweet tooth all at the same time.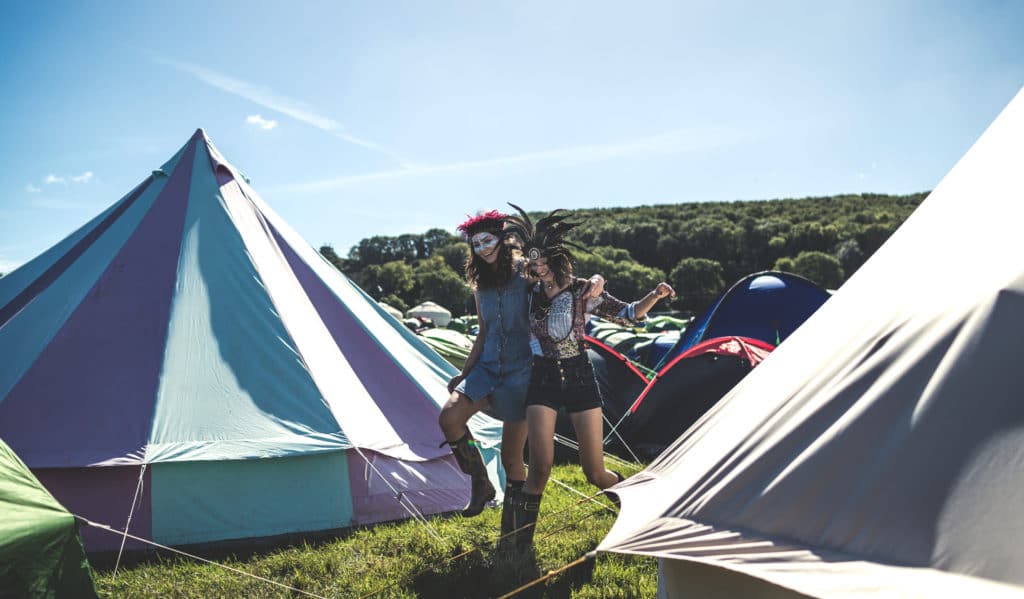 Halloween Costume Contest
Bring your best costume and get ready to compete with other CHASM Fest attendees at Sunday night's costume party. You may even win a $100 cash prize if organizers think you're the funniest, scariest, most original, or best overall costume. There's no better way to cap off this incredible Halloween weekend festival.
Who Are the CHASM Fest Sponsors?
Some familiar names in the RV and travel world are putting their dollars behind this year's CHASM Fest. You'll certainly know one of the gold-level sponsors. It's us here at Battle Born Batteries!
We're sponsoring this event so attendees can create a community and share their tips and tricks for a nomadic lifestyle. You may even find our batteries in some of the rigs around you, so ask your fellow attendees about them.
Campendium campground and RV park review service will also be a gold sponsor. Harvest Hosts (who offers a special membership discount for attendees), the Ultimate RV Checklist app, and the Lake Havasu Friends of the Fair association offer lower-level support. The city of Lake Havasu itself is also one of CHASM's sponsors.
How Much Does It Cost to Attend CHASM Fest?
As far as multi-day festivals go, CHASM Fest is among the more affordable options. A single person with an RV, van, or tent can attend the entire festival for $159, with $109 additional for each guest over 12 staying at the site. Larger RVs over 25 feet will need to reserve a bigger space for $199, though extra guests are still the same price. Those attending but staying off-site will pay $109 per person for the weekend event.
Do Tickets Include a Campsite?
Yes! As mentioned above, the two main ticket types include a campsite. The smaller ones are roughly 25 feet by 25 feet, with larger ones measuring 50 feet by 25 feet. They're also pet-friendly for those who love to travel with their four-legged friends.
Keep in mind that these campsites don't include any hookups. However, restrooms, showers, and water fill stations will be available for campers free of charge. A dump station will also be available at the end of the festival.
We Hope to See You at CHASM Fest!
There are plenty of festivals that cater to RVers and other nomads. But the unique appeal of CHASM Fest attracts many, including us here at Battle Born. We're proud to sponsor this one-of-a-kind event that encourages physical and mental wellness, the sharing of ideas, and of course, good times with good people. Halloween weekend will be here before you know it. Don't delay in making your plans to attend!
Want To Learn More About Electrical Systems and Lithium Batteries?
We know that building or upgrading an electrical system can be overwhelming, so we're here to help. Our Reno, Nevada-based sales and customer service team is standing by at (855) 292-2831 to take your questions!
Also, join us on Facebook, Instagram, and YouTube to learn more about how lithium battery systems can power your lifestyle, see how others have built their systems, and gain the confidence to get out there and stay out there.