College Sweethearts, Bill and Grace Heaton were saving for their dream sailboat while working as finance professionals in New York City. In 2009 they finally purchased a 36-foot Sabre Sailboat and slowly began transitioning to life on the water. By 2017, both Bill and Grace were working remotely, and they officially set sail for full-time travel. Five years later, Bill and Grace are sailing around the world while living the life they had always dreamed about.
Meet Bill and Grace Heaton
It was the fall of 2002, Bill and Grace Heaton were both attending Manhattan College, when a chance meeting changed their lives forever. Bill and Grace ended up falling in love, graduating together, and becoming college sweethearts. Following their graduation, they both earned their Certified Public Accountant (CPA) licenses and started working in Manhattan, while saving as much as they could to hopefully purchase a sailboat one day.
Bill had always dreamed of owning his own sailboat and having the freedom to travel as he pleased, and, in the summer of 2009, he was finally able to start pursuing that dream. He and Grace purchased a 1985 Sabre 36' Sailboat and named it "Calico Skies". Living in Manhattan at the time, Bill and Grace mainly used the sailboat as a place to escape the city on the weekends and they slowly began spending more and more time on board. Eventually giving up their Manhattan apartment and living on board full time over the summer, while still working and starting their commutes riding the dinghy to the dock.
In June of 2012, Bill and Grace were married and they continued spending summers living on the boat. They quickly fell in love with boat life and began planning and saving to start full-time travel. When July of 2016 rolled around, Bill quit his job and began preparing Calico Skies for her first trip to the Caribbean. After Grace decided she wasn't quite ready to leave her job yet, Bill sailed the boat down solo, and Grace flew into the Caribbean to visit. Following winter of 2017, when Grace spent an extended period of time on the boat with Bill, she decided she was ready for full-time sailing life and quit her job that fall.
Making the Switch to Full-Time Sailing
After Grace quit her job, she and Bill got ready to officially set sail and start traveling full-time. While Calico Skis is a 36-foot Sabre, that was designed as a coastal cruiser/racer, it is also capable of blue water passages. Originating from Raymond, Maine, Sabre sailboats are hand-built with high-quality and high attention to detail, allowing them to be useful for many different types of sailing.
Given the original purposes that Calico Skies was created to sail for, she only carries 18 gallons of diesel. Although this is plenty for coastal cruising and racing, it is imperative to have plenty of diesel for extended passages, so Bill and Grace carry an additional 40 gallons of diesel in jerry cans in addition to 10 gallons of gasoline for their generator and outboard. The Heatons also supplement their 77-gallon water tank with a watermaker that produces 32 gallons of water per hour to ensure that they always have plenty of fresh water.
As Bill and Grace prepared Calico Skies for longer passages and ocean crossings, they were sure to include an extensive sail inventory to keep the boat moving through variable conditions. "In addition to a main and 130% genoa we also carry an asymmetric spinnaker, as well as a code zero for light air work. When the wind pipes up, we have staysail on a solent rig."
Their final step in preparing Calico Skies was ensuring they had ample power. With solar panels, a wind generator, an AC battery charger, and alternator charging, they have more than enough sources to keep their battery bank topped off, regardless of the conditions. They were sure to add in redundancy so that even if a charging source failed, they would not be without power.
Upgrading Calico Skies' Power to Battle Born Batteries
Not long after launching into full-time sailing, Bill and Grace were struggling with their power supply. Even with their extensive charging sources, their battery bank was simply underperforming. They had two Super 8D AGM batteries that they felt the constant need to baby, always making sure their batteries never dropped below a 50% discharge rate. The AGM's charged extremely slowly, never fully charged off of solar, and led Bill and Grace to rely on their noisy generator, much too often.
After a recommendation from friends and fellow sailors, SV Delos, Bill and Grace made the switch to 6 – 12V 100Ah LiFePO4 Deep Cycle Battle Born Batteries. With their new system, the Heatons batteries are fully charged by solar every day, they can run their watermaker and air conditioner without running their generator, and they can stay off grid for much longer and with more peace of mind.
In addition to gaining a more comfortable life at sea, Bill and Grace got many technical benefits from making the switch to Battle Born. Even with 6 new batteries, the Heatons still shed weight as the Battle Born Batteries are 30 pounds each and the AGM batteries were 160 pounds each. Also, the faster charging, full discharging capabilities, and unparalleled Battery Management System (BMS) give Bill and Grace more than an enough power, even for ocean crossings or extended passages.
The Realities of Life at Sea
With their new electrical system fully installed and up and running, Bill and Grace headed back out to their life at sea. One of their favorite things about Calico Skies is her sailing performance and abilities. Even in varying conditions, Bill and Grace still love sailing on Calico Skies, as she is easy to power in light winds and remains stable as the weather deteriorates. Additionally, the Heatons love that their watermaker has given them the ability to live a more normal life, rather than being hyperaware of water usage and conservation.
Despite how much Bill and Grace love sailing, the describe living on a boat is a "bipolar existence". Just as the highs are really high, the lows are also really low. One of their main challenges is the variability and unpredictable nature of the weather. Their entire sailing schedule is dictated on a seasonal and daily basis by the weather. They have to be ready and willing to move at a moments notice if that's what a change in the weather conditions warrants and they have limited flexibility.
Although the weather presents a major challenge for Bill and Grace, the rewards of life on a boat are more than worth it.  Both Bill and Grace love spending time outdoors, being in touch with nature, and staying active and living on a boat gives them no choice but to constantly be doing their favorite things. Whether they're hiking around an island, diving, and swimming in the ocean, or just spending time on deck in the sunshine, Bill and Grace love that they always get to enjoy time out in nature.
A key part of the Heaton's lifestyle that allows them to spend so much time in nature is their remote work routine where they get to set their own schedule. While it can be challenging at times, Bill and Grace love having the ability to tailor their work schedule around their activities. They tend to work more in the mornings and evenings 7 days a week, but in shorter periods of time, to allow them to have the majority of the day open to spend outdoors enjoying the world around them.
Enjoying Sailing on Calico Skies
Full-time life on a sailboat is far from perfect, but Bill and Grace couldn't imagine living any other way. Their unparalleled access to outdoor activities and some of the world's most breathtaking places, make every struggle worthwhile. Even when they're out at sea, completing a long passage, and they aren't able to do many of their favorite activities, they still enjoy passing time reading, watching movies, or getting editing done. Bill and Grace also love the peace and tranquility that comes from being surrounded by nothing but the ocean.
One of their favorite sailing memories was a trip they took to the Azores, an island chain about 1,0000 miles west of Portugal. After completing a 2,300-mile sail from St. Martin, Bill and Grace reached the Azores and were transported into another world. Vastly different from the Caribbean beach bars of St. Martin, the Azores were full of European cafes and a major cultural shift. Described as the Hawaii of Europe, Bill and Grace fell in love with absolutely breathtaking scenery of this quaint chain of islands.
In addition to the incredible places, they get to experience and the quality of life they live on the boat, Bill and Grace love the friends they've made and the people they've met in the sailing community. Whether they meet up during their travels or at shows and events throughout the year, the Heatons love connecting with fellow YouTubers. The sailing community offers "an incredible resource and support network" from fellow sailors as well as from viewers, and Bill and Grace love meeting these amazing people every chance they get.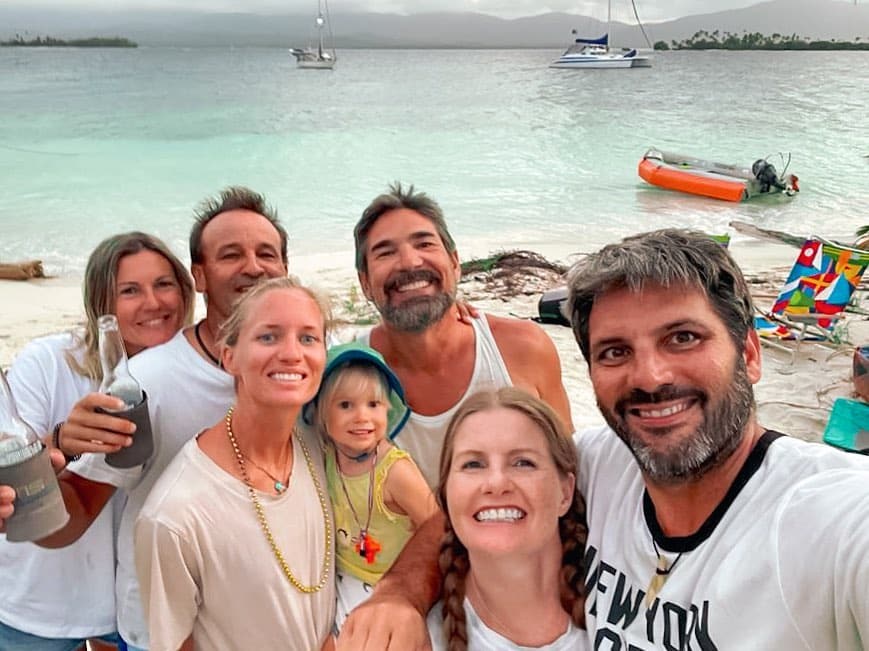 What's Up Next for Calico Skies Sailing?
Over the last 5 years of full-time sailing, Bill and Grace have crossed the Atlantic Ocean twice, visited more than 20 countries, and travelled over 25,000 nautical miles. They've been documenting their travels on YouTube since they departed on a 4,000-mile sail from Gibraltar to Grenada, and they don't intend to stop documenting their travels anytime soon.
Currently, Bill and Grace are preparing Calico Skies to cross the Pacific Ocean with the eventual goal of reaching New Zealand, and they couldn't be more excited to explore new places. "We tend to be sporadic in our movements, often making long offshore jumps on a whim. We don't always know where we're going but we're always going!"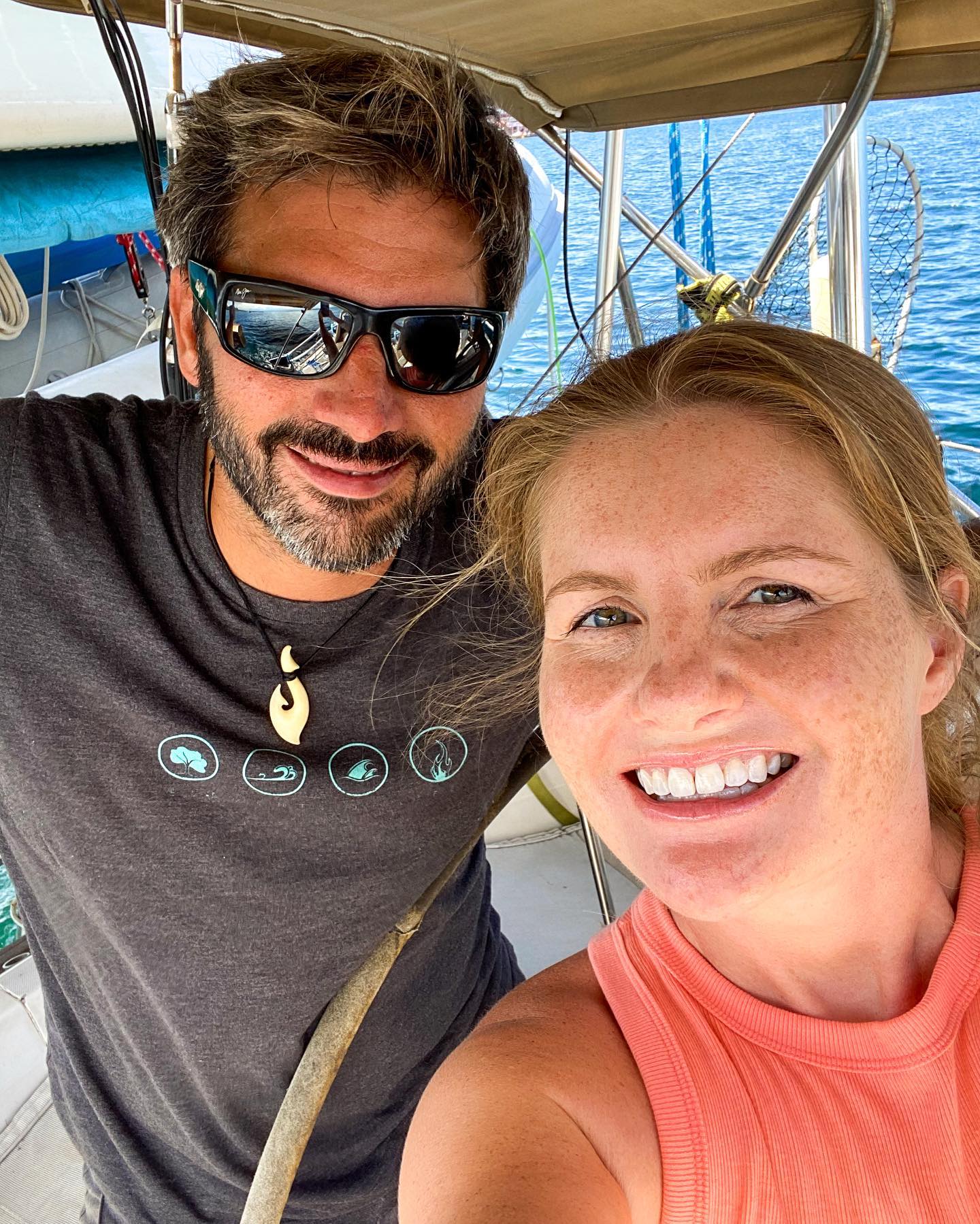 To keep up with Bill and Grace on their upcoming sailing adventures, be sure to check out Calico Skies Sailing on Instagram, Facebook, YouTube, and their website!