Battle Born Batteries is proud to power Bassmaster Elite pros of all walks of life. Seven-year pro angler David Mullins uses Battle Born Batteries in his boat to helps him edge out the competition. We caught up with David to see what he is up to now.
A Leap of Faith
Born and raised in East Tennessee, David Mullins was drawn to the water.  A childhood of bluegill fishing morphed into occasional bass fishing trips, which then led him to competitive fishing in high school. But it wasn't until later in life that David pursued his dream of making professional angling a career.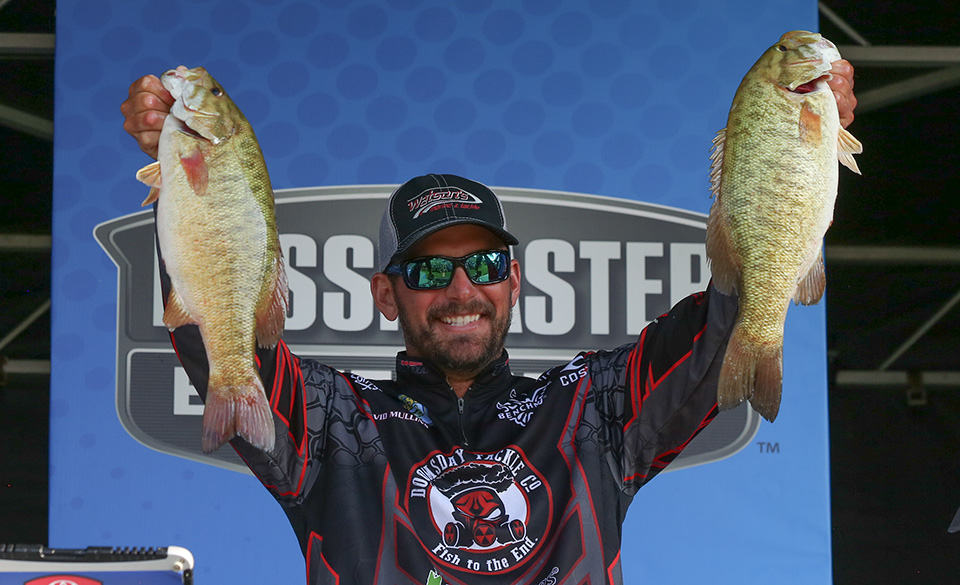 David was a schoolteacher and basketball coach but was always fishing as a hobby. He was gaining attention out on the water from the best anglers in the area. Then, David met someone who would change the course of his life forever. David told us, "I met Aaron Martins (a professional angler) back in 2001. We traveled a bit and I got to taste what it's like as far as professional fishing goes." 
The Bassmaster Elite Series came to his home ground at Douglas Lake, and Aaron was participating in the tournament. David was able to pre-fish the tournament with him. At the end of the last day, Aaron said to David, "if you really wanted to do this, I think you could do it for a living." 
With that, David decided to take the plunge into the professional fishing world. He ended up winning a local tournament and won first prize, a brand new 19-foot Ranger boat. David used this new boat in the Bassmaster Open to qualify for the Bassmaster Elite. He then sold the boat during the Elite Series to pay for entry fees. "If I didn't make it that year, I wouldn't have even had a boat when I got back home so I would have had to stop. I took a chance and it ended up working out." 
Although he has no plans to go back, David renews his teaching license in case he ever feels the push. Teaching may be in his back pocket, but professional fishing has stolen his heart. David laughed, "in teaching, $10,000 goes a long way, but in fishing it's nothing!" 
A 
Tennessee Duck Farm
David doesn't spend all his free time fishing. He is an avid wetland hunter. Growing up duck hunting, he always wanted a place of his own to fix up and give the ducks a place to rest and migrate through. So, purchasing a 24-acre farm in East Tennessee was right up his ally.  
The land started out as cattle field and hayfield and David knew he had to find a way to make it hold water. Luckily, the land "had a natural swag with 400 yards of river frontage that came up and flattened out with a bowl in the middle." He got advice from a good friend to levee up each end and in the winter he and his buddies plan to float 3-4 acres of it.  
David doesn't go out hunting for ducks, geese, and doves alone. Jake, his relentless chocolate lab is always by his side! David explained, "Jake is non-stop all day and sometimes it is overwhelming, but he truly loves living out on the farm with endless amounts of land to explore."  
L
ife as
an Angler
David takes a very relaxed approach to his angling. During tournament season, he chooses to stay calm and focused. Rarely taking the opportunity to pre-fish a tournament, David "wakes up last minute, throws his suite case in the car, and just goes fishing."  
As a veteran in the angling world, David has seen the sport change over the years. The biggest change in his eyes is the growing number of young participants getting involved in the sport and competing. Technology has also improved leaps and bounds with graphs, mapping, motors, batteries, etc.  
For aspiring anglers, David's advice is to "go as often as you can. The more situations you can put yourself in to learn from the better you're going to get at it." Along with getting as much time out on the water as possible, he also recommends to "travel to get to learn about other lakes and gain different experiences on the water." 
LiFePO4 
Power on the Water
After switching to lithium power from the traditional lead acid battery, David has seen a huge increase in the amount of time he is able to spend out on the water. Battery anxiety is no longer in the back of his mind. He recently spent 14 straight hours on the water "beginning at 6AM and not leaving until 8:30PM." Summer is an exciting time of year, and David is able to spend an entire day and evening fishing using every bit of sunlight possible. 
Battle Born Batteries has improved David's ability to get out there and stay out there. For David, it's not just the amount of time he's able to spend out on the water.  He also explains that "they charge back so quickly compared to lead acid batteries so that's another huge benefit." It's important to David to be able to charge them and get right back out onto the water as quickly as possible.  
His setup in his 2020 Phoenix 721 consists of: 
1 – AGM Starting Battery

 

1 – Minnkota Precision Charger
What's Next?
David still has four pro tournaments left in this season and has never fished this late in the year for the Bassmaster Elite Series. He anticipates these tournaments will not have the same amount of catches as would be earlier in the season. David is hoping to catch an 8-pound Small Mouth Bass – his dream catch! Come November, he will start pumping more water into the field for his duck farm and getting back into hunting! 
Follow David's fishing progress on his Facebook, Instagram, and Twitter.