The Indie Folk band, Arbour Season, features the husband-and-wife duo, Shane and Emily. Together, with their two adorable kids, they travel the US in their custom-built Skoolie, playing private and public shows and attending festivals and rallies. As they travel, they search for small towns to explore, find hikes to go on, and simply enjoy their time together as a family.
Meet Shane and Emily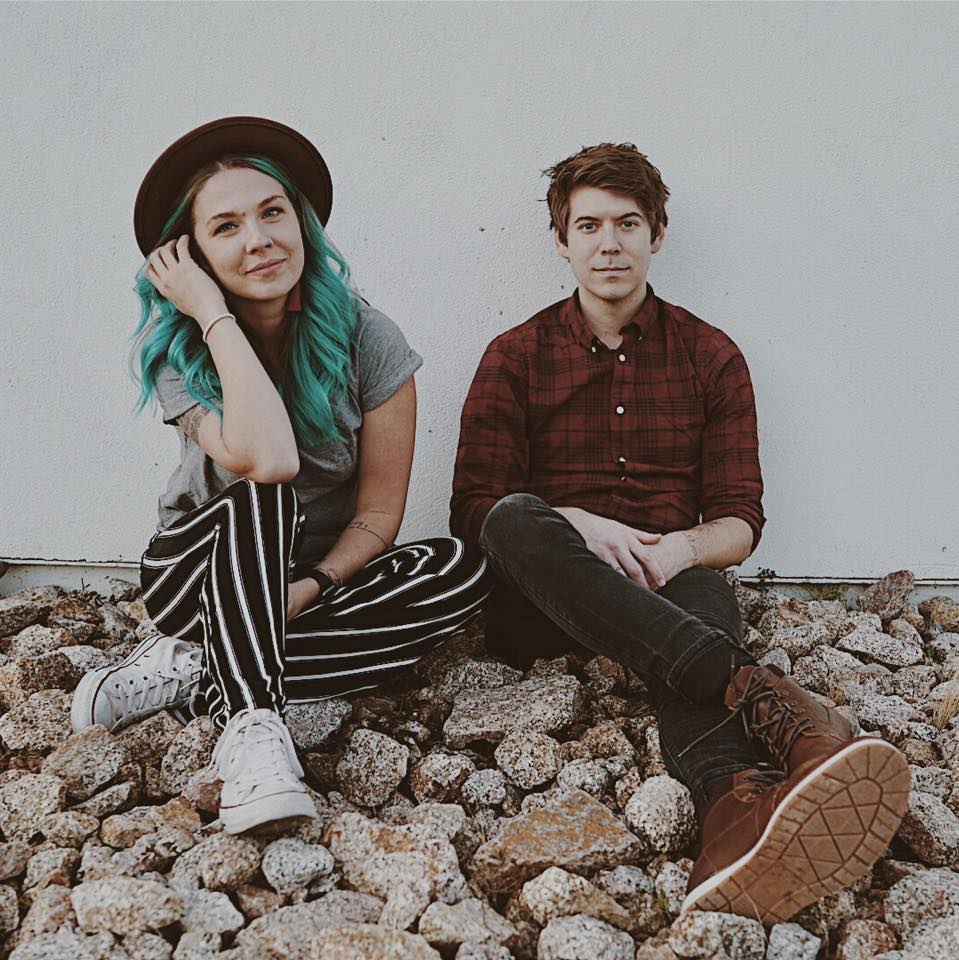 Originally drawn together by a shared passion for music, Shane and Emily met through a mutual friend at an open mic night in Florida. Soon after, they formed a band and were playing gigs together. Although Shane and Emily had an instantaneous connection, they spent a year in the band together before pursuing their relationship. Eventually, in 2012 they began dating and in June of 2016 they got married.
It wasn't long between Shane and Emily's first meeting and when they began traveling full-time and playing gigs at colleges, bars, and theme parks. Following their marriage, they bought an RV and began living on the road while traveling from show to show. In March of 2018, they officially changed their name from Shane and Emily to Arbour Season, and in July of 2018, they welcomed their son Sawyer into the world.
As new parents, Shane and Emily didn't slow down, and Arbour Season went on the road to continue playing shows with baby Sawyer along for the ride. After playing over 150 colleges in two years, the couple quickly realized their love for life on the road and began searching for a permanent home on wheels. They purchased their 1988 Blue Bird School Bus in 2018, and finally transformed it into a home during their extra downtime in 2020. Once their Skoolie conversion was complete, they returned to their life of full-time travel.
Life on the Road as Traveling Musicians
For Shane and Emily, the concept of living on the road never seemed foreign or outside of the box. Shane even jokes that his love for Franklin the Turtle as a kid inspired his desire to live in a home on wheels. Franklin's shell was his home, it carried his most precious possessions everywhere he went. Just like Franklin, Shane loved the idea of having his home with him no matter where he was, and practically, as traveling musicians touring full-time, it didn't make sense for Shane and Emily to have a stationary home they would spend very little time at.
One of the best parts of living on the road in their home on wheels is all the new places they get to visit and explore together as a family. Out of all the places Shane and Emily have travelled to, Juneau, Alaska and Arizona top their list of favorites. The dramatic mountain scenery, cool weather, and small-town charm of Juneau captivated Shane and Emily. "You feel like you are in a different world altogether and … there is NOTHING else like it in North America." Coming in at a close second is the state of Arizona. Shane and Emily love the dichotomy of the desert and mountainous landscape with a mixture of big cities and small towns. In addition, the vast amount of BLM land scattered across the state makes Arizona perfect for those who love to boondock.
While the joy of travel and the practicality of having a home on the road brought Shane and Emily to the nomadic lifestyle, the community is what encouraged them to continue full-time travel. When asked about their favorite travel memory, Shane and Emily fondly remember April of 2021, when they spent the entire month traveling in a caravan with other Skoolies and van-lifers. This was the first time they had traveled with that large of a group and experienced the joy of spending time with others who share their lifestyle. The group they  traveled with became their traveling family and they spent their time exploring, visiting National Parks, and simply doing life together. Shane and Emily cherish these memories and continue to be amazed by the nomadic community.
Full-Time Travel, in a Skoolie, as a Family of Four
Full-time travel has been a standard in Shane and Emily's life for the last decade, but it's taken on a whole new meaning in the last 4 years. Since the addition of their son Sawyer in 2018 and their daughter Juneau in 2021, they are now a family of four living in a Skoolie full-time. Most people have trouble comprehending their unconventional lifestyle. "Living in a bus feels like an alternate universe that most people don't really understand. We get the question a lot, 'You live in that thing? With two kids?'"
Initially, Shane and Emily weren't sure if their lifestyle would work with kids, but after crossing paths with another band who loved traveling full-time with their baby, they decided to give it a shot. Four years of full-time travel later and they haven't looked back. The joy of getting to travel and explore with their kids and experiencing so many 'firsts' together is unparalleled. Being able to see the world through the eyes of a child has changed Shane and Emily's perspective on life and has allowed them to enjoy things more than they did before. As traveling musicians with young children, their time spent together as a family is essential and their nomadic lifestyle maximizes that time.
While traveling as a family brings endless joy and new experiences, it isn't always easy. Shane and Emily love the strong bus life community they get to be a part of, but they miss the consistent community of their life before full-time travel. The ability to be around close friends and family and see the people they love regularly is not always possible with their lifestyle. Additionally, traveling with their kids has caused Shane and Emily to plan a little more and make last minute changes to ensure their kid's safety and comfort. When it was just the two of them, they wouldn't worry about where they stayed and would persevere through less than desirable conditions, but now their kids are the priority. Although their nomadic life isn't always easy, the challenges are well-worth it.
Making Essential Upgrades
A major factor in minimizing the challenges of living on the road for Shane and Emily was ensuring their tiny home on wheels was equipped with the necessary components and features. Their favorite part about converting their bus was that they got to choose what was essential. From the artistic aesthetic of the outside to the design of the internal layout and the functionality of storage below, every piece of the build was under their control.
Some of the essential pieces of the build were obvious from the beginning, such as having a shower as they were traveling with young kids, but there were others they chose to add down the road. Initially, Shane and Emily were powering their Skoolie with AGM batteries. Nighttime was a struggle as this was when they needed power the most but didn't have enough power available to get them through to the morning. After killing their first set of batteries within one week, they knew there had to be a better option and they started researching.
Across the board, Shane and Emily's research pointed to Battle Born Batteries. "We chose Battle Born because we heard from multiple sources that they were the best." Especially since they were traveling with kids, it was essential that they could trust their fridge, outlets, and water heater to work. After receiving their 5 – 100Ah 12V Battle Born Batteries, they got the whole system installed over the course of three short workdays. Immediately, Shane and Emily noticed the difference. "The fact that we no longer have to worry about our batteries dying in the middle of the night is lifechanging." Removing the guesswork in determining the state-of-charge of their batteries and being able to have power for multiple days, even with no sun on their solar panels, made their life on the road much easier. In addition to running their essentials, they can also power all their music equipment and host concerts from the Skoolie. Shane and Emily have even had enough power left over to help charge other people's batteries from their own!
What's Next for Arbour Season?
Looking forward to the rest of the year, Arbour Season has shows booked across the U.S. They are currently in the middle of their All Things New Tour with no plans of slowing down anytime soon. In addition to playing shows, Shane and Emily have a long list of rallies they're attending including TinyFest, the Overland Expo, Skooliepalooza, North West Nomads, and The Great American Tiny House Festival. The Tiny House Festivals are Shane and Emily's favorite events and they're hoping to attend at least one per month.
In the midst of tour and attending rallies, Shane and Emily are looking forward to exploring small towns, going on hikes, and visiting local coffee shops. The couple is on a mission to try an iced mocha in every city they visit. Shane and Emily love their life on the road being solar-powered, meeting new people and exploring new places, inspiring others to follow their dreams, and living life together as a family.
To follow along with Shane and Emily's adventures, listen to their music, and keep up with their tour schedule check out their: Instagram, Facebook, YouTube, Tik Tok, Spotify, and website.