After both successfully completing the Talisker Whiskey Atlantic Challenge, Owen Gray and Jayme Linker teamed up to form Aloha Kai. Together, they spent over a year preparing to row 2,800 miles from Monterey Bay, CA, to Kauai, HI, for the Pacific Challenge. After 45 days at sea, they successfully reached the shoreline of Hanalei Bay and became the first US Mixed Pairs team to row across the Pacific Ocean.
Prepping for the World's Toughest Row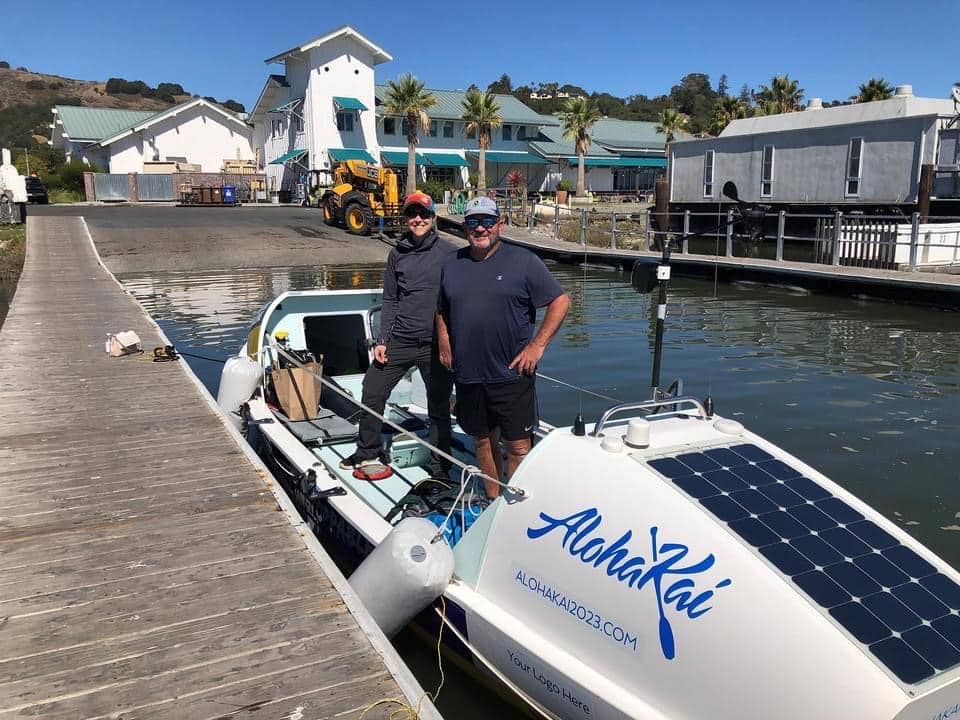 The thought of spending days adrift in the Atlantic Ocean is enough to send chills down anyone's spine. For most, floating in a very small rowboat in the middle of the second-largest ocean in the world would be a nightmare, but not for Owen Gray and Jayme Linker. In 2021, they both competed in the World's Toughest Row Talisker Whiskey Atlantic Challenge. This 3,000-mile row took Jayme and her partner 51 days and Owen 70 days, competing solo. Both displayed incredible physical strength and mental toughness during the challenge, and Owen became the 10th American to complete the row alone.
At the finish line of the challenge, Owen and Jayme met one another and immediately connected over their passion for endurance events and love for making a difference in the world. During the Atlantic Challenge, Owen raised over $200,000 for Okizu, a foundation that supports families that face childhood cancer, and Jayme raised money for Eating Disorder Awareness. Desiring to continue raising money to support these causes and take on another challenge, Jayme and Owen decided to team up.
In early 2022, team Aloha Kai was formed. Owen and Jayme spent the following year training and preparing for the Pacific Challenge. Starting in Monterey Bay, CA, and rowing the 2,800 miles to Kauai, HI, Owen and Jayme would face intense weather patterns and daunting headwinds throughout their journey. Months of training flew by, and before they knew it, the start of the Pacific Challenge was before them. On June 12, 2023, Aloha Kai and 13 other teams gathered in Monterey and, one by one, started their journey across the Pacific. As the first team out of the gate, Owen and Jayme rowed out of the bay with their sights set on Hawaii.
Aloha Kai Takes on the Pacific Challenge
Although both Owen and Jayme have a positive outlook on their overall experiences, the Pacific Challenge is aptly named. As they left Monterey, they rowed west, looking towards daunting clouds. The first ten days of the row were spent fighting rough weather and strong currents that forced Aloha Kai to work extraordinarily hard to row away from California. Rough seas and hurricane-like conditions wreaked havoc on Lily, Aloha Kai's 24' rowboat. The aftermath of the hurricane left Owen and Jayme with not one but two broken autohelms, a broken oar, and a near capsize.
Making it through the treacherous first quarter of their row was a feat in and of itself, but the challenges kept coming. In spite of the struggles, finding the strength to preserve and rise above was the most fulfilling part of the row for Owen and Jayme. "Pushing through rough conditions, mundane weather throughout most of the row, losing autohelms, going on para-anchor, sleep deprivation, the watermaker going on the fritz and rationing food and water, it was difficult, however, it was all rewarding as we got through all of these challenges and arrived in Hawaii sooner than we believed possible."
Based on the varying weather forecasts and the sheer difficulty of the row, Owen and Jayme estimated it would take them anywhere from 50 – 58 days to complete the Pacific Challenge. "Finishing in 45 days was something beyond their wildest dreams."  Both Owen and Jayme couldn't believe how fast their time at sea went and look back with fond memories. "I loved the weather, I liked the excitement that we had the entire time, how we communicated to face the challenges that were presented to us in order to succeed, and all the laughs and stories along the way."
Aloha Kai Powers Through Adversity
Anyone attempting to row across the Pacific Ocean would be naïve to think that they wouldn't face adversity. While Owen and Jayme were prepared for many challenges, the warning of an oncoming hurricane took them by surprise.  "The Safety Officer told us there was a "low pressure" system coming.  This really meant Hurricane Calvin was passing 150 miles south of us.  Even from that distance, it created huge ocean swells and high wind conditions."
Although this was a pivotal moment, Aloha Kai took the adversity in stride. Having encountered similarly rough seas during the Talisker Whiskey Atlantic Challenge, they calmly made a plan. "Once we started encountering the waves and lost an autohelm, we agreed to throw out the para-anchor and wait for it to die down. Ten hours later, we manually steered out of the mess long enough to be able to put the autohelm on and keep going."
Powering through adverse conditions was only half the battle of the Pacific Challenge. Both Owen and Jayme's mental and physical fortitude was pushed to the limit as they spent 45 days at sea. Prior to the challenge, Jayme created a day-to-day lifestyle focused on training, proper nutrition, and mental preparation. "I treat my life like an endurance event, so I am ready for whatever life throws at me or whatever situation I put myself in."
Throughout the row, Owen and Jayme focused on meeting small milestones and goals rather than obsessing over the finish line. "It was always about focusing on short-term items like proper nutrition, hydration, body care, sleep, and navigation.  These are the things that allow you to perform day in and day out.  In an event like this, you can't focus on the finish."
Spending 45 Days at Sea Powered by Battle Born Batteries
One of Aloha Kai's key considerations during preparation was ensuring they had a reliable power source. With a watermaker, autohelm, satellite communication, radio, lights, and more, having a constant power source was essential to their success. With 2 – 12V 100Ah Battle Born Batteries, Owen and Jayme were confident they had all the power they would need.
"Our Battle Born batteries were a critical part of our success.  On this row, most days were heavily overcast in the morning, with sunshine only in the afternoon – on days that the clouds cleared.  Despite these conditions, our batteries performed flawlessly." While other teams struggled with power management, Aloha Kai never had to worry. They had more than enough power for every essential item and enjoyed peace of mind throughout the challenge.
Aside from their Battle Born Batteries, Owen and Jayme agreed that food rations and hygiene products were essential. Being able to shower often and wash clothes was a game-changer, and plenty of sunscreen was an absolute necessity. Although nutrition is an obvious necessity, Owen and Jayme brought along treats to give them something to look forward to.
In addition to having plenty of power and food, Owen and Jayme made sure that Lily was well-equipped. While they lost some equipment along the way, Aloha Kai pushed through these challenges. If they did the Pacific Challenge again, Owen and Jayme would add a few more essentials to their packing list. This would include a sewing kit to repair holes in the para-anchor and purchase a heavier-duty autohelm.
This One is For the Record Books: Aloha Kai Makes History
As the row progressed, Owen and Jayme's excitement continued to build, even as more challenges came their way. "The last nine days of the row, in addition to being on a one-hour on oars and one hour off, we were also water rationing due to issues with our water maker.  This meant we were sleep deprived, not eating enough but trying to stay hydrated." While the adversity continued, all of these struggles slipped as way as Aloha Kai neared the finish.
Consumed with their yearning to see loved ones, pride from accomplishing such a feat, and their simple desire to reach dry land, Owen and Jayme made the final push into Hanalei Bay. Anticipation grew as they received a message on their radio telling them they were less than an hour out. Nothing would prepare them for the sheer joy of rounding the corner into the bay. Immediately, they were met by the media boat and heard the cheers of friends and family from the shoreline.
"The finish was so special.  The Hanalei Canoe Club sent out rowers in outriggers who greeted us by blowing with conch shells.  They then guided us around the reef surrounding the entrance to Hanalei Bay.  There, we were greeted by around 100 people." As Owen and Jayme waded to shore, they were embraced by loved ones. Then, they were welcomed with a traditional Hawaiian blessing during their finish ceremony.
Returning Home as Heroes
Basking in their new title, as the First US Mixed Pairs team to row across the Pacific Ocean, Owen and Jayme enjoyed the festivities. Upon returning home, they've been taking in the magnitude of accomplishing this challenge. Jayme is now back in Colorado, and Owen is home in Reno. A few weeks ago, he was honored by throwing the first pitch at a Reno Aces baseball game.
Next year, Jayme will attempt a "Triple Deca" by circumnavigating the Indian, Atlantic, and Pacific oceans successively. This has never been done before. While Owen is just enjoying time at home, he's looking forward to continuing to partner with Okizu. Throughout the Pacific Challenge, Owen raised over $100,000 for the incredible organization and can't wait to stay involved moving forward. If you're interested, you can still donate to Okizu and support their mission to help families impacted by childhood cancer.
Follow along with Owen and Jayme by checking out Aloha Kai on Instagram, Facebook, and their website!