Battle Born Batteries partners with Keystone RV to power their Super SolarFlex system. Keystone RV suggested their ambassadors Janae and Tucker McCormick use our lithium-ion batteries to power their adventures as they travel across the country (though they don't have SolarFlex system). Now Battle Born Batteries helps them keep their energy up as they work their jobs while exploring the country and boondocking wherever there is a good view. We're looking forward to more Adventures with TuckNae. 
The Honeymoon Isn't Over
After getting married in March of 2019, Janae and Tucker McCormick (or TuckNae) were having difficulty figuring out where to settle down. Tucker is from Texas, and Janae is from Illinois, but being in their early 20s, they didn't know if either spot was right for them just yet. That is when Tucker got a call from Janae.
"I called him up one day, and I'm like 'Hey, what do you think about living in an RV for just a year, and then maybe we'll find where we want to live. We can explore and travel while we don't have kids, don't have a house tying us down,'" she said. "He wasn't on board at first, but after talking about it for a few days, he decided, 'sure, let's give it a go.'"
After a year on the road, they became ambassadors for Keystone RV Company, and as soon as they got back from their honeymoon in Scotland, they hit the road in a Keystone Montana 5th wheeler. The pair have driven many miles and had a lot of adventures since then, but they're still having too much fun to settle down just yet. They just celebrated their "Nomad-iversary," marking 2 years on the road in 2021, and see no end in sight.
Life's A Dream, But Not A Vacation
As the McCormicks travel full time, a lot of people assume the couple is on an endless vacation, Janae said. But they both have full-time jobs to support their nomadic lifestyle: Tucker works in financing and Janae is a social media manager who also publishes their experiences on their blog Adventures with TuckNae, along with advice for full-time RV living.
They still put in a full work week and explore their new environments at night or on the weekends. Like anyone else, Janae said it can be tough to get out there while tired from working. But they know their stay in any location is temporary, which helps motivate them to explore their surroundings, hike, and boondock. Tucker said he thinks of their Keystone High Country as more of an apartment on wheels with any view they want.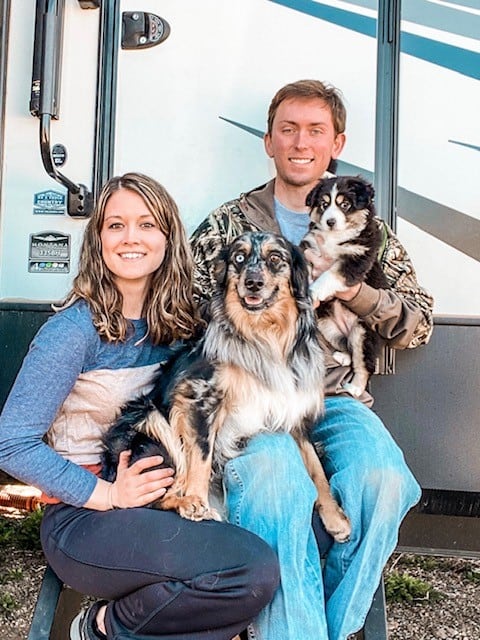 Janae says they love boondocking– parking in a secluded spot to enjoy an unobstructed view of nature. They enjoy trading the bright lights at RV park for the stars and exploring the isolated wilderness with their two mini Australian Shepherds named Captain America and Captain Marvel, or "Cap" and "Marvel."
"We were boondocking on BLM (Bureau of Land Management) land just outside of Great Sand Dunes National Park, right at the base of the mountain, you look up outside of our front window, and you see a snow-covered mountain that is 10 or 12,000 feet tall and sand everywhere around you," Tucker said. "the snowmelt runs through the sand dunes, so there is a river basically flowing through it."
Tucker and Janae said Battle Born Batteries have helped their boondocking game. They have a residential fridge in their Keystone, run their AC when it's hot, and have to charge up their electronics so they can work.
But their old wet cell batteries weren't able to keep everything powered without plugging into shore power or running a generator non-stop. As they were switching to a new 2021 Montana High Country 335BH last summer, they realized they needed to add solar panels to their system to keep up with their lifestyle. However, their lead-acid batteries were causing problems with their inverter, setting off alarms in the middle of the night.
Lucky for TuckNae, Battle Born Batteries partners with Keystone RV to store power for their solar systems. Now they don't have to worry about their batteries running out of juice, even during those hot summer days when they need cold air the most.
"I never have to worry about the refrigerator dying, and we also get to run AC in the summer, and I don't have to worry about the batteries dying even if it's a cloudy day for 2 or 3 days," Tucker said.
Now when they go out boondocking, they don't have to worry about having enough power. Now, their biggest constraint for getting out there and staying out there is how much water they have on them.
Even when they aren't boondocking, Battle Born Batteries have helped cut down on their battery anxiety. The McCormicks have been visiting family for the past 3 months, and they have only needed to run a small extension cord to their trailer. Between the solar panels and Battle Born Batteries, they don't have to worry about draining too much power from their family's house.
"It runs the printer, runs the TV, charges everything, runs the microwave, the AC, everything," Tucker said. "Battle Born Batteries have definitely stepped up everything for us as far as living off-grid."
Cruising the USA
Equipped with four BB10012 Battle Born Batteries, TuckNae can now tackle their traveling dream: visit all 50 states and all US National Parks. So far, they have seen about 22 states and 12 parks. They have a difficult time picking a favorite park they've visited. It's a toss-up between three: Glacier National Park in Montana, Rocky Mountain National Park in Colorado, and Arches National Park in Utah.
The couple said hiking is their favorite way to explore these national parks. Not only are they able to connect with nature better by walking through it, but they love getting to areas you can't drive your car to. Rocky Mountain National Park was one of their most memorable hikes, as they were amazed by how much the landscape can change during a 9-mile trek.
"We started in a valley, and we wound up at the top of a mountain," Tucker said. "To get to the very end of the hike, we had to ascend a waterfall, so rock climbing in the waterfall to get to the top, and once we got to the top, there was a lake. That was one of the coolest hikes I have ever done. How many people can say they climbed a waterfall?"
On the Road with Keystone RV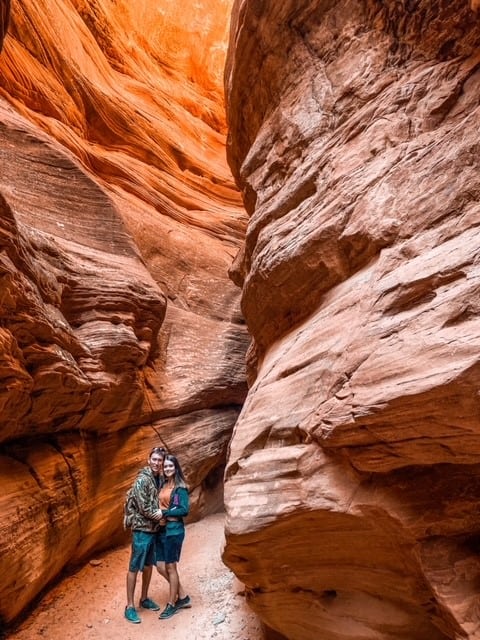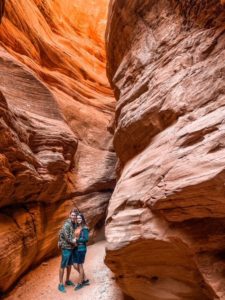 Though they plan to see the entire US, they don't see the need to rush their experience. Janae says they enjoy taking their time to explore each region they travel to and love discovering each state's unique cultures and landscapes.
Tucker said exploring the western part of the country has been a treat for the couple, as he has traveled a lot of the East Coast with his family growing up. Next on their itinerary, Janae and Tucker plan to explore the northwest part of the country, such as Washington and Oregon, and then make their way to New England.
Looking back, you might classify their adventure as a failure: they still don't know where they want to put down roots. Tucker says they are even considering just buying a plot to park their RV and use that as a base to travel from. They might one day build a house on it, but they have no concert plans yet.
"Just the thought of tying ourselves down to one spot and not exploring new places all the time, I don't really enjoy that thought," Janae said. "I think we'll come to the point where we know that it's right for us to settle down, but for right now, we are definitely not there yet."
So, for now, we at Battle Born Batteries are happy to help the couple get out there and stay out there longer. You can see what Tucker and Janae are up to on their blog, Adventures with TuckNae, and you can keep up with them on their Instagram and YouTube channel as well.
If you are interested in Keystone RVs, Battle Born Batteries partners with Keystone to power their RV Solar power system with our new GameChanger GC3 batteries.